Doug Taylor
CANADIAN AUTHOR AND ARTIST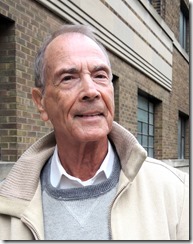 Even when I was a young boy, I was captivated by history. It contained romance, adventure, murder, and travel. As I became older, my interest never waned. Choosing teaching as a career, at both the elementary and secondary school levels, I shared my fascination with the students. The ancient Romans and Greeks likely never recovered from my treatment of their noble history.
When I became a member of the faculty of the Lakeshore Teachers' College (York University) and the Ontario Teacher Education College, I had the opportunity to share my love of history with promising young teachers-to-be. Today, I hope that they have forgiven me for the sin of believing that history, especially Toronto's, is fascinating.
During the 1970s, I conducted walking tours of Toronto's historic districts for university students, during the days when such tours were rare. The tours included Chinatown, Kensington Market, historic town of York, and the Necropolis Cemetery. Now retired, I live in downtown Toronto, within walking distance of Toronto's historic neighbourhoods. Since retiring, I have written twelve books, all of them employing the history of my native city as either the subject or for the background of the story. In that way, I continue to promote the history of a city that I love.