Home Page
        Doug Taylor

CANADIAN AUTHOR AND ARTIST

Even when I was a young boy, I was captivated by history. It contained romance, adventure, murder, and travel. As I became older, my interest never waned. Choosing teaching as a career, at both the elementary and secondary school levels, I shared my fascination with the students. The ancient Romans and Greeks likely never recovered from my treatment of their noble history.
When I became a member of the faculty of the Lakeshore Teachers' College (York University) and the Ontario Teacher Education College, I had the opportunity to share my love of history with promising young teachers-to-be. Today, I hope that they have forgiven me for the sin of believing that history, especially Toronto's, is fascinating.
During the 1970s, I conducted walking tours of Toronto's historic districts for university students, during the days when such tours were rare. The tours included Chinatown, Kensington Market, historic town of York, and the Necropolis Cemetery. Now retired, I live in downtown Toronto, within walking distance of Toronto's historic neighbourhoods. Since retiring, I have written twelve books, all of them employing the history of my native city as either the subject or for the background of the story. Two of my most recent publications explore Toronto's old movie theatres. The book "Toronto Then and Now" contains numerous photos, archival and modern, to compare the city—past and present. My most recent publication is entitled "Lost Toronto, " a richly illustrated book that brings some of Toronto's most remarkable buildings and much-loved venues that have either been demolished or butchered beyond recognition.Thus, I continue to promote the history of a city that I love.
Seven of the books about Toronto are available on Amazon.com and at Chapters/Indigo sites, in both electronic and paperback editions. 
Toronto's Theatres and the Golden Age of the Silver Screen.
The story of the old movie houses of the city, from the early days of the nickelodeons to the grand movie palaces that followed them. There are over 80 photographs, both archival and modern, depicting the facades and the interiors of these theatres. Relive the days of these wonderful theatres, through anecdotes from those who attended them.
Theatres in this book include the Odeon Carlton. Imperial, Loew's Uptown and Loew's Downtown, University, Odeon Humber, Odeon Fairlawn, Odeon Hyland, Odeon Danforth, Tivoli, Nortown, Biltmore, Eglinton, Kent, Colony, Grant, Paramount, St. Clair, Lux, Victory, Astor, Oakwood, Broadway, Town Cinema, Oriole, International Cinema, Bay, Ace, Photodrome, Bedford, Hudson, Park, Belsize, Royal George, Oakwood, Vaughan, Scarboro, Donlands, Scotiabank, Paradise, State, Beach, Madison, Shea's Hippodrome, Downtown, Willow,Metro, Kingsway, Royal, Runnymede, State, Hollywood and many others.
To purchase this book:
https://www.arcadiapublishing.com/Products/9781626194502
There Never Was a Better Time –
A humorous story of young immigrant brothers and their mischievous grandfather in Toronto during the 1920s. The young men arrive in the city during one of the most dynamic decades in its history. They explores the sinful entertainment venues that confront them daily, much to the chagrin of the prim and proper mother. 
To learn more about this book:
tps://tayloronhistory.wordpress.com/there-never-was-a-better-time/
To order this book:
https://www.amazon.ca/There-Never-Was-Better-Time/dp/0595456537
The Villages Within – An irreverent history of Toronto that no school student should be allowed to read. On a more serious vein, the book contains detailed studies of The Kings West District, the Kensington Market, Queen Street West, and the  historic St. Andrew's Market. This non-fiction book was nominated for the 2011 Toronto Heritage Awards. 
To learn more about this book:
https://tayloronhistory.wordpress.com/the-villages-within/
To order this book:
http://bookstore.iuniverse.com/Products/SKU-000175211/The-Villages-Within.aspx
Arse Over Teakettle – Toronto Trilogy- Book One –
A mischievous tale of a family coping with the horrors of the Second World War, while their son, Tom Hudson, struggles to learn the secrets of "the big boys." It is a humorous tale of a boy coming-of-age in Toronto during the 1940s. The book contains many historic photographs of Toronto during the 1940s.
To learn more about this book:
https://tayloronhistory.wordpress.com/arse-over-teakettle/
To order this book:
http://bookstore.iuniverse.com/Products/SKU-000132634/Arse-Over-Teakettle.aspx
The Reluctant Virgin – Toronto Trilogy- Book Two
A Chilling Toronto murder mystery, where a serial killer haunts the streets and dark laneways of 1950s Toronto. The police discover that the blood has been drained from the victims. The convoluted plot leads to a surprise ending that most readers will not expect.
The book can be ordered from any Chapters/Indigo Store and electronically from the Chapters/Indigo and Amazon.com web sites. It may also be ordered directly from the publisher at the following link:  
http://bookstore.iuniverse.com/Products/SKU-000188306/The-Reluctant-Virgin.aspx
 Virgins No More – Toronto Trilogy – Book Three
The third volume in the trilogy is not yet available.
When the Trumpet Sounds
In the first decade of the 20th century, the Mercer family resides in a picturesque village in Dorset, England. The oldest son, Billy, is particularly mischievous , his pranks on the pious Reverend Wilmot creating many humorous situations. Because of Billy's ability with his fists, he is known in the village as "fighting Billy Mercer."
Difficult economic conditions force his family to immigrate to Toronto, Canada, where he confronts diverse and amusing characters, as well as difficult decisions. Eventually, Billy attends a local Salvation Army church, where he trades his fists for a trumpet. The Salvation Army becomes an integral part of his young life as he ponders the great God/mystery.
The dramatic tale climaxes on the decks of the ill-fated Empress of Ireland, which is rammed by a collier in the St. Lawrence River in 1914. It sinks in fourteen minutes, 840 passengers losing their lives. It was to be the nation's greatest maritime disaster—Canada's Titanic
"When the Trumpet Sounds" is an emotionally powerful story of an immigrant family, their struggles to survive in their new life in Canada, and their attempts to understand why God did not prevent the sinking of the Empress.
This book can be ordered at Amazon.com and at Chapters Indigo. Electronic copy of the book are available at $7.99.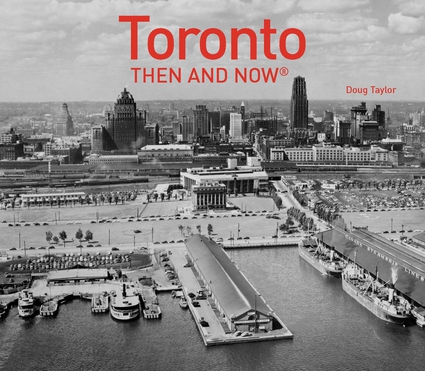 "Toronto Then and Now" 
This book explores 75 of the city's historic sites, using archival images to portray the way they were in past decades and modern photos to show how they appear now. A concise text tells the story of each site and its relevancy in the modern era. For further information follow the link:  here.
For a link to a review of this book that was in "Spacing Magazine."
http://spacing.ca/toronto/2016/09/02/reading-list-toronto-then-and-now/
Another book about the old theatres, published by Dundurn Press, contains 80 of Toronto's former movie theatres. It is entitled, "Toronto's Movie Theatres of Yesteryear—Brought Back to Thrill You Again." It contains over 125 archival photographs and relates interesting anecdotes about these grand old theatres and their fascinating histories.
For a link to a feature article about this book in Toronto Life Magazine:
http://torontolife.com/culture/movies-and-tv/photos-old-cinemas-doug-taylor-toronto-local-movie-theatres-of-yesteryear/.
Link to order this book: https://www.dundurn.com/books/Torontos-Local-Movie-Theatres-Yesteryear
" Lost Toronto"
Using detailed archival photographs, "Lost Toronto" recaptures the city's lost theatres, sporting venues, bars, restaurants and shops. This richly illustrated book brings some of Toronto's most remarkable buildings and much-loved venues back to life. From the loss of John Strachan's Bishop's Palace in 1890 to the scrapping of the S. S. Cayuga in 1960 and the closure of the HMV Superstore in 2017, these pages cover more than 150 years of the city's built heritage to reveal a Toronto that once was.
Official publication is Jan. 18, 2018. Link to order this book is not yet available.
                                                               * * *
Canadian Landscape Paintings and Toronto Scenes
Writing books exploring Toronto's history has not been my only attempt to preserve the city's past. In the late-1960s, I commenced sketching scenes of Toronto and transferring them onto canvas. In many instances, I painted on location, setting up an easel on the sidewalk or any spot that provided a view of the subject. I employed a similar approach when painting Ontario landscapes. In the 1970s, I left teaching for two years to paint full time. Then, requiring money, I returned to teaching and taught art for several years, as well as history.
Autumn Hills  18×24  acrylic on stretched canvas, painted in 2005
Huron St. houses 20" x 24" (2002)   Fruit market on Queen St. West near Bathurst (1992)
View of the Toronto skyline from Centre Island in 1984—16" x 20", acrylic on stretched canvas, painted 1989.
Though self-taught, I commenced exhibiting professionally at the Ampersad Gallery on Avenue Road and the Hidden Gallery in Yorkville in the 1970s. Both of these have since closed. As well, I exhibited at a few other galleries throughout the city, including the York Woods Library Gallery and the Mississauga Central Library Gallery. I also mounted a 30-piece exhibition in the main gallery space of the Toronto Dominion Bank Building.
A quote about my art from a promotional pamphlet prepared by a Yorkville (Toronto) art gallery:
"Many have compared Doug's style to the Group of Seven. This is true only in the sense that he paints landscapes in a Canadian Impressionistic manner. Any comparison ends there. Although obviously influenced by Lauren Harris and A. Y. Jackson, Doug has developed his own method of translating the living landscape onto canvas.
The paintings are fresh and bold. He is not afraid to use raw colour, and even black, if the effect achieves the desired mood. Lines flow in obvious rhythms. Other paintings are smooth and flow effortlessly over the canvas."  
"Intense Canadian landscapes"—Barney McKinley—The Toronto Sun
"Artist with tremendous potential"—Victoria Basca—curator of the Hidden Gallery, Toronto    
Autumn colours abound in Doug Taylor's Canadian landscapes—Jill Wright—Toronto Star
Mountain Vista – 16"x20"              Light and Shadow—Muskoka 16" x 20"
       Hidden Grove, Humber Valley—"16 x 20", acrylic on stretched canvas.