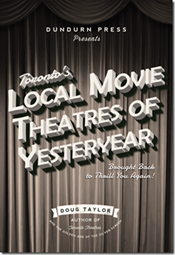 Another book about the old theatres, published by Dundurn Press, contains 80 of Toronto's former movie theatres. It is entitled, "Toronto's Movie Theatres of Yesteryear—Brought Back to Thrill You Again." It contains over 125 archival photographs and relates interesting anecdotes about these grand old theatres and their fascinating histories.
To view previous posts about other movie houses of Toronto—old and new
https://tayloronhistory.com/2013/12/18/torontos-old-movie-theatrestayloronhistory-com/
To view links to Toronto's Heritage Buildings
https://tayloronhistory.com/2014/01/02/canadas-cultural-scenetorontos-architectural-heritage/
For a link to a feature article about this book in Toronto Life Magazine:
http://torontolife.com/culture/movies-and-tv/photos-old-cinemas-doug-taylor-toronto-local-movie-theatres-of-yesteryear/.
Link to order this book: https://www.dundurn.com/books/Torontos-Local-Movie-Theatres-Yesteryear