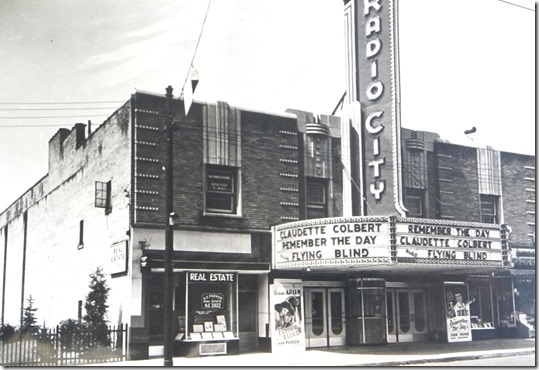 The Radio City Theatre in 1941, Ontario Archives
The Radio City Theatre was located at 1454 Bathurst Street, a short distance south of St. Clair Avenue West. It was built adjacent to the southern loop of the Vaughan Bus, which terminated at the north end of its route at Oakwood Avenue and Vaughan Road. As a young boy, I travelled on the Vaughan bus many times. The first time I visited The Radio City Theatre I was too young to go unaccompanied, so an adult neighbour took a friend, my brother and me to see Walt Disney's animated film, "Snow White." The film had been released in 1937, but I saw it as the Radio City in 1943.
As a child, I thought the theatre was amazing. Its size and grandeur appeared palatial, worthy of the prince charming that rescued Snow White in the Disney film. I knew the story of Snow White quite well as I had signed-out the picture book from the library at Vaughan and Oakwood Avenues. When I first visited the theatre, it was spanking new, having opened just five years earlier in 1936. Its auditorium contained about 800 seats. The lobby was richly carpeted and included a fireplace.
I did not attend the theatre again until I was of sufficient age to ride the Vaughan bus on my own. However, I rarely attended it, since by that time the larger and more attractive Vaughan Theatre had opened nearby. Both theatres were managed by the B&F chain.
The theatre's doors were shuttered in 1975 and the building was demolished. The site today contains a low-rise building that is used for other commercial purposes.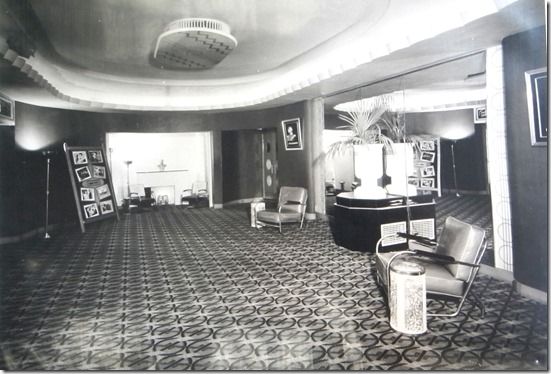 Lobby of the Radio City Theatre. Ontario Archives, AO 2174.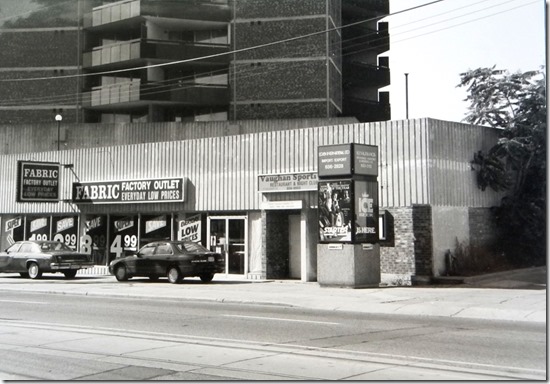 Building on the site of the Radio City Theatre.
To view the Home Page for this blog: https://tayloronhistory.com/
To view previous blogs about movie houses of Toronto—historic and modern
http://tayloronhistory.wordpress.com/2013/10/09/links-to-toronto-old-movie-housestayloronhistory-com/
Recent publication entitled "Toronto's Theatres and the Golden Age of the Silver Screen," by the author of this blog. The publication explores 50 of Toronto's old theatres and contains over 80 archival photographs of the facades, marquees and interiors of the theatres. It relates anecdotes and stories of the author and others who experienced these grand old movie houses.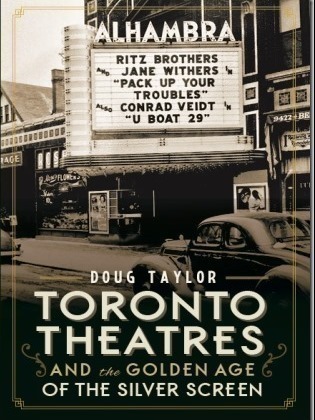 To place an order for this book:
https://www.historypress.net/catalogue/bookstore/books/Toronto-Theatres-and-the-Golden-Age-of-the-Silver-Screen/9781626194502 .
Book also available in Chapter/Indigo, the Bell Lightbox Book Store and by phoning University of Toronto Press, Distribution: 416-667-7791
Theatres Included in the Book:
Chapter One – The Early Years—Nickelodeons and the First Theatres in Toronto
Theatorium (Red Mill) Theatre—Toronto's First Movie Experience and First Permanent Movie Theatre, Auditorium (Avenue, PIckford), Colonial Theatre (the Bay), the Photodome, Revue Theatre, Picture Palace (Royal George), Big Nickel (National, Rio), Madison Theatre (Midtown, Capri, Eden, Bloor Cinema, Bloor Street Hot Docs), Theatre Without a Name (Pastime, Prince Edward, Fox)
Chapter Two – The Great Movie Palaces – The End of the Nickelodeons
Loew's Yonge Street (Elgin/Winter Garden), Shea's Hippodrome, The Allen (Tivoli), Pantages (Imperial, Imperial Six, Ed Mirvish), Loew's Uptown
Chapter Three – Smaller Theatres in the pre-1920s and 1920s
Oakwood, Broadway, Carlton on Parliament Street, Victory on Yonge Street (Embassy, Astor, Showcase, Federal, New Yorker, Panasonic), Allan's Danforth (Century, Titania, Music Hall), Parkdale, Alhambra (Baronet, Eve), St. Clair, Standard (Strand, Victory, Golden Harvest), Palace, Bedford (Park), Hudson (Mount Pleasant), Belsize (Crest, Regent), Runnymede
Chapter Four – Theatres During the 1930s, the Great Depression
Grant ,Hollywood, Oriole (Cinema, International Cinema), Eglinton, Casino, Radio City, Paramount, Scarboro, Paradise (Eve's Paradise), State (Bloordale), Colony, Bellevue (Lux, Elektra, Lido), Kingsway, Pylon (Royal, Golden Princess), Metro
Chapter Five – Theatres in the 1940s – The Second World War and the Post-War Years
University, Odeon Fairlawn, Vaughan, Odeon Danforth, Glendale, Odeon Hyland, Nortown, Willow, Downtown, Odeon Carlton, Donlands, Biltmore, Odeon Humber, Town Cinema
Chapter Six – The 1950s Theatres
Savoy (Coronet), Westwood
Chapter Seven – Cineplex and Multi-screen Complexes
Cineplex Eaton Centre, Cineplex Odeon Varsity, Scotiabank Cineplex, Dundas Square Cineplex, The Bell Lightbox (TIFF)