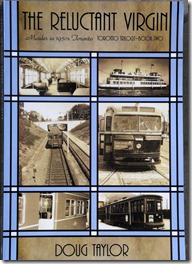 The Reluctant Virgin
The "The Reluctant Virgin" is a murder mystery about a serial killer that haunts the streets and ravines of Toronto. The murderer drains the blood of the victims in a mysterious ritual that baffles the two detectives assigned to the case. The city of Toronto is featured in the novel to such an extent that those who are familiar with the city will be able to visualize the crime scenes. The first murder is committed in the darkness of the Humber Valley, a short distance north of Eglinton Avenue.
Take this link to read a passage from "The Reluctant Virgin".
Order information:
From the publisher at http://bookstore.iuniverse.com/Products/SKU-000188306/The-Reluctant-Virgin.aspx
Chapters/Indigo
Amazon?
Footnote:
"The Reluctant Virgin" was  conceptualized as part 2 of 3 books collectively named the Toronto Trilogy, the first being "Arse Over Teakettle" and the last planned as "Virgins No More".  Unfortunately part 3 was not finished before the author's passing in 2020.
The story in "Arse Over Teakettle" continues with the same characters in "The Reluctant Virgin".