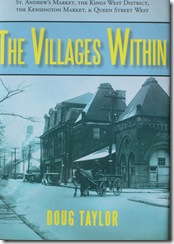 The Villages Within
The introductory section of  "The Villages Within" contains an irreverent history of Toronto. The remainder of the book has detailed walking tours of The King's West District, the Kensington Market, and Queen Street West between Spadina Avenue and University Avenue.
The story of Toronto's past will not improve anyone's knowledge of history, but its fabrications and exaggerations may provide an amusing insight into the lives of those who built the town of York. It is an expose of historical untruths, a book that no school should ever permit its students to read.
Discover Lord Dorchester's unusual method of staying warm while his underwear froze during his first winter in Canada. Learn about Elizabeth Simcoe's struggle with the intoxicating evils of gooseberry wine. During the War of 1812, why did Laura Secord deliver a cow to James Fitzgibbon in the dead of night? Why did the residents of York fear an American invasion in 1813, even though they needed the dollars to support the town's tourist industry? Why did the colonists, who never bathed at the best of times, become truly revolting in 1837? If you have ever pondered these intellectual questions, then this is your book.
In a more serious vein, the section of the book that chronicles the history and architecture of the Kings West District, the Kensington Market, and the proudly "tacky" Queen Street West, create ideal walking tours to explore these fascinating areas. Many photographs and appropriate maps accompany the narrative. The book examines the history of the buildings, their architectural details, and speculates on the lives of the people who lived or worked in these interesting properties.
Order Information:
From the publisher: http://bookstore.iuniverse.com/Products/SKU-000175211/The-Villages-Within.aspx
Chapters/Indigo
Amazon