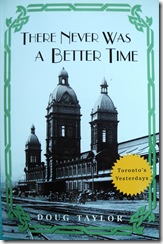 There Never Was a Better Time – Toronto's Yesterdays
AWARDED "PUBLISHER'S CHOICE"
The novel is an entertaining and informative story of an immigrant family during one of the most thrilling times in the history of Toronto.
A Toronto historian chronicles family's life in 1920s Toronto – "Hogtown" – as it was known in the early days – where people gravitated  to "live high off the hog. "A humorous and intimate story of family life in bustling Toronto during the 1920s, as experienced by two young immigrants and their brothers, parents, and rascal of a grandfather. Jack and Ernie Taylor immigrate to Canada in 1921, and three years later their parents, John and Mary Taylor, along with their brothers and grandfather, Job, move to the city. It is one of the most dynamic decades in the history of Toronto. The brothers mature and thrive, despite the different temperaments involved, thanks in part to the strength of Mary's discipline. She provides structure for her sons, yet they still enjoy the diverse frivolities of the time. Share in their daily life during the "Roaring Twenties."
Have you ever wanted to ride on an old Yonge Streetcar, sail across Toronto harbour on a side-paddle ferry such as on a side-paddle ferry, the Bluebell, Primrose, or Trillium , or attend the CNE when it was the greatest late-summer event in Toronto?
– Attend a baseball game at Hanlan's Point Stadium 

– Sail aboard the steamer Cayuga to Port Dalhousie
– Attend a Remembrance Day ceremony at Toronto's old City Hall, when the wounds of the First World War remained vivid
– Observe the 60th anniversary celebrations of the Confederation of Canada, and the visit of the Prince of Wales
– Experience the Canadian National Exhibition, when it was the world's biggest and grandest annual fair
– Share in the laughter of a vaudeville show at the Pantages Theatre (now the Ed Mirvish) or Shea's Hippodrome (demolished)
– Visit Sunnyside, Toronto's playground by Lake Ontario
– shop at the St. Lawrence Market in the days when produce was sold from carts and wagons inside the market buildings
"Toronto the Good" was evolving into a dynamic, sinful metropolis, adored by many and feared by others. The Taylors witnessed the cultural identity and infrastructure of their adopted city becoming firmly established during a time of rapid urban expansion.
Order Information:
Amazon: https://www.amazon.ca/There-Never-Was-Better-Time/dp/0595456537
Chapters/Indigo