Houses on the south side of Bellevue Square

Living within ten-minutes walking distance of the Kensington market, almost every day I stroll its interesting streets to purchase my daily needs, enjoy a coffee, and observe the ever-changing scene. I never tire of its street buskers, musicians, friendly merchants, and eccentric characters. Where else can I see an elderly woman drop a small package of marijuana into the coin-basket of a street singer, or overhear a man inform me of the proper procedures and dress-code for sipping rum from a bottle in a paper bag? To paraphrase "Honest Ed's slogan," the Kensington Market may be imitated, but never duplicated.
The hustle and bustle of a summer afternoon at Baldwin and Kensington avenues.

Painting is acrylic on stretched canvas, 18" by 24"

During the summer of 2005, I attempted to capture the vitality of the market on canvas. Many mornings I carried my paints and easel to the market and spent the day sketching and painting. I talked to shoppers, merchants, and residents as they looked over my shoulder to view my progress. I heard stories and gained new insights into the daily life of the area. Some of the shops and views that I transferred onto canvas no longer exist. They have either been demolished, gone out of business, or the shops' facades and signage have been greatly altered.

Eventually, my interest in the market caused me to research the fascinating buildings that inhabit the market's narrow streets. In 2010, I published the material, along with studies of the Kings West District (the area around King Street and Spadina Avenue), and Queen Street West. I included a history of the old St. Andrew's Market. The book was entitled "The Villages Within," an apt description of the Kensington Market.

My study commenced with the houses surrounding Bellevue Square, as it is at the heart of the market. Bellevue Square is bounded by Augusta Avenue on the east, Wales Avenue on the south, Bellevue Avenue on the west, and on the north by Denison Square (which is actually a street). During the great Toronto blackout in 2003, a spontaneous "pot party" developed in Bellevue Square, attracting residents and visitors alike to the music and fun of an off-beat street party.

Through this series of posts, I would like to share a few of these "memory" paintings, as well as further information that I have gathered. On my next post, I will examine in detail the Peterkin home, at 29 Wales Avenue.
Paintings of Kensington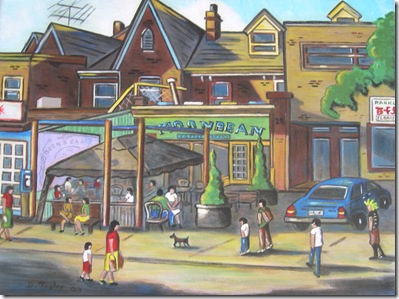 The "Moonbean Coffee Shop" on St. Andrew's Avenue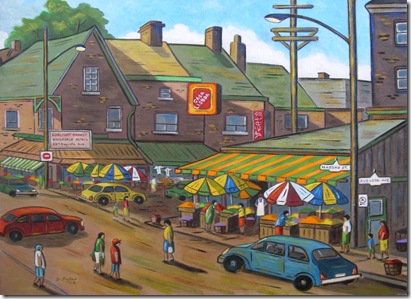 "Summer afternoon at Augusta and Nassau Avenues"