Discovering the Kensington Market, a Village Within the city!
In my first post about discovering the Kensington Market, I explained the reasons for my interest in the market.

In this post, I would like to examine the Peterkin house, at 29 Wales Avenue. During my daily walks, the Victorian mansion on the southwest corner of Wales and Bellevue avenues, was one of the first home on Bellevue Square that attracted my attention. With its ornate porch and first-floor bay window, I considered it the most imposing house overlooking the square. I had often strolled past this dwelling, and became increasingly curious about its history. I photographed the dwelling on a sunny winter day, as during the summer months, the foliage hid much of the house from view.
29 Wales Avenue, the home of James R. Peterkin
29 Wales Avenue
When James R. Peterkin was twenty-one years of age, he purchased property at 145 Bay Street and opened a lumber yard and mill. Employing several labourers, along with a few carpenters and cabinet makers, he created a prosperous business. Achieving a degree of success, he purchased property on Wales Avenue and constructed his first home, a one-story house in the Ontario cottage style. It possessed extensive verandas, which were wrapped around the north and east sides of the dwelling. As the years passed, Peterkin's wealth increased, and as his family had grown in size, he decided to demolish the house at 29 Wales Avenue and construct a larger home.
The house on the site today was completed in 1884. In 1889, the house possessed a value of $3500 and the property was worth $3325. This was highly-priced real estate for Toronto in that year. The three-story house is of red brick, likely from the kilns of the Don Valley brickyard. Yellow bricks were employed for decorations above the windows, as well as the trim on the facade. The ornate porch with its fancy supports, and the pediment (triangle) above the porch were created by the craftsmen in Peterkin's lumber yard.
Inner and outer doors of the house at 29 Wales Avenue, Intricate designs in the triangle (pediment), cut with a scroll saw.
For detailed information on the Peterkin house, life within the home when Peterkin's family lived there, and other residents of the house, see "The Villages Within".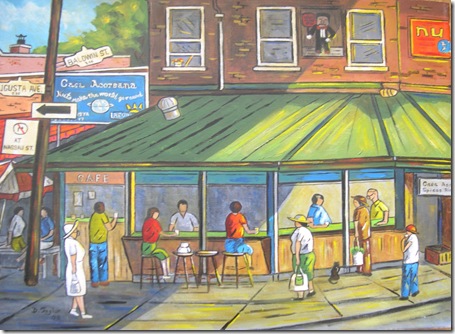 Coffee shop and store at the corner of Baldwin and Augusta avenues
Acrylic on stretches canvas, 16" by 20"