I have added another post on these historic buildings because this week I was able to photograph the foundations of one of the building. The foundations had been exposed due to repairs. They are rebuilding the patio on the west side of the building, where the famous club, "The Brant House" is located. The previous post on these buildings was:
Atelier Cafe Lounge in the Gurney Stove Foundry at King and Brant streets. – Historic Toronto (tayloronhistory.com)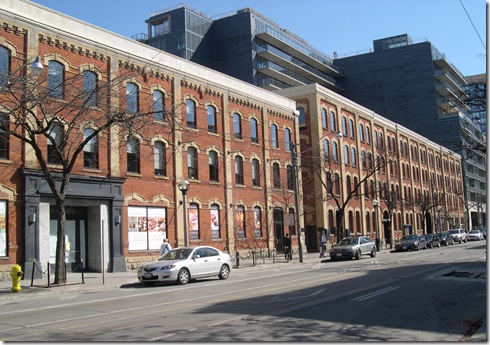 The restored buildings of the old Gurney Iron Foundry on King Street West as they appear today. Construction on the four-storey red-brick building with yellow-brick trim (on the right-hand side of the photo), began in 1872. The building on the left-hand side (foreground) of the picture commenced in 1887.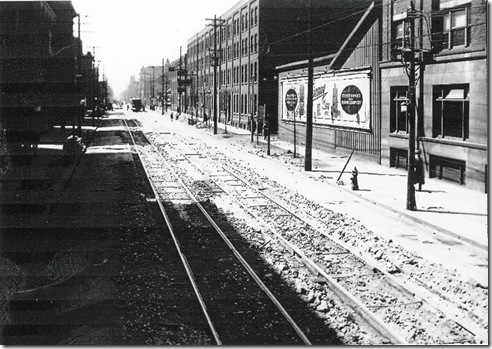 King Street looking west from near Spadina on April 13, 1927. The Gurney Stove Foundry is in the background on the right-hand side of the photo. Photo is courtesy of the Toronto Transit Commission, City of Toronto Archives, TTC Fonds, Series 71, Item4212, .
Below are the photos of the exposed foundations of the 1887 building.
At the top of the above photo, the red and yellow bricks of the 1887 foundry walls are visible. Below them are the large stone foundation-blocks at the base of the structure. The space below the stone blocks is composed of fieldstones that were gathered from the local area. Some of them appear to be sedimentary rocks that may have been transported by horse and wagon from the Humber or Don Valley.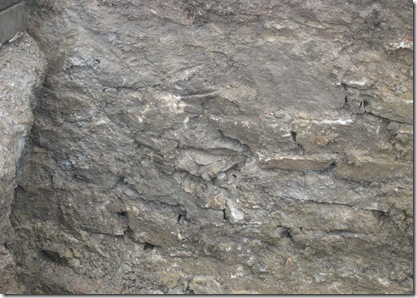 Above photo shows the layers of fieldstones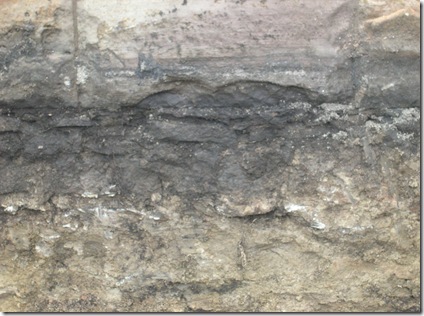 This is the layer of fieldstones directly below the large stone blocks.