Today a tour guide named Tim provided me with an excellent tour of Campbell house, at the corner of University Avenue and Queen Street West.
The following quote is from the book "The Villages Within."
This 1822 home was originally on Adelaide Street, near Frederick Street. It was relocated to its present site in 1972. It was the home of Sir William Campbell (1758-1834), sixth chief justice of Ontario.
Born in Caithess, Scotland, Campbell fought in the American Revolution, and was a prisoner in Yorktown, Virginia in 1781. After the war, he settled in Nova Scotia, and practised law. In 1811 he moved to Upper Canada (Ontario). He was appointed to the King's Bench as a judge, and in 1825 was speaker of the Legislative Council of Upper Canada. In 1829 he was knighted, the first such honour bestowed on a member of the judiciary in Upper Canada.
The neo-classical home, with its nine windows in the façade, has been faithfully restored. Its impressive appearance reflects the important position Campbell held in the town of York. It is of red brick, on a stone foundation. Four Ionic pillars support the graceful porch that protects the doorway, with its fanned-shaped transom window and small sidelight panes of glass. The triangular pediment is a classical Greek design.
                  Interior views of Campbell House
Interior staircase that is original to the home, and the 19th century clock beside the stairs.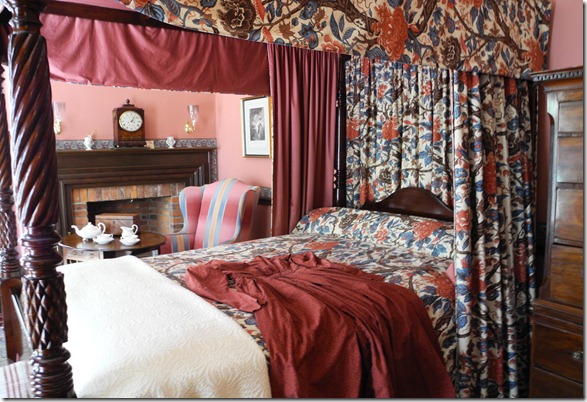 Because the house was built as a retirement home, after the Campbell children had grown up and departed, there are only two bedrooms – the master bedroom and a guest room. This is a view of  the master bedroom.
Ballroom on the second floor, and the ornate fireplace. The room accommodated about thirty dancers.
Dining room on the first floor. At the back of the room, the door on the left is where the servants entered with the trays of food. The door on the right leads to the butler's quarters.
Individual bowls used for rinsing wine glasses (left) when a different wine was served, and a view of a dinner plate (right).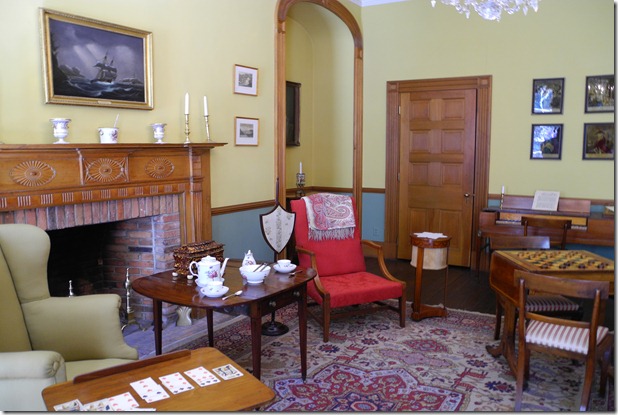 Withdrawal room opposite the dining room, where women "withdrew" after dinner
.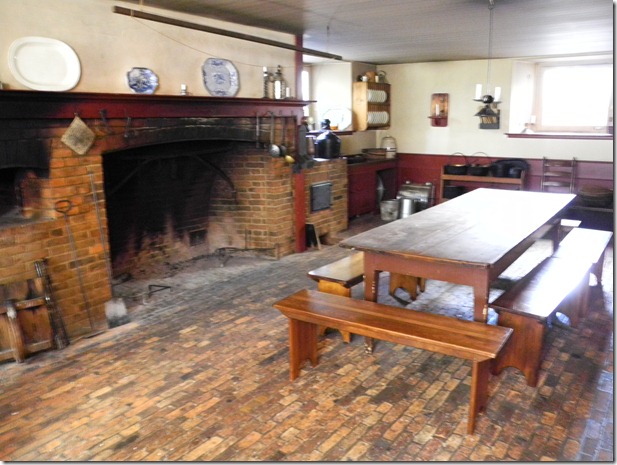 Kitchen in the basement to prepare the family meals. The Campbells employed ten servants.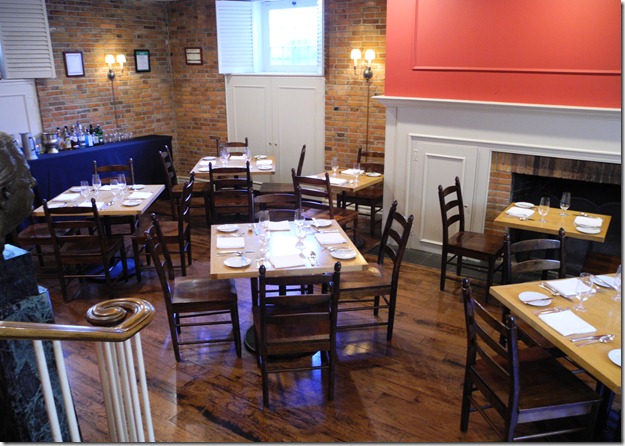 Modern dining room in the basement that is open daily to the public. The menu changes constantly. Reservations are recommended – 416- 597-0542. I intend to lunch here in the near future and will report on the experience.
The book "The Villages Within" provides a walking tour of Queen Street West, which includes Campbell House.