Being in the Algarve in the south of Portugal during the latter days of October, the scene that presents itself is vastly different to Toronto. Here, autumn descends gently across the sun-filled beaches and narrow alleyways of the town of Quarteira. The hordes of tourists have departed, the beaches are quiet, and the most active citizens are those who stroll along the boardwalk that stretches beside the sandy beaches. Halloween is an ocean away, belonging to lands where the the nights are becoming cold and the shrill breezes of the approaching winter are stripping the trees of the few remaining leaves on the bare branches. The sun of the Algarve dispels thoughts of ominous clouds creating dark foreboding shapes in blackened skies.
The beach at Quarteira on the Algarve in southern Portugal.
However, though Halloween is not a traditional autumn observance in Portugal, its symbols are creeping into the commercial life of the town. During the past decade, Halloween has entered the business community in England, and has slowly crept into holiday resorts such as Quarteira, perhaps catering to the many British tourists that holiday on the beaches near the town. The following photos were taken from the store windows of Quarteira during the final week of October.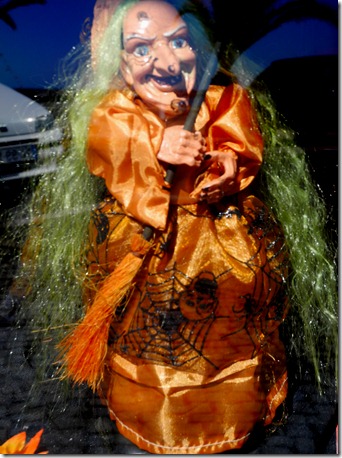 Links to blogs about the Canadian observance of Halloween : https://tayloronhistory.com/2011/10/24/halloween-traditions-in-canada/
https://tayloronhistory.com/2011/10/24/shelling-out-for-treats-on-halloween-in-toronto-in-1945/
https://tayloronhistory.com/2011/10/25/a-short-story-about-halloween-of-yesteryear/