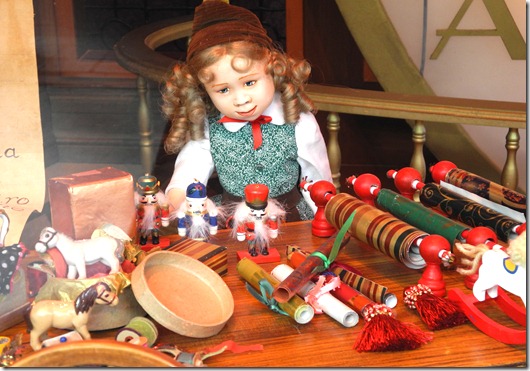 The following passage is from the novel "Arse Over Teakettle," a story about a young boy and his family, struggling to cope with the privations of the war years in Toronto during the 1940s. It is a hilarious tale of a group of children and their antics, as they mature sexually and learn about the mysterious ways of the adult world. The quote below tells about Tom Hudson's first visit to Eaton's Toyland, in 1943. Tom is the main character of the story, along with his mischievous friend Shorty.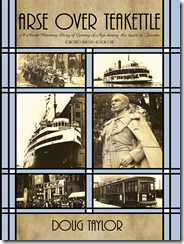 As Christmas approached, at school, yuletide themes dominated the classroom activities. We sang "Away in a Manger," thrilled to the poem, "The Night Before Christmas," and pasted bits of white cotton onto art paper to create snow scenes that rivalled those of Norman Rockwell.
During the second week of December, my mother journeyed downtown to commence her Christmas shopping, and as I attended school only in the morning, I accompanied her. Our destination was Eaton's. This was the first time I experienced the wonders of the fifth-floor Toyland, with its floor-to-ceiling, wall-to-wall toys. Everything a child desired ―board games, jig-saw puzzles, trains, dolls, doll houses, sleds, toboggans, miniature cars, electric trains, building blocks, play-school kits, and toy telephones―a kingdom of endless delights.
At the heart of everything was Santa Claus, seated regally on his enormous ice-white throne in "Toyland Castle." His gigantic black boots, red trousers and jacket, long snow-white beard, and red fur-trimmed hat comprised an impressive sight. Beside him was a pretty, young lady who was his helper. The "little people" who had worked all year to make the toys, were nowhere in sight. I thought that they were likely tending to Santa's reindeer, which were also absent from the scene.
My mother told me I that I was to have my picture taken with Santa, as we sat on his knee. The cost for two photographs was twenty-five cents. I felt exhilaration as well as panic. I had never experienced such contrasting feelings. It was like having an awesome hero of a fair-tale in a story at school, come to life before my eyes. I never gave it a second thought that Santa was a strange old man who dressed rather strangely and hung around with girls who were a third his age. It was many years before I encountered similar characters strolling along Queen Street West and through the Kensington Market.
My mother accompanied me as I stood in line, and when it was my turn to sit on Santa's knee, the pretty lady lifted me up. I gazed into Santa's enormous eyes.
He smiled and inquired, "What do you want for Christmas?"
Before I had an opportunity to reply, he motioned for me to turn my head. There was the blinding light of a flash bulb. Within seconds, the audience with the king of Christmas ended. My mother did not ask me what I had requested for Christmas, as we always considered it a private matter. I had not told Santa anything, but in my heart, I knew that he was aware of my secret wish.
Before departing from the magical world of Toyland, my mother treated me to a trip aboard the Toyland Train Express, which simulated a trip across Canada. For the price of twenty-five cent, the forty-seven-foot train, on one hundred and seventy-five feet (53.2 meters) of track, transported me through forests, prairie grasslands, and a mountain tunnel. When the ride concluded, my mother and I strolled around and gazed at the other attractions of Toyland – Hobby Row, Doll Land, Toto the Clown, Topsy Turvy Town, and a Toyland magician.