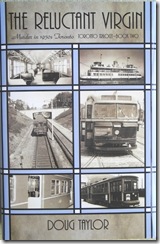 The passage below is from the novel "The Reluctant Virgin," a tale of a serial killer in Toronto. The details of the city that the author provides creates a degree of realism that is rarely achieved in murder mysteries. Because the killer strikes in so many diverse locations throughout the city, readers who are familiar with Toronto, can easily envisage the murderer stalking the streets of their own neighbourhood.
When the bodies of the victims are found, the police discover that their blood has been drained in some sort of weird and unexplained ritual. The reader is swept along as the murders occur, the clues to the identity of the killer in plain sight yet strangely obscure.
From the "Reluctant Virgin"
New Year's Eve was approaching, and the stalker was restless. Nothing had appeared in the newspapers about the "Valley Vampire" for a few weeks now. Though publicity increased the stalker's sense of self-importance, it also necessitated that greater caution be exercised.
The stalker had again visited the house on Raymore Drive during the second week of December, but rather than create a sense of fulfillment, it had increased the desire for another kill.
On Saturday 29 December, the stalker set forth into the night.
Alighting from the Bloor Streetcar at Broadview Avenue and walking eastward along the Danforth, the stalker carried a backpack. Finding an unfamiliar tavern, the stalker entered. In its beverage room, the pungent odour of cigarettes, stale beer, and a hint of sweat assaulted the senses. The noise level in the room indicated that the patrons were well on their way to inebriation, and far too busy to notice anything beyond the clutter of LCBO-approved draft beer glasses on the tables. Despite this, as a precaution, the stalker pulled the wool cap lower over the head, obscuring the upper portion of the face.
Within a few moments, the stalker had found a victim. She was sitting in a secluded corner of the room, the cigarette smoke and dim lighting isolating her from the other patrons of the tavern.
The woman was not young, perhaps in her mid-forties, slightly on the plump side, with invitingly large breasts. Most of the patrons were young, and to them a middle-aged woman was invisible. She is not unattractive, the stalker thought. Her face is pleasant. But her most attractive feature is her ruddy complexion. She has an abundance of rich red blood.
The stalker approached her. The woman, whose name was Susan Holden, smiled. Her eyes betrayed that she would not find conversation with the stranger objectionable. The stalker was not certain if it were a result of the desire for money, loneliness, or mere curiosity. The stalker smiled and motioned toward the empty chair at her table, asking permission to join her. A nod and a greedy smile indicated that she was agreeable. . . . .
To read details of this crime and other murders in "The Reluctant Virgin" : A direct link to the publisher of this book:
http://bookstore.iuniverse.com/Products/SKU-000188306/The-Reluctant-Virgin.aspx
The author's Home Page: https://tayloronhistory.wordpress