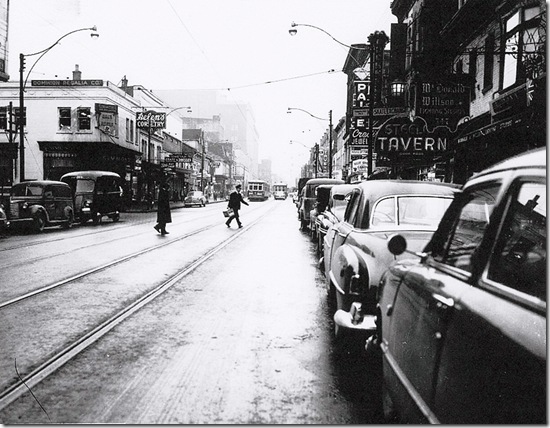 City of Toronto Archives, Series 574, s0574_file0054_id49757
The above photograph of Yonge Street was taken in 1951. It gazes northward from near Gould Street. On the left-hand (west) side of the photo, Elm Street intersects with Yonge. Steele's Tavern at 394 Yonge Street, where Gordon Lightfoot sang in the following decade, is in the foreground on the right-hand side of the picture.
This photo is one of many that appear in the murder/mystery "The Reluctant Virgin," a tale of a serial killer who haunts the streets and laneways of Toronto during the 1950s. The detailed descriptions of the city of that decade, along with the archival photos, create a chilling degree of reality to the fictional plot. The main characters of the book are young Tom Hudson and his friends. They did not know about Steele's Tavern, but the Yonge Street in the photo was familiar to them. It was the main thoroughfare of what was then Canada's second largest city. The street they knew remains somewhat in tact today. Many of the low-rise buildings flanking the street are still there, their signage as garish and intrusive as yesteryear.
However, in 1951 there was less automobile and pedestrian traffic. Because there were fewer cars, the city allowed street parking on its main thoroughfares. In the photo, on the west (left-hand) side of the street, near the southbound streetcar, we see empty parking spaces. There was no subway. The square-shaped Peter Witt streetcars trundled noisily along the roadway on ribbons of steel. Despite the hustle and bustle of the night-time bars and clubs, Yonge Street was quieter, calmer, and less hurried than today. However, the principal characters in our story visited Yonge Street only occasionally. Their daily lives centred more on the quiet community where they lived.
For more information on the book, follow the link https://tayloronhistory.com/2012/01/29/chilling-murdermystery-showcases-toronto/;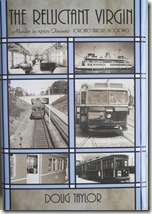 The murder/mystery, "The Reluctant Virgin" is available at any Chapters/Indigo store. It is a strange tale of the serial killer who haunts the streets and laneways of Toronto in the 1950s seeking victims to drain their blood. The police are puzzled by the strange ritual.
To purchase electronic versions of the book or order paperback copies: http://bookstore.iuniverse.com/Products/SKU-000188306/The-Reluctant-Virgin.aspx