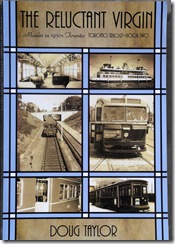 The murder/mystery entitled "The Reluctant Virgin," is the story of a serial killer loose on the streets of Toronto during the 1950s. However, in reality the book is historical fiction. Important events of the decade are woven into the fictional plot. The author's memories of the 1950s, such as the death of King George VI , coronation of Elizabeth II, the Yonge Street strip, Massey Hall, Maple Leaf Gardens,and Hurricane Hazel, formed the basis for the sections that describe these places and events. Archival photos add a high degree of reality to the tale. Though it is unusual to place photos within a fictional murder/mystery, they serve a vital purpose. They allow the reader to visualize the city of those years.
Along with the historical events of the 1950s, the book deals with the social issues of the decade. Attitudes towards unwed mothers, divorced women, women's rights, pre-marital sex, and sexual orientation are important to the plot. "The Reluctant Virgin" is no mere murder/mystery. Readers who wish to experience the Toronto of the 1950s within an entertaining venue, will enjoy this book.
For further information on the "The Reluctant Virgin," a murder/mystery that encompasses historical fiction: https://tayloronhistory.com/2012/01/29/chilling-murdermystery-showcases-toronto/
Author's Home Page : https://tayloronhistory.com/
Link to purchase this book : http://bookstore.iuniverse.com/Products/SKU-000188306/The-Reluctant-Virgin.aspx
"The Reluctant Virgin" is available at any Chapters/Indigo store and also on-line in electronic versions.