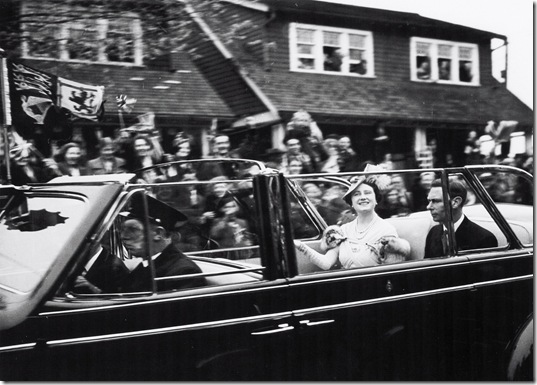 King George VI and Queen Elizabeth in Toronto during the 1939 royal visit
The above photo, courtesy of the Toronto Reference Library, is one of the many photos included in the recently published novel "Arse Over Teakettle." The novel commences at the end of the Great Depression, and chronicles the daily life of a family in Toronto struggling to survive the harsh economic times of the day. It continues through the horrors of the Second World War, and the immediate post-war years. The main character is a boy named Tom Hudson, and the story centres around him and his friends as they struggle to mature. The passages in the book that narrate their immature attempts to explore their sexuality are amusing, as is Tom's crusty grandfather.
The economic, political, and social events of the times are detailed in the book, creating a social history of Toronto during the 1940s. It was an era when the movie houses and the medium of radio dominated the social scene. Readers who remember the stars of the golden age of film might recall their own days enjoying some of Hollywood's classic films as they read about Tom and his friends attending their local theatre. Viewers of TCM might find it interesting to read about the days when the films of the 1940s were first released. Many may also recall the famous radio shows of the period such as "The Green Hornet," "The Lone Ranger," and "The Shadow."
The book is rich with anecdotes of Sunnyside, the CNE, the Toronto Islands, and the city's many parks. The story of the Noronic Disaster on Toronto's waterfront in 1949, when 122 passengers burnt to death, is told through the eyes of the fictional Tom Hudson, the narrator of the tale.
"Arse Over Teakettle" is the first book in the Toronto Trilogy. The second book in the trilogy, "The Reluctant Virgin," is also available. The third book in the trilogy will be available next year.
Link to purchase Arse Over Teakettle: http://bookstore.iuniverse.com/Products/SKU-000132634/Arse-Over-Teakettle.aspx
Link to more information about "Arse Over Teakettle" : https://tayloronhistory.com/arse-over-teakettle/
The author's Home Page :https://tayloronhistory.com/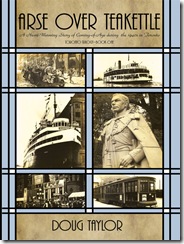 "Arse Over Teakettle,"
Book one of "The Toronto Trilogy."
is available at any Chapters/Indigo
Store and on-line in electronic versions