Gazing north on Yonge from Front St. Yonge St. looking south to College St.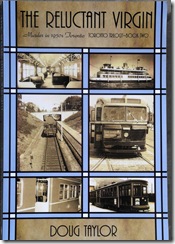 Though it is unusual to insert archival photos in a fictional tale, this technique adds a sense of realism to the the book, "The Reluctant Virgin." The setting of the story is 1950s Toronto. The city of that decade is faithfully recreated, the photos adding greatly to the reader's ability to picture the scenes. It's as if Toronto has become the backstage of a "movie set," the script written to fit into the already constructed set.
The story is about a serial killer who seeks victims from various haunts in Toronto, and after dispatching them, drains their blood in some sort of strange ritual. Toronto readers will be familiar with the places where the murders are committed – Humber River Valley, High Park, the Rosedale Ravine, Centre Island, a sleazy downtown hotel, and a tavern on the Danforth.
The book abounds with unusual and eccentric characters. Because the first murder-victim is a teacher at a high school, the police interrogate the teachers on the staff where she taught. The teachers are a wild and strange assortment of characters.The nymphomaniac of an art teacher is particularly amusing, as is the gym teacher and the weepy-eyed librarian. However below the surface of these humorous individuals lurks a possible deranged killer.
"The Reluctant Virgin" is a book for those readers who enjoy a murder/mystery while exploring Toronto's past. The book is historical fiction and deals with the social and political issues of the 1950s as it weaves through a suspenseful and twisted plot of murder and revenge.
Below are two of the many 1950s photos included in the "The Reluctant Virgin." They are from the collection of the Toronto Archives.
Yonge near Queen during subway construction Yonge, looking north to Queen
For more information on the book, follow the link https://tayloronhistory.com/2012/01/29/chilling-
Author's Home Page : https://tayloronhistory.com/
To purchase electronic versions of the book or order paperback copies: http://bookstore.iuniverse.com/Products/SKU-000188306/The-Reluctant-Virgin.aspx
"The Reluctant Virgin" is available at any Chapters/Indigo store and can be ordered in electronic versions on-line.