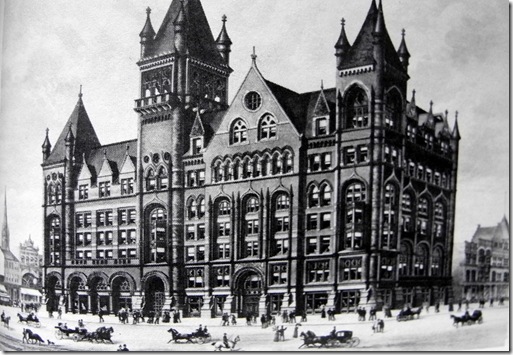 The lithograph above depicts the old Confederation Life Insurance Building in 1890. It was located at the corner of Richmond and Yonge Streets.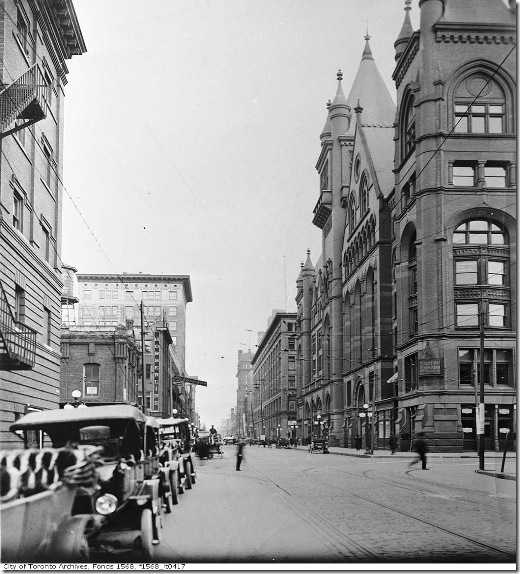 Looking west along Richmond St. to Yonge Street in 1919. The Richmond St. Facade of the Confederation Life Building is on the right-hand (north side) of the street. (Photo from City of Toronto Archives, Series 372, SS 0058, Item 0082)
In 1889, the Confederation Life Insurance Company held an architectural contest for designs for their new prestigious office building at 14 Richmond Street East. The firm of Knox, Elliot and Jarvis won the competition When completed in 1882, the fanciful castle-like structure was one of the tallest buildings in the city, its massive stone blocks rising to a height of six storeys, though its thick walls and towers created the illusion of a much taller building. Since the invention of the electric elevator in 1853, buildings were reaching ever higher into the skies.
When the Confederation Life building was completed in 1892, it was considered the finest and most up-to-date office building in the city, indeed, in all of North America. Flamboyant in style, it was in the Richardsonian Romanesque style, similar to Toronto's Old City Hall. The Credit Valley sandstone blocks at the base of the structure were enormous, as they supported the weight of the floors above them. The many carvings on its facades were rich in classical and Medieval symbolism.
During the years 1898 to 1900, the Confederation Life Building was altered, and it was again renovated in 1908. In 1981, a devastating fire created much damage, but thankfully, it was restored and still graces the northeast corner of Richmond and Yonge Streets.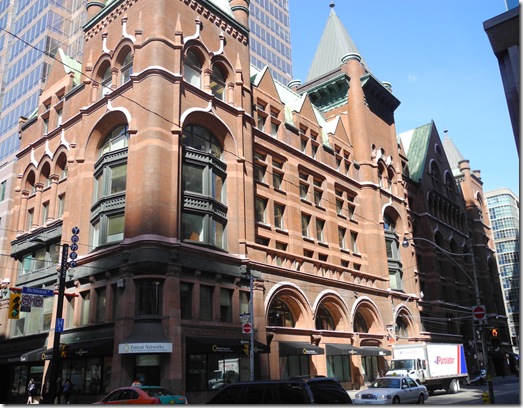 The Richmond Street facade of the the Confederation Life Building today
Detailed carvings on the building
Classical designs on the Richmond Street facade
Corner of Richmond and Victoria Massive doorway on Richmond Street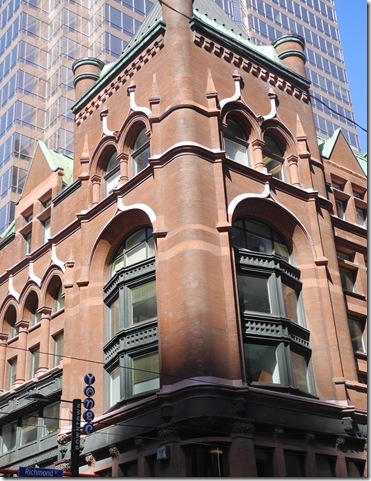 Corner at Yonge and Richmond showing top of the tower, the tall windows having wish-bone surrounds.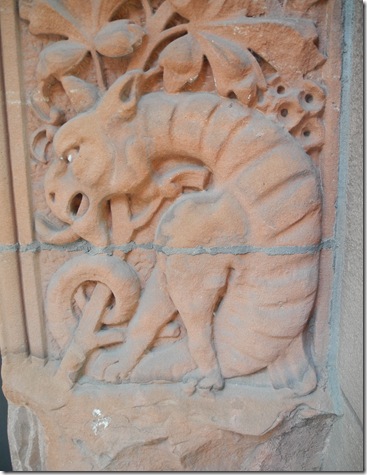 Carved dragon on the Confederation Life Building
To view the Home Page for this blog: https://tayloronhistory.com/
To view previous blogs about movie houses of Toronto—historic and modern
http://tayloronhistory.wordpress.com/2013/10/09/links-to-toronto-old-movie-housestayloronhistory-com/
Recent publication entitled "Toronto's Theatres and the Golden Age of the Silver Screen," by the author of this blog. The publication explores 50 of Toronto's old theatres and contains over 80 archival photographs of the facades, marquees and interiors of the theatres. It relates anecdotes and stories of the author and others who experienced these grand old movie houses.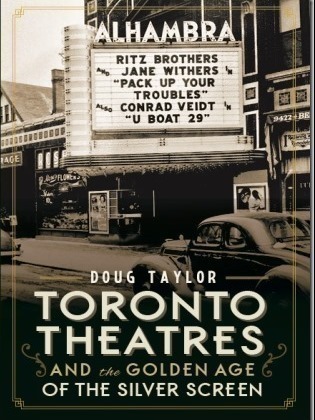 To place an order for this book:
https://www.historypress.net/catalogue/bookstore/books/Toronto-Theatres-and-the-Golden-Age-of-the-Silver-Screen/9781626194502 .
Book also available in Chapter/Indigo, the Bell Lightbox Book Store and by phoning University of Toronto Press, Distribution: 416-667-7791
Theatres Included in the Book:
Chapter One – The Early Years—Nickelodeons and the First Theatres in Toronto
Theatorium (Red Mill) Theatre—Toronto's First Movie Experience and First Permanent Movie Theatre, Auditorium (Avenue, PIckford), Colonial Theatre (the Bay), the Photodrome, Revue Theatre, Picture Palace (Royal George), Big Nickel (National, Rio), Madison Theatre (Midtown, Capri, Eden, Bloor Cinema, Bloor Street Hot Docs), Theatre Without a Name (Pastime, Prince Edward, Fox)
Chapter Two – The Great Movie Palaces – The End of the Nickelodeons
Loew's Yonge Street (Elgin/Winter Garden), Shea's Hippodrome, The Allen (Tivoli), Pantages (Imperial, Imperial Six, Ed Mirvish), Loew's Uptown
Chapter Three – Smaller Theatres in the pre-1920s and 1920s
Oakwood, Broadway, Carlton on Parliament Street, Victory on Yonge Street (Embassy, Astor, Showcase, Federal, New Yorker, Panasonic), Allan's Danforth (Century, Titania, Music Hall), Parkdale, Alhambra (Baronet, Eve), St. Clair, Standard (Strand, Victory, Golden Harvest), Palace, Bedford (Park), Hudson (Mount Pleasant), Belsize (Crest, Regent), Runnymede
Chapter Four – Theatres During the 1930s, the Great Depression
Grant ,Hollywood, Oriole (Cinema, International Cinema), Eglinton, Casino, Radio City, Paramount, Scarboro, Paradise (Eve's Paradise), State (Bloordale), Colony, Bellevue (Lux, Elektra, Lido), Kingsway, Pylon (Royal, Golden Princess), Metro
Chapter Five – Theatres in the 1940s – The Second World War and the Post-War Years
University, Odeon Fairlawn, Vaughan, Odeon Danforth, Glendale, Odeon Hyland, Nortown, Willow, Downtown, Odeon Carlton, Donlands, Biltmore, Odeon Humber, Town Cinema
Chapter Six – The 1950s Theatres
Savoy (Coronet), Westwood
Chapter Seven – Cineplex and Multi-screen Complexes
Cineplex Eaton Centre, Cineplex Odeon Varsity, Scotiabank Cineplex, Dundas Square Cineplex, The Bell Lightbox (TIFF)