A previous post detailed the history of Toronto's magnificent Osgoode Hall at Queen Street and University Avenue. Viewing the building from its exterior, it is difficult to imagine the splendour of its interior. There is no admission charge to enter, although visitors must pass through a security check at the entrance. I found the staff to be polite and cheerful, and the check only required a few moments. Visitors are allowed to photograph anywhere inside Osgoode Hall except the courtrooms. It is easy to spend a hour or more examining the various rooms, hallways, and the great library. However, a fifteen-minute visit during a lunch hour would also be enjoyable, allowing a person to judge if they wanted to revisit when more time was available to them.
Approaching Osgoode Hall (left-hand photo) and its doorway with Queen Victoria's crest etched into the glass (right-hand photo).
This enclosed courtyard is in the centre block of Osgoode Hall, and was designed to resemble the peristyle of a Roman home or villa. The statue is of a mother and child is dedicated to those who lost their lives in the Second World War.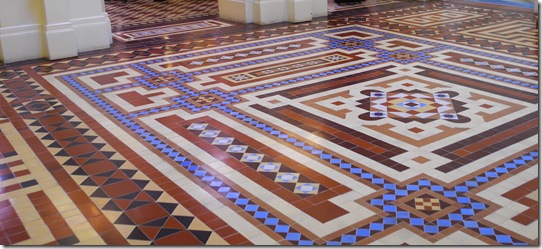 The detailed mosaic floor also creates the atmosphere of a Roman villa.
Grand staircase to the second-floor level of Osgoode Hall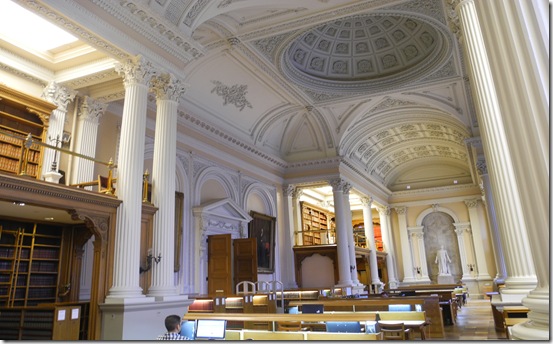 Library, where in 1860 they held a reception for the Prince of Wales (King Edward VII)
Fireplace in the library and oil painting of Chief Justice John Beverley Robinson, whose funeral rites were held in the library in 1863.
The painting on the left of Queen Victoria was donated to the City of Toronto by William Allan on 24 May 1855, in honour of Her Majesty's birthday. Allan Gardens on Jarvis Street were also donated by this man. The painting on the right is of William Henry Draper (1801-1877), for whom Draper Street was named. From 1863-1869, he was Chief Justice of Upper Canada.
The library remains in use today for legal study and research.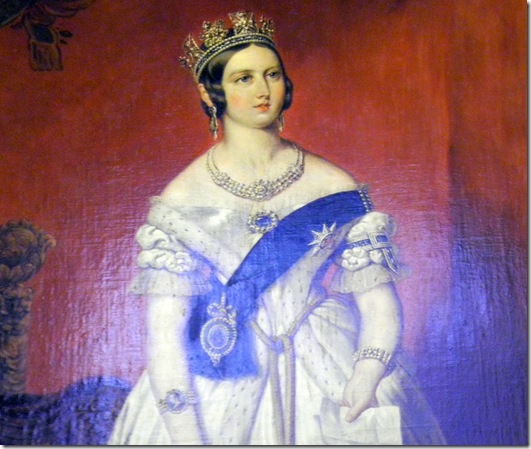 Osgoode Hall remains today as one of the finest examples of Classical Victorian Architecture.
To view the Home Page for this blog: https://tayloronhistory.com/
To view links to other posts placed on this blog about the history of Toronto and its buildings:
https://tayloronhistory.com/2013/10/08/links-to-historic-architecture-of-torontotayloronhistory-com/
To view the links to posts that rediscover Toronto's old movie houses:
https://tayloronhistory.com/2013/10/09/links-to-toronto-old-movie-housestayloronhistory-com/