All the photographs below are from the collection of the Toronto Archives. I am grateful for the assistance that this wonderful resource provides to residents of our city and other researchers.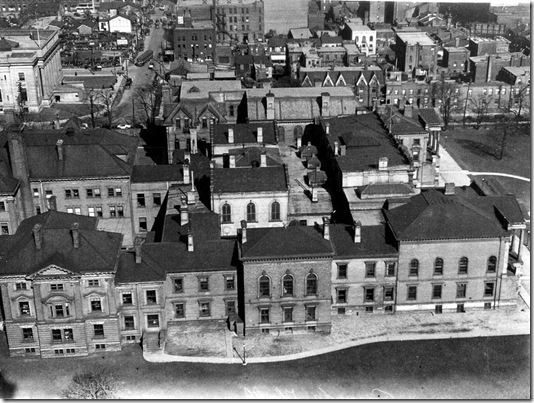 This view of Osgoode Hall was taken in 1929, from a window in the newly completed Canada Life Building on University Avenue. The buildings behind Osgoode Hall were demolished to allow construction of the New City Hall, which opened in 1965.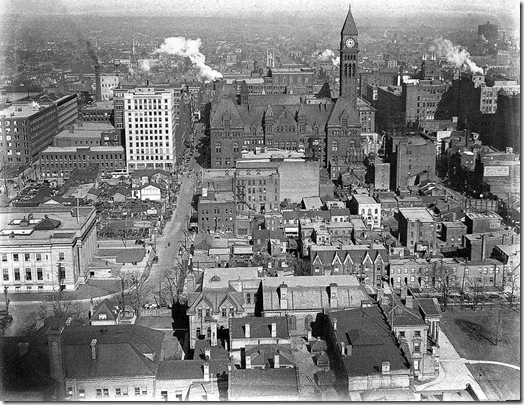 This view is similar to the one above, also taken in 1929, but from higher up, in the tower of the Canada Life Building. The lawn of Osgoode Hall is visible in the bottom-right corner of the picture. The clutter of buildings between Osgoode Hall and the Old City Hall is where Nathan Philip's Square exists today. On the east side of Bay Street, the rear wall of Shea's Hippodrome Theatre can be seen. It is the large windowless wall, centred near the west facade of the Old City Hall. Follow this link for a post about this magnificent theatre. https://tayloronhistory.com/2012/02/24/attending-a-movie-matinee-in-toronto-during-the-golden-age-of-cinema/
The impressive building in the lower left-hand corner of the picture is the Registry Building, built in 1915 in the Neo-Classical style with impressive Ionic columns. It housed the registry of deeds, properties, and licenses.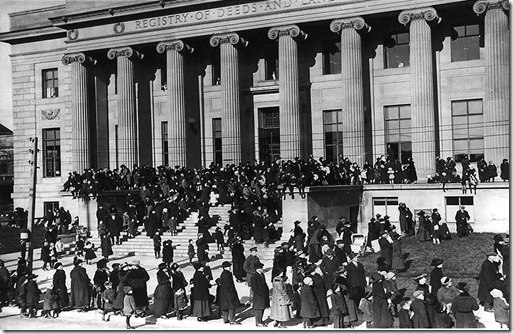 Registry Office in 1915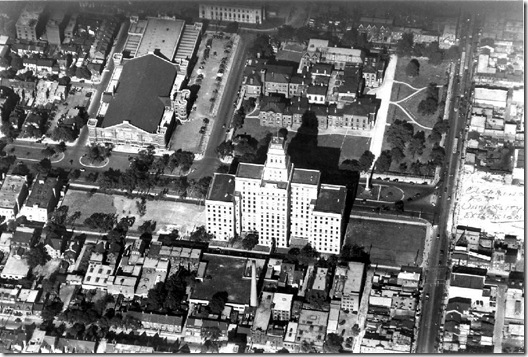 The above view shows the newly opened Canada Life Building in 1930. Osgoode Hall and its grounds can be seen behind them, further toward the top of the picture. On the left side of the photo, the building with the large V-shaped roof is the Armouries. The Registry Office is not in this photo as it has been demolished. Today, the Armouries have also disappeared.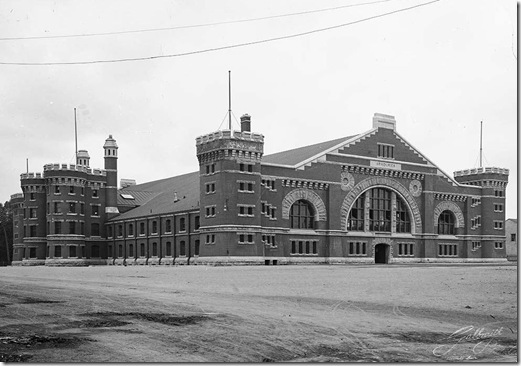 Toronto Armouries on University Avenue.
To utilize the services of the City of Toronto Archives, Google "Toronto Archives," and click on the site, "City of Toronto, search data base." When this page appears, click "Search the Archives." On the next page, enter what it is you wish to research by placing it in the box,"key word" (Toronto Islands, Old City Hall, Queen Street etc.) For photos, click "scanned photographs only."
I have spent much of my adult life researching the history of Toronto. I love the city. It has provided the background for my books, one of which, "The Villages Within", was short-listed for the Toronto Heritage Awards. If interested in novels with a Toronto setting, descriptions of the books are available by following the link: https://tayloronhistory.com/2012/03/22/toronto-author-publishes-seventh-novel/
They can be purchased in soft cover or electronic editions. All books are available at Chapters/Indigo and on Amazon.com. The electronic editions are less that $4. Follow the links:
There Never Was a Better Time: http://bookstore.iuniverse.com/Products/SKU-000056586/THERE-NEVER-WAS-A-BETTER-TIME.aspx
Arse Over Teakettle: http://bookstore.iuniverse.com/Products/SKU-000132634/Arse-Over-Teakettle.aspx
The Reluctant Virgin; http://bookstore.iuniverse.com/Products/SKU-000188306/The-Reluctant-Virgin.aspx
The Villages Within: http://bookstore.iuniverse.com/Products/SKU-000175211/The-Villages-Within.aspx
Author's Home Page: https://tayloronhistory.com/
Authors can be contacted at: [email protected]