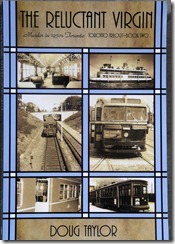 The recently published murder/mystery, "The Reluctant Virgin," is a chilling and brutal story of a serial killer on the loose on the streets and in the ravines and back alleys of 1950s Toronto. The murders have a great impact on the lives of a group of teenagers, as the killer's first victim is a teacher at their high school. The solving of the murders and the changes in the lives of the teenagers unfold simultaneously, allowing the reader to gain insight into the lives of the book's characters. Because the 1950s was an era when homosexuality was against the law, one of the characters in the story is bullied because of his suspected sexual persuasion. The results are disastrous.
The role the church plays in the tragedy is exposed, as its unbending attitude on gay issues helps ruin the life of a young boy. The church had been his refuge, but when he needed it the most, it failed to show the love and compassion that he deserved. The unfolding of the events surrounding the destruction of the boy's life is perhaps the most gripping section of the book. In some respects, it even over-shadows the capture of the serial killer.
The book also tackles other social issues of the decade, as well as the era's religious bigotry among various faiths. Thus, although the murder/mystery is the vehicle that transports the story toward its dramatic climax, the struggles of the characters to cope with the problems created by societal attitudes play a major role in the tale.
Author's Note:
I have spent much of my adult life researching and photographing Toronto. I love the city and enjoy exploring it through my writing. One of the books, "The Villages Within", was nominated for the Toronto Heritage Awards. If interested in novels with a Toronto setting, descriptions of the books are available by following the link: https://tayloronhistory.com/2012/03/22/toronto-author-publishes-seventh-novel/
They can be purchased in soft cover or electronic editions. All books are available at Chapters/Indigo and on Amazon.com. The electronic editions are less that $4. Follow the links:
There Never Was a Better Time: http://bookstore.iuniverse.com/Products/SKU-000056586/THERE-NEVER-WAS-A-BETTER-TIME.aspx
Arse Over Teakettle: http://bookstore.iuniverse.com/Products/SKU-000132634/Arse-Over-Teakettle.aspx
The Reluctant Virgin; http://bookstore.iuniverse.com/Products/SKU-000188306/The-Reluctant-Virgin.aspx
The Villages Within: http://bookstore.iuniverse.com/Products/SKU-000175211/The-Villages-Within.aspx
Author's Home Page: https://tayloronhistory.com/
Authors can be contacted at: [email protected]