When walking past the fence around Osgoode Hall, I sometimes reflect on the fact that it was erected the same year that Canada was born. It all began in May of 1865, when the firm of Cumberland and Storm received the contract for its construction. The casting of the fence began in 1866, in the St. Lawrence Foundry. Even in those years, Toronto was a thriving industrial centre where raw materials and skilled workmen were readily at hand. The foundry was on Front Street, its grounds extending as far north as King Street, between Berkley and Parliament Streets. The firm produced cast iron for industrial and architectural purposes, such as the staircases of the Old City Hall and Victoria College. The stone for the footings of the fence were quarried from near Georgetown by the firm of Ramsey and Farquar. The installation of the foundations, the cast iron fence, and the gates were completed in Confederation year –1867.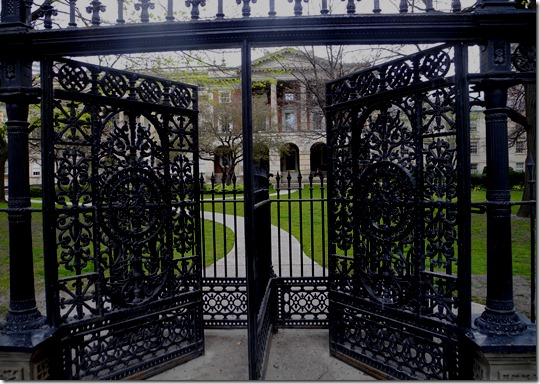 The ornate fence around Osgoode Hall on Queen Street West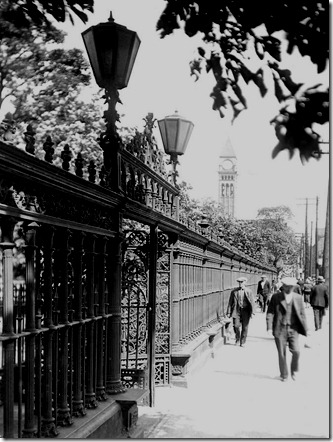 The Osgoode Hall fence during the 1930s. The only tall structure is the tower of the Old City Hall (Photo from City of Toronto Archives)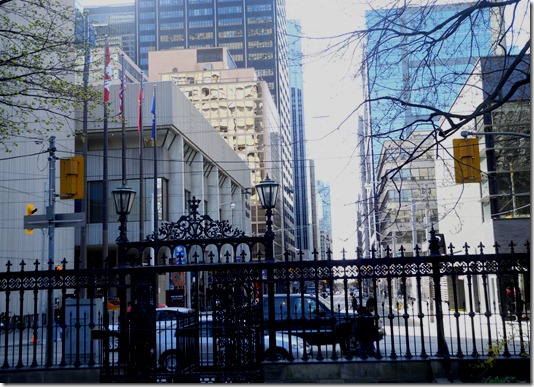 The fence, seen from the interior of the Osgoode Hall grounds. The view is looking south on York Street.
I have spent much of my adult life researching and photographing Toronto. I love the city and enjoy exploring it through my writing. One of the books, "The Villages Within", was nominated for the Toronto Heritage Awards. If interested in novels with a Toronto setting, descriptions of the books are available by following the link: https://tayloronhistory.com/2012/03/22/toronto-author-publishes-seventh-novel/
They can be purchased in soft cover or electronic editions. All books are available at Chapters/Indigo and on Amazon.com. The electronic editions are less that $4 on Kobo and Kindle. Follow the links:
There Never Was a Better Time: http://bookstore.iuniverse.com/Products/SKU-000056586/THERE-NEVER-WAS-A-BETTER-TIME.aspx
Arse Over Teakettle: http://bookstore.iuniverse.com/Products/SKU-000132634/Arse-Over-Teakettle.aspx
The Reluctant Virgin; http://bookstore.iuniverse.com/Products/SKU-000188306/The-Reluctant-Virgin.aspx
The Villages Within: http://bookstore.iuniverse.com/Products/SKU-000175211/The-Villages-Within.aspx
Author's Home Page: https://tayloronhistory.com/
Authors can be contacted at: [email protected]