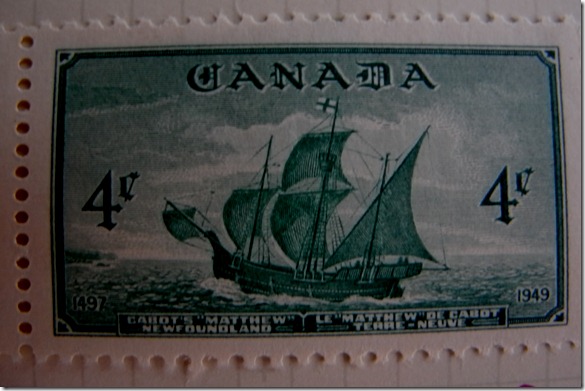 Stamp issued by Canada Post in 1949 on the occasion of Newfoundland's Confederation with Canada. We can all lament that in the year the stamp was issued, it cost 4 cents to mail a letter.
This is the story of Newfoundland's Confederation with Canada as told by an old Newfoundlander:
"In 1949, we Newfoundlanders officially took over the other nine provinces of Canada. It was a bold move on our part. Though we possessed no political experience, you understand, we accepted the task of governing a nation that stretched from the Atlantic to the Pacific to the Arctic. It was a monumental task. However, we didn't complain. Although we had no money, we understood one of the most important things about governing. Screwing around and wasting money doesn't really matter. Taxpayers expect it. Today, politicians have invented deficit financing, and government debt is even more trivial.
"When Newfoundland signed the Confederation documents, at the stroke of a pen, good old Joey Smallwood, the leader of our government, became the only living Father of Confederation and thus possessed bragging rights. He informed people of his great negotiating skills, as he had convinced the nine Canadian provinces to relinquish their independence and join in confederation with the sovereign nation of Newfoundland. No Father of Confederation rose from the grave and contradicted his interpretation of events. Thus encouraged, he continued to employ his advantage to the fullest. Walking on water was simply a matter of time and opportunity.
"Joey had developed the skill of storytelling to an art form. We Newfoundlanders refer to this as yarnin', and Joey's prodigious talent placed him in the company of some great politicians, who had never allowed truth to ruin a good story or debate. Where would we be today without the outrageous promises and excuses of politicians? If taxpayers were deprived of their God-given right to complain, they would lose one of the great pleasures of life and be forced into silence. Besides, in the case of 'St. Joey of Smallwood,' who could seriously argue with a man who had visited the queen in Buckingham Palace with a slit in the arse of his pants?"
"Following the Canadian tradition, Joey raised financial mismanagement in Newfoundland to new heights. He was a very creative man. It caused concern in Ottawa, as they did not like competition in such matters. Next, Joey signed a hydro deal with Quebec that in hindsight was a disaster for Newfoundland. However, Joey understood another of the guiding principles of the Canadian government: as long as you are colourful and beloved by the newspaper reporters, you will be successful. If you show hindsight in the rear of your pants, then it is necessary to put on a good front, as well. Place a red rose in your lapel. We now refer to this as the 'Pierre principle.'"
The above quote is from "Arse Over Teakettle," a novel about young Tom Hudson and his friends during the 1940s in Toronto. In the story, since Tom's parents were Newfoundlanders, the details of the "rocky isle" joining with Canada became part of his heritage. The novels is a humorous and heart-warming tale about Tom and his friends coming-of-age, and their desire to know the secrets of "the big boys." The background of the story informs readers about life in Toronto during the war years.
I have spent much of my adult life researching Canada's history and learning about my native city of Toronto. I love the city, and enjoy exploring it through my writing. One of the books, "The Villages Within", was nominated for the Toronto Heritage Awards. If interested in novels with a Toronto setting, descriptions of the books are available by following the link: https://tayloronhistory.com/2012/03/22/toronto-author-publishes-seventh-novel/
They can be purchased in soft cover or electronic editions. All books are available at Chapters/Indigo and on Amazon.com. The electronic editions are less that $4 on Kobo and Kindle. Follow the links:
There Never Was a Better Time: http://bookstore.iuniverse.com/Products/SKU-000056586/THERE-NEVER-WAS-A-BETTER-TIME.aspx
Arse Over Teakettle: http://bookstore.iuniverse.com/Products/SKU-000132634/Arse-Over-Teakettle.aspx
The Reluctant Virgin; http://bookstore.iuniverse.com/Products/SKU-000188306/The-Reluctant-Virgin.aspx
The Villages Within: http://bookstore.iuniverse.com/Products/SKU-000175211/The-Villages-Within.aspx
Author's Home Page: https://tayloronhistory.com/
Authors can be contacted at: [email protected]