The buzz is gone. King Street is relatively quiet, that is, as quiet as the main street of the Entertainment District ever is. The "red carpets" are gone, the TIFF box office in Metro Hall is empty, and the crowded line-ups are no more. However, I am no longer a TIFF virgin. I have survived my first experience with the festival and I am enjoying the after-glow. It was great!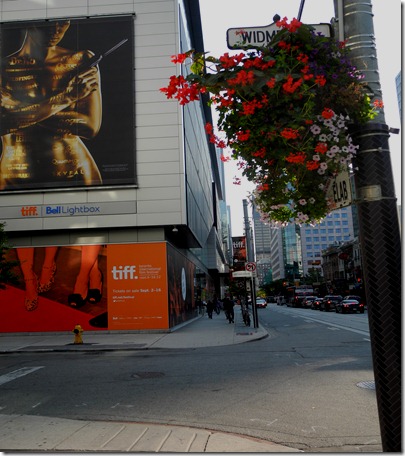 King Street and the southwest coroner of the TIFF building on Monday, 17 September.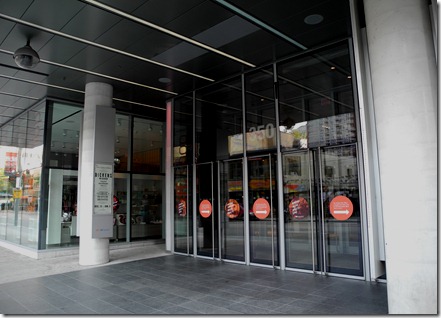 The entrance to the Bell Lightbox at 9:30 a.m. on the Monday morning after the TIFF.
The media tent (left) and the celebrity entrance to Roy Thomson Hall (right) being dismantled.
I enjoyed the festival, my favourite move being "Zaytoun." My second choice was the documentary "Showstopper: The theatrical Life of Darth Drabinsky." Next year, I will certainly purchased a greater number of tickets.
To view other posts about the 2012 TIFF:
https://tayloronhistory.com/2012/09/09/day-time-confessions-of-a-toronto-tiff-virgin/
https://tayloronhistory.com/2012/09/10/night-time-confessions-of-a-toronto-tiff-virgin/
https://tayloronhistory.com/2012/09/12/confessions-of-a-tiff-virginthe-drabinsky-documentary/
https://tayloronhistory.com/2012/09/15/confessions-of-a-tiff-virginthe-film-god-loves-caviar/
https://tayloronhistory.com/2012/09/16/the-2012-tiff-film-underground-includes-lesson-that-rob-ford-should-learn/
To view the Home Page for this blog: