Creating paintings of the Humber River Valley has interested me for many years. Watching the river meander through Toronto toward its destiny in Lake Ontario always inspires me. Though the valley is beautiful in all seasons, I believe spring provides the most dramatic vistas, as its ever-increasing rays provide unique lighting conditions that change daily. Along the banks of the river, the dazzling early-season sun illuminates the rich carpet of plants sprouting beneath the bare limbs of the trees, which have not yet burst into leaf. The foliage possesses endless shades of green, supporting delicate spring flowers of light pastel hues. Plants that eventually will wither as the heat of the season advances, bloom in all their restrained glory. Spring is the most highly anticipated season for most Canadians and being of a short duration, its warmth and blossoms are deeply treasured.
For many years I lived within walking distance of the valley and enjoyed strolling along its man-made trails and natural muddy paths. On warm spring days, I discovered a few advantageous locations where I could set up an easel to sketch. I then employed acrylic onto stretched canvas to create a finished work. Scenes away the well-trodden paths, where snow-white trilliums bloomed, were always a delight, as were the arrays of daffodils and tulips in the manicured flower beds of James Gardens. Later, the irises of many varieties and colours provided inspiration for paintings.
Each spring, I feel fortunate to enjoy the Humber Valley and capture a small part of its beauty on canvas. Each painting is a memory of a special day.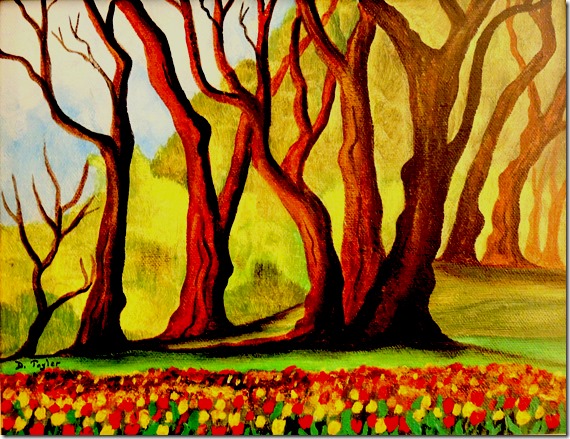 "Tulips in James Gardens, Toronto," painted in 1991, acrylic on stretched canvas, 8" x 10." This scene was painted near the parking lot that is entered by Edenbridge Drive, where each spring the colourful beds of tulips spread as far as the eye can see.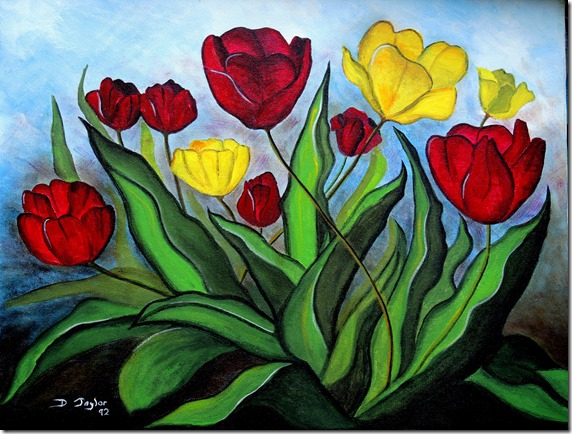 "Tulips—James Gardens, Humber Valley," painted in 1992, acrylic on stretched canvas, 8" x 10." For this painting, I chose a small group of tulips in one of the flower beds. I depicted the plants as nature first produced them, untamed by man's centuries of hybridization.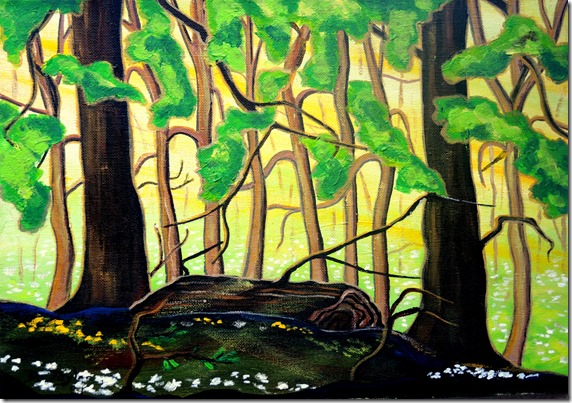 "Trilliums Beside a Rotted Tree Trunk, Humber Valley," painted in 1984, acrylic on stretched canvas, 11"x 14." Wandering off the asphalt path, I discovered this patch of trilliums, the display of flowers extending into the background. However, the contrasting light and shadows were the focus of the work. Unfortunately, trilliums no longer bloom in the valley in such abundance as bicycle trails now scar the landscape.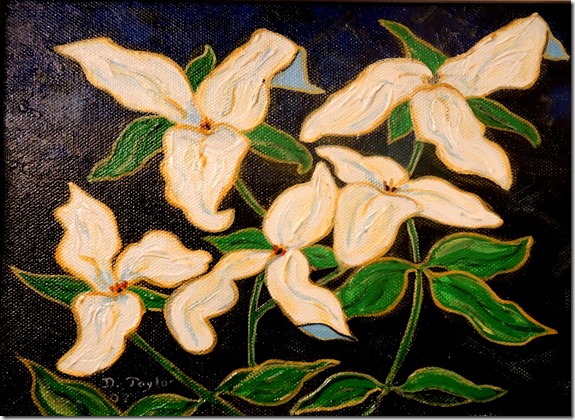 "Humber Valley Trilliums," painted in 2002, acrylic on stretched canvas, 8" x 10." This small group of trilliums was one of the last that I ever encountered. It is now difficult to find Ontario's official flower, except for a rare plant surviving in a hidden location.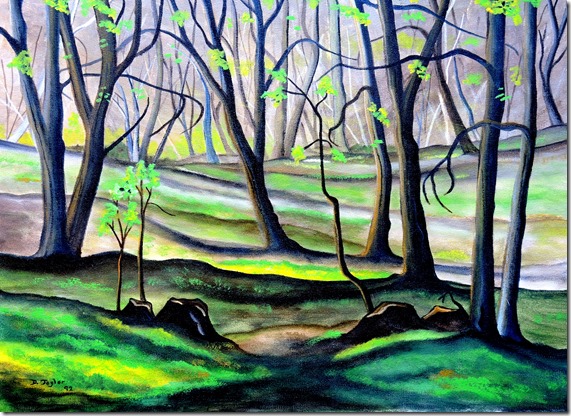 "Light and Shadow, Humber Valley Spring." This is another study of lighting contrasts, painted in 1992. It is acrylic on stretched canvas, 11" x 14." It is one of those amazing scenes only discovered by wandering off the beaten path.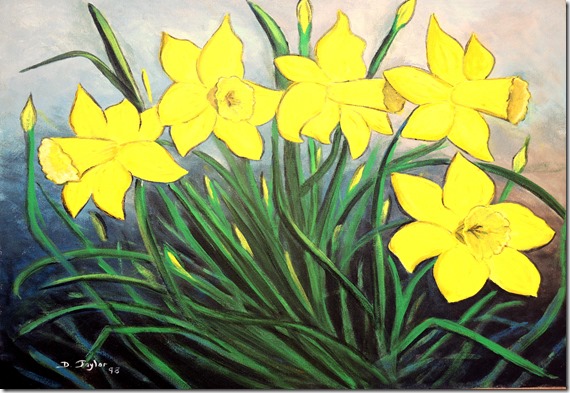 "Daffodils, James Gardens, Humber Valley," painted in 1998, acrylic on stretched canvas, 16" x 20." These are my favourite spring flowers, ones that I consider the most welcomed harbinger of the new season.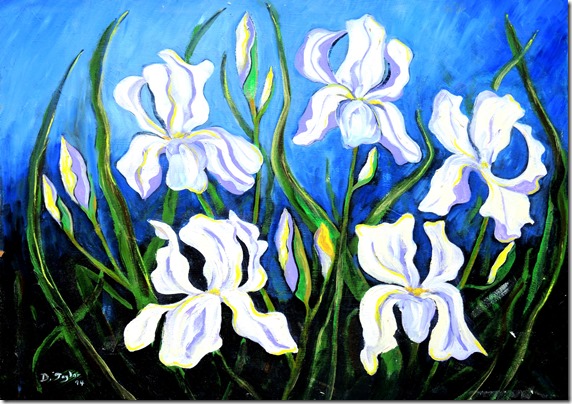 "Irises in James Gardens, Humber Valley," painted in 1994, acrylic on Masonite, 16" x 20." This painting was done in June, after the tulips had disappeared. The pungent scent of the irises never failed to enchant.
To view the Home Page for this blog: https://tayloronhistory.com/
To view previous blogs about movie houses of Toronto—historic and modern
http://tayloronhistory.wordpress.com/2013/10/09/links-to-toronto-old-movie-housestayloronhistory-com/
Recent publication entitled "Toronto's Theatres and the Golden Age of the Silver Screen," by the author of this blog. The publication explores 50 of Toronto's old theatres and contains over 80 archival photographs of the facades, marquees and interiors of the theatres. It relates anecdotes and stories of the author and others who experienced these grand old movie houses.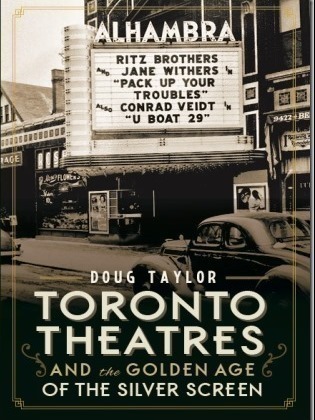 To place an order for this book:
https://www.historypress.net/catalogue/bookstore/books/Toronto-Theatres-and-the-Golden-Age-of-the-Silver-Screen/9781626194502 .
Book also available in Chapter/Indigo, the Bell Lightbox Book Store and by phoning University of Toronto, Press Distribution: 416-667-7791
Theatres Included in the Book:
Chapter One – The Early Years—Nickelodeons and the First Theatres in Toronto
Theatorium (Red Mill) Theatre—Toronto's First Movie Experience and First Permanent Movie Theatre, Auditorium (Avenue, PIckford), Colonial Theatre (the Bay), the Photodrome, Revue Theatre, Picture Palace (Royal George), Big Nickel (National, Rio), Madison Theatre (Midtown, Capri, Eden, Bloor Cinema, Bloor Street Hot Docs), Theatre Without a Name (Pastime, Prince Edward, Fox)
Chapter Two – The Great Movie Palaces – The End of the Nickelodeons
Loew's Yonge Street (Elgin/Winter Garden), Shea's Hippodrome, The Allen (Tivoli), Pantages (Imperial, Imperial Six, Ed Mirvish), Loew's Uptown
Chapter Three – Smaller Theatres in the pre-1920s and 1920s
Oakwood, Broadway, Carlton on Parliament Street, Victory on Yonge Street (Embassy, Astor, Showcase, Federal, New Yorker, Panasonic), Allan's Danforth (Century, Titania, Music Hall), Parkdale, Alhambra (Baronet, Eve), St. Clair, Standard (Strand, Victory, Golden Harvest), Palace, Bedford (Park), Hudson (Mount Pleasant), Belsize (Crest, Regent), Runnymede
Chapter Four – Theatres During the 1930s, the Great Depression
Grant ,Hollywood, Oriole (Cinema, International Cinema), Eglinton, Casino, Radio City, Paramount, Scarboro, Paradise (Eve's Paradise), State (Bloordale), Colony, Bellevue (Lux, Elektra, Lido), Kingsway, Pylon (Royal, Golden Princess), Metro
Chapter Five – Theatres in the 1940s – The Second World War and the Post-War Years
University, Odeon Fairlawn, Vaughan, Odeon Danforth, Glendale, Odeon Hyland, Nortown, Willow, Downtown, Odeon Carlton, Donlands, Biltmore, Odeon Humber, Town Cinema
Chapter Six – The 1950s Theatres
Savoy (Coronet), Westwood
Chapter Seven – Cineplex and Multi-screen Complexes
Cineplex Eaton Centre, Cineplex Odeon Varsity, Scotiabank Cineplex, Dundas Square Cineplex, The Bell Lightbox (TIFF)