The 1960s was a tumultuous decade. I commenced collecting important newspapers in 1951, but of all these newspapers, those of the 1960s contain the most memorable events. The headlines bring back many memories. The assassinations and deaths were profoundly sad, but memories of the first American in space and Canada's centennial were joyous and inspired hope. Every decade has its joys and sorrows, but contrasts between these emotions were perhaps the most extreme in the 1960s.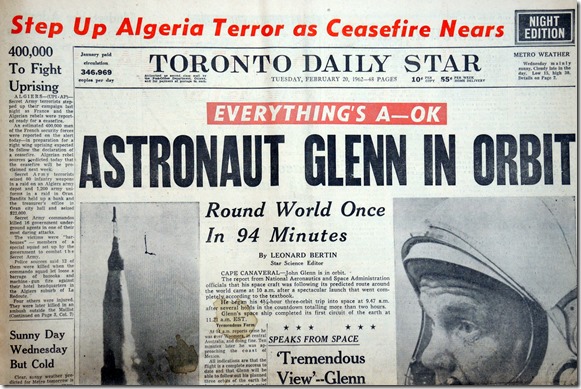 The newspaper of February 20, 1962 — the first American to orbit the Earth.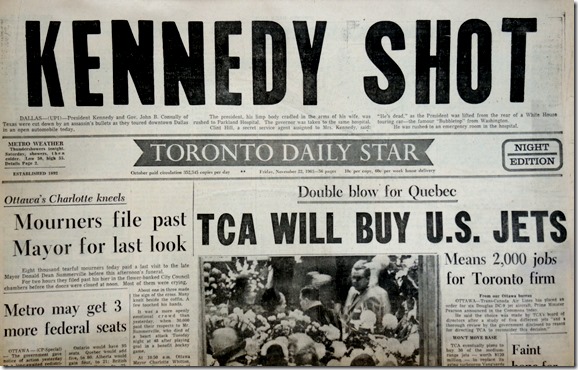 In all my life, this headline in November 22, 1963 was one of the most shocking I ever encountered.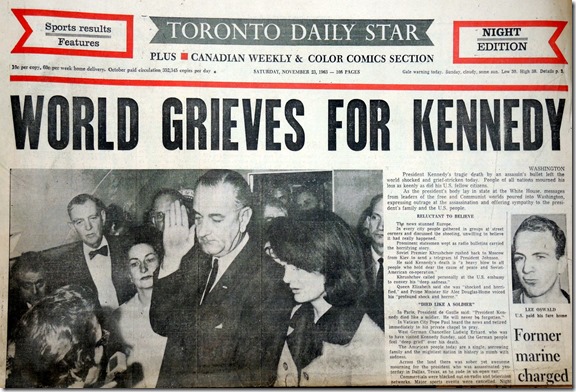 On November 23, 1963 the world did indeed grieve for the assassinated president.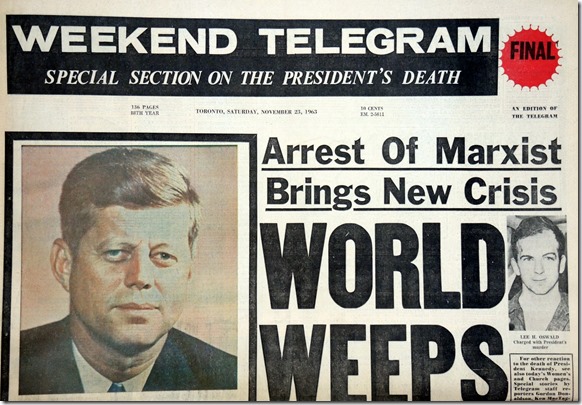 The Toronto Telegram of November 23, 1963.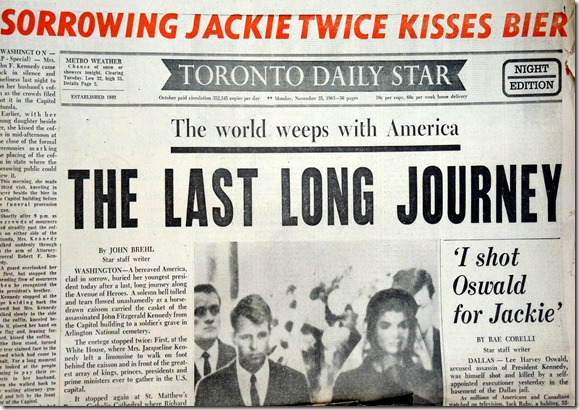 The Toronto Daily Star, November 25, 1963.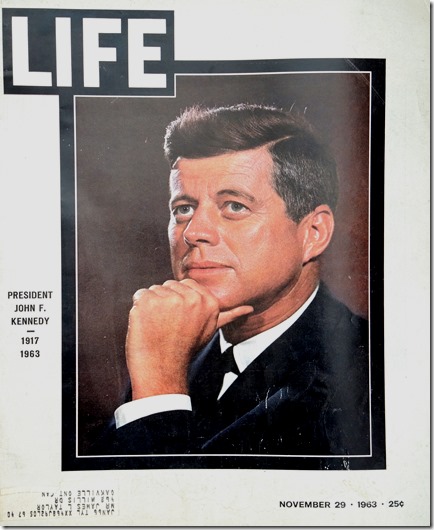 This striking portrait of John F. Kennedy was on the cover of Life Magazine, November 29, 1963.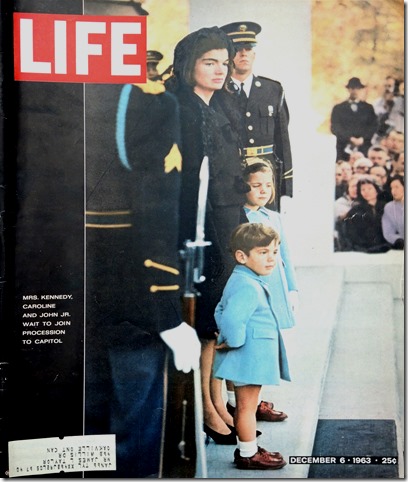 This touching photograph graced the cover of Life Magazine on December 6, 1963.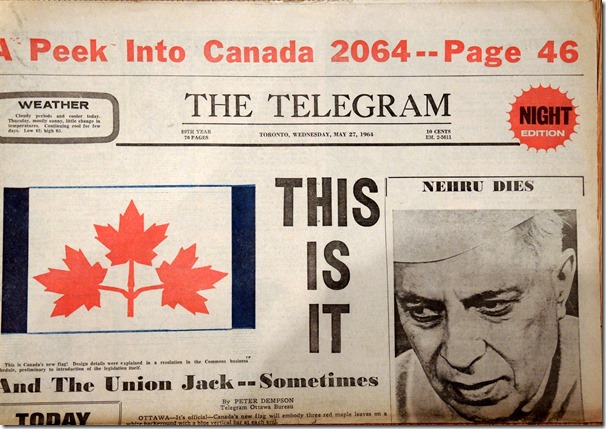 The headline about Canada's new flag proved to be untrue, but this edition also reported the death of Nehru, Toronto Telegram, May 27, 1964.
An article declaring support for the Ensign as Canada's flag, and an ad for a 1964 Oldsmobile. These were in the Telegram on May 27, 1964.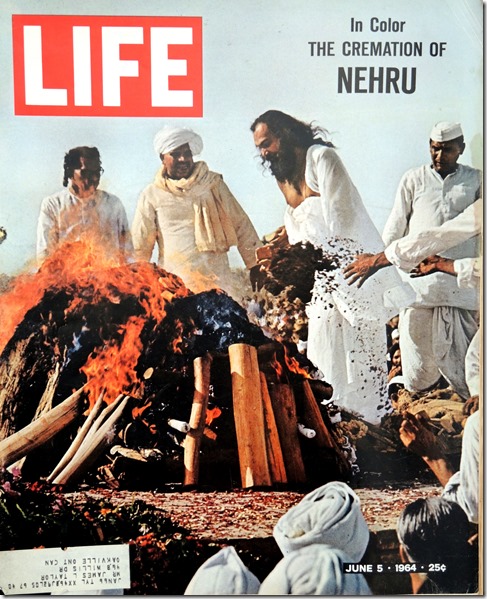 Cover of Life Magazine on June 5, 1964, depicting the funeral pyre of Nehru.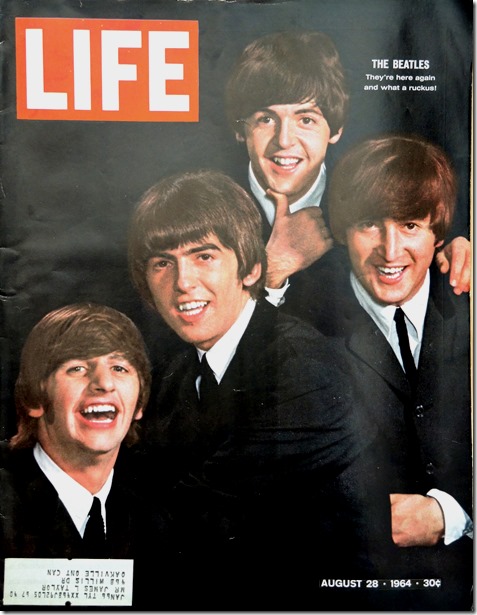 Life Magazine of August 25, 1964, on the occasion of the Beatles second visit to America. Their first visit had been in February of the previous year.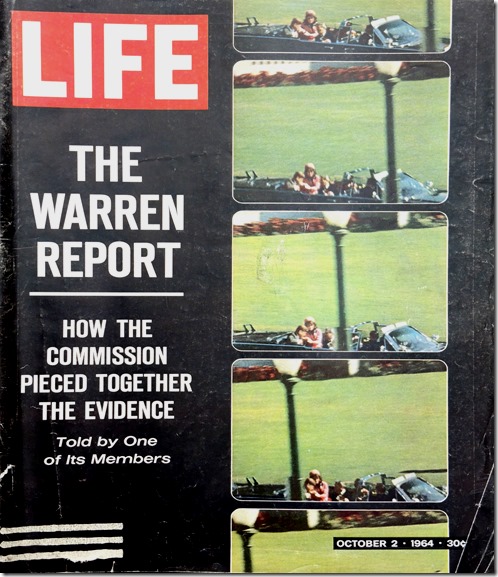 Life Magazine of October 2, 1964, reporting on the Warren Commission's report on Kennedy's assassination. Several frames from the famous Zapruder film are on the cover.
The August 25, 1965 edition of the Toronto Star reports the state funeral of Sir Winston Churchill.

Life Magazine of November 25, 1966, which examines the Zapruder film in detail.

Close up view of frame 230 from the Zapruder film in Life Magazine, November 25, 1966.

Magazine inserted into the Toronto Daily Star the week of February 13, 1967, for Canada's centennial year.

Canada elects a new prime minister, the Toronto Daily Star, April 8, 1968.

Robert Kennedy is shot, Toronto Daily Star, June 5, 1968

The Toronto Daily Star of June 6, 1968, following the death of Robert Kennedy,

Richard Nixon wins the presidential election, Toronto Daily Star, November 6, 1968.

As the decade draws to a close, the Star reports on the funeral of President Eisenhower on March 29, 1969.

To view the Home Page for this blog: https://tayloronhistory.com/

To view previous blogs about movie houses of Toronto—historic and modern

http://tayloronhistory.wordpress.com/2013/10/09/links-to-toronto-old-movie-housestayloronhistory-com/

Recent publication entitled "Toronto's Theatres and the Golden Age of the Silver Screen," by the author of this blog. The publication explores 50 of Toronto's old theatres and contains over 80 archival photographs of the facades, marquees and interiors of the theatres. It relates anecdotes and stories of the author and others who experienced these grand old movie houses.

To place an order for this book:

https://www.historypress.net/catalogue/bookstore/books/Toronto-Theatres-and-the-Golden-Age-of-the-Silver-Screen/9781626194502 .

Book also available in Chapter/Indigo, the Bell Lightbox Book Store and by phoning University of Toronto Press, Distribution: 416-667-7791

Theatres Included in the Book:

Chapter One – The Early Years—Nickelodeons and the First Theatres in Toronto

Theatorium (Red Mill) Theatre—Toronto's First Movie Experience and First Permanent Movie Theatre, Auditorium (Avenue, PIckford), Colonial Theatre (the Bay), the Photodome, Revue Theatre, Picture Palace (Royal George), Big Nickel (National, Rio), Madison Theatre (Midtown, Capri, Eden, Bloor Cinema, Bloor Street Hot Docs), Theatre Without a Name (Pastime, Prince Edward, Fox)

Chapter Two – The Great Movie Palaces – The End of the Nickelodeons

Loew's Yonge Street (Elgin/Winter Garden), Shea's Hippodrome, The Allen (Tivoli), Pantages (Imperial, Imperial Six, Ed Mirvish), Loew's Uptown

Chapter Three – Smaller Theatres in the pre-1920s and 1920s

Oakwood, Broadway, Carlton on Parliament Street, Victory on Yonge Street (Embassy, Astor, Showcase, Federal, New Yorker, Panasonic), Allan's Danforth (Century, Titania, Music Hall), Parkdale, Alhambra (Baronet, Eve), St. Clair, Standard (Strand, Victory, Golden Harvest), Palace, Bedford (Park), Hudson (Mount Pleasant), Belsize (Crest, Regent), Runnymede

Chapter Four – Theatres During the 1930s, the Great Depression

Grant ,Hollywood, Oriole (Cinema, International Cinema), Eglinton, Casino, Radio City, Paramount, Scarboro, Paradise (Eve's Paradise), State (Bloordale), Colony, Bellevue (Lux, Elektra, Lido), Kingsway, Pylon (Royal, Golden Princess), Metro

Chapter Five – Theatres in the 1940s – The Second World War and the Post-War Years

University, Odeon Fairlawn, Vaughan, Odeon Danforth, Glendale, Odeon Hyland, Nortown, Willow, Downtown, Odeon Carlton, Donlands, Biltmore, Odeon Humber, Town Cinema

Chapter Six – The 1950s Theatres

Savoy (Coronet), Westwood

Chapter Seven – Cineplex and Multi-screen Complexes

Cineplex Eaton Centre, Cineplex Odeon Varsity, Scotiabank Cineplex, Dundas Square Cineplex, The Bell Lightbox (TIFF)