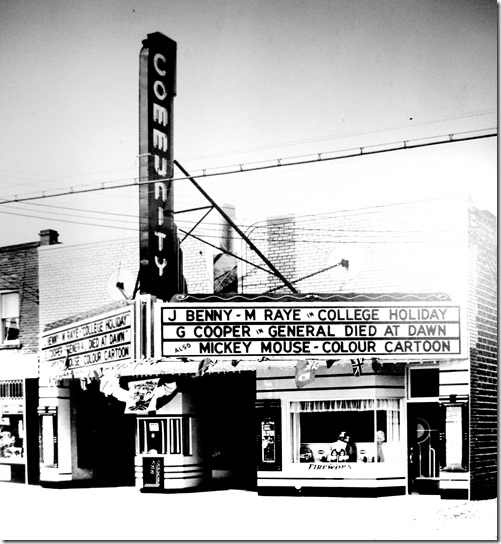 The Community Theatre at 1202 Woodbine Avenue c. 1937.
The Community Theatre was the second building east of the southwest corner of Woodbine and Frater Avenue, midway between O'Connor Drive and Danforth Avenue. It opened during the Depression years, a small local theatre that contained less than 800 seats. Constructed in 1937, its relatively plain facade reflected the austerity of the Great Depression. Its architects were Kaplan and Sprachman, who designed many theatres in Toronto and throughout Canada. Despite the theatres plain appearance, its entrance and box office revealed hints of the Art Deco style that was popular in the 1920s. A small shop on the right-hand side of the entrance helped offset the costs of operating the theatre during economically difficult times. The theatre prospered during the 1940s, since it was surrounded by well-populated streets and there was no other theatre within close proximity.
The building extended a considerable distance back from the sidewalk. Patrons entered the outer doors into a lobby, then through a second set of doors that gave access to the inner lobby, which was long and narrow. After 1947, a candy bar was located in the inner lobby, to the right of the doors. The auditorium was to the right off the lobby, aligned in a north-south direction. There was a central aisle to allow patrons to enter and depart the rows. A parking lot on the north side of the building helped boost attendance when more people acquired cars after the Second World War .
The Community was one of the first theatres to be affected by the increasingly popular new media of television. It closed in 1955 and for a few years was a TV studio. The building was employed for other commercial purposes as the years progressed and still exists on Woodbine Avenue today.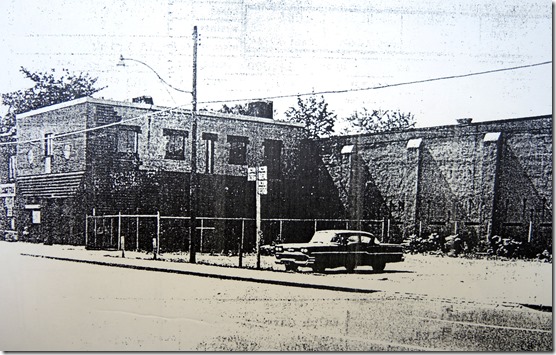 A real estate photo when the property was listed in 1964 for the price of $75,000. In this year it was no longer a theatre.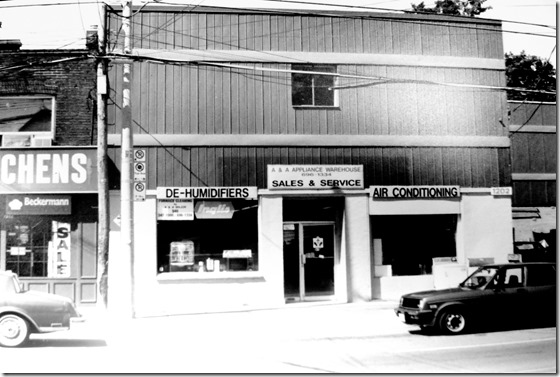 Undated photo in the Toronto Archives, when the theatre had ceased to operate and was employed for other commercial purposes.
Note: there is an excellent photo of the Community Theatre on cinematreasures.org (google Community Theatre Woodbine Toronto)
To view the Home Page for this blog: https://tayloronhistory.com/
To view previous blogs about movie houses of Toronto—historic and modern
http://tayloronhistory.wordpress.com/2013/10/09/links-to-toronto-old-movie-housestayloronhistory-com/
Recent publication entitled "Toronto's Theatres and the Golden Age of the Silver Screen," by the author of this blog. The publication explores 50 of Toronto's old theatres and contains over 80 archival photographs of the facades, marquees and interiors of the theatres. It relates anecdotes and stories of the author and others who experienced these grand old movie houses.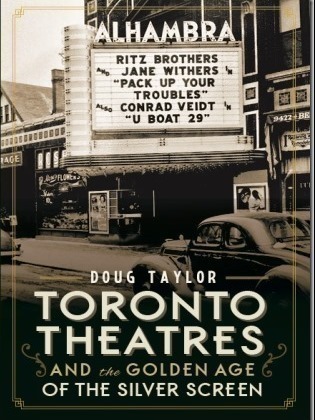 To place an order for this book:
https://www.historypress.net/catalogue/bookstore/books/Toronto-Theatres-and-the-Golden-Age-of-the-Silver-Screen/9781626194502 .
Book also available in Chapter/Indigo, the Bell Lightbox Book Store and by phoning University of Toronto Press, Distribution: 416-667-7791
Theatres Included in the Book:
Chapter One – The Early Years—Nickelodeons and the First Theatres in Toronto
Theatorium (Red Mill) Theatre—Toronto's First Movie Experience and First Permanent Movie Theatre, Auditorium (Avenue, PIckford), Colonial Theatre (the Bay), the Photodrome, Revue Theatre, Picture Palace (Royal George), Big Nickel (National, Rio), Madison Theatre (Midtown, Capri, Eden, Bloor Cinema, Bloor Street Hot Docs), Theatre Without a Name (Pastime, Prince Edward, Fox)
Chapter Two – The Great Movie Palaces – The End of the Nickelodeons
Loew's Yonge Street (Elgin/Winter Garden), Shea's Hippodrome, The Allen (Tivoli), Pantages (Imperial, Imperial Six, Ed Mirvish), Loew's Uptown
Chapter Three – Smaller Theatres in the pre-1920s and 1920s
Oakwood, Broadway, Carlton on Parliament Street, Victory on Yonge Street (Embassy, Astor, Showcase, Federal, New Yorker, Panasonic), Allan's Danforth (Century, Titania, Music Hall), Parkdale, Alhambra (Baronet, Eve), St. Clair, Standard (Strand, Victory, Golden Harvest), Palace, Bedford (Park), Hudson (Mount Pleasant), Belsize (Crest, Regent), Runnymede
Chapter Four – Theatres During the 1930s, the Great Depression
Grant ,Hollywood, Oriole (Cinema, International Cinema), Eglinton, Casino, Radio City, Paramount, Scarboro, Paradise (Eve's Paradise), State (Bloordale), Colony, Bellevue (Lux, Elektra, Lido), Kingsway, Pylon (Royal, Golden Princess), Metro
Chapter Five – Theatres in the 1940s – The Second World War and the Post-War Years
University, Odeon Fairlawn, Vaughan, Odeon Danforth, Glendale, Odeon Hyland, Nortown, Willow, Downtown, Odeon Carlton, Donlands, Biltmore, Odeon Humber, Town Cinema
Chapter Six – The 1950s Theatres
Savoy (Coronet), Westwood
Chapter Seven – Cineplex and Multi-screen Complexes
Cineplex Eaton Centre, Cineplex Odeon Varsity, Scotiabank Cineplex, Dundas Square Cineplex, The Bell Lightbox (TIFF)