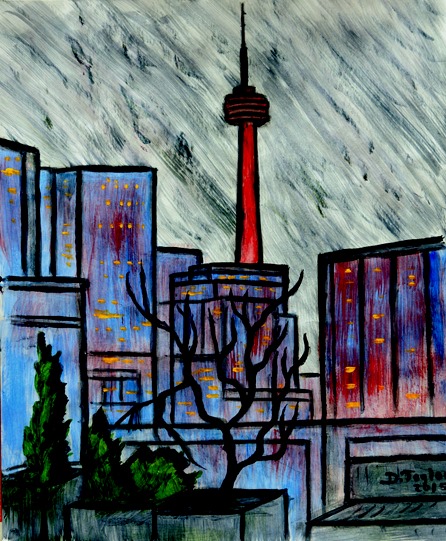 "View from the Terrace on a Rainy December Afternoon, 2015—watercolour on paper, 8 1/2" by 11"
Greeting to those who have followed this blog and offered kind comments, suggestions and added information about Toronto's heritage buildings.
A Very Merry Christmas and a Happy 2016 .
Doug Taylor
To view the Home Page for this blog: https://tayloronhistory.com/
A link to view previous posts about the movie houses of Toronto—historic and modern.
http://tayloronhistory.wordpress.com/2013/10/09/links-to-toronto-old-movie-housestayloronhistory-com/
A link to view posts that explore Toronto's Heritage Buildings:
https://tayloronhistory.com/2014/01/02/canadas-cultural-scenetorontos-architectural-heritage/
The publication entitled, "Toronto's Theatres and the Golden Age of the Silver Screen," was written by the author of this blog. It explores 50 of Toronto's old theatres and contains over 80 archival photographs of the facades, marquees and interiors of the theatres. It relates anecdotes and stories by the author and others who experienced these the movie houses of the past. The book is a trip down memory lane for those who remember these grand old theatres and a voyage of discovery for those who never experienced them.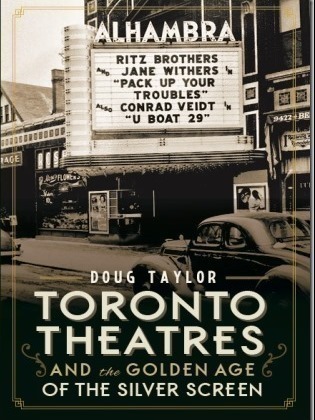 To place an order for this book:
https://www.historypress.net/catalogue/bookstore/books/Toronto-Theatres-and-the-Golden-Age-of-the-Silver-Screen/9781626194502 .
Book also available in Chapter/Indigo, the Bell Lightbox Book Shop, and by phoning University of Toronto Press, Distribution: 416-667-7791 (ISBN 978.1.62619.450.2)
Another book, published by Dundurn Press, containing 80 more of Toronto's old movie theatres will be released in the spring of 2016. It is entitled, "Toronto's Movie Theatres of Yesteryear—Brought Back to Thrill You Again." It contains over 130 archival photographs.
A second publication, "Toronto Then and Now," published by Pavilion Press (London, England) explores 70 of the city's heritage sites with images of how the city once looked and how it appears today. This book will also be released in the spring of 2016.