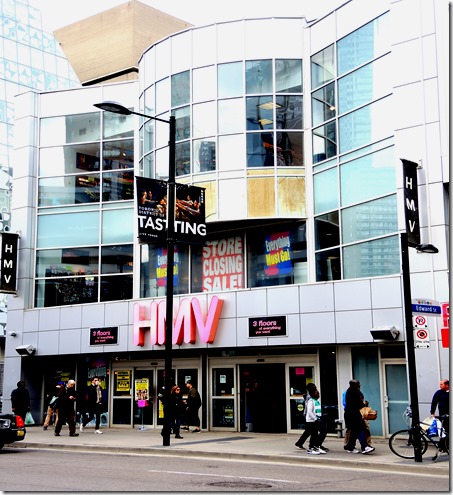 HMV Music's Toronto flagship store at 333 Yonge Street in April 2017
The HMV on Yonge Street closed on Friday, April 14, 2017. It was crowded for the occasion as people sought bargains there for the last time. The loss of HMV was the end of another Toronto tradition, as more and more people prefer to shop on the internet rather than retail stores. I will miss the HMV store on Yonge Street, having spent much time there browsing the shelves in search of bargain-priced movies.
The HMV Music store at 333 Yonge Street was a short distance south of where the old Biltmore Theatre once stood. After the theatre and a few other buildings near it were demolished, a modern three-storey structure of glass and metal was erected. When the HMV Music store moved in, it was fitting location as it was located only a few doors south of where A&A Records and Sam the Record Man were once located. The interior of HMV resembled these former stores, but its long rows of merchandise did not contain any vinyl recordings and tapes.
HMV is a British company with a long history in the retail trade as a vender of books and music. The letters in its name stand for "His Master's Voice," which originated in the 1890s from a painting by that name. Artist Francis Barraud, from Liverpool, was the creator, his painting depicting a dog named Nipper listening to a recording of his "master's voice" playing on a wind-up gramophone. In 1899, the Gramophone Company bought the copyright to the painting. The Talking Machine Company in America bought the U. S. rights to the trademark. This company was purchased by RCA, and it then became its symbol. I can remember the image of the dog and the gramophone on the 78 rpm and LP records that I purchased in the 1950s.
HMV's first retail store was on Oxford Street in London, England. Sir Edward Elgar officiated at its opening in 1921. In 1931, the Gramophone Company merged with Columbia Graphophone Company to form Electric and Musical Industries Ltd (EMI), and employed the initials of "His Master's Voice" (HMV) as its corporate name. In 1925, Sir Edward Elgar recorded his own music for the company. In 1953, HMV Oxford Street changed the store's ground-floor level into a self-service showroom. This format was immediately popular as customers were able to select their own merchandise and then pay the cashier at the front of the store. This method was later employed by both A&A Records and Sam's in Toronto.
Thorn Electrical Industries acquired EMI in 1979 and in 1980 the company became Thorn EMI. In 1980s this company opened the enormous HMV Oxford Circus store at 150 Oxford Street. In 1986, HMV became a separate and autonomous division under Thorn EMI. HMV opened its first store in Canada in 1986 and also commenced selling in Japan, Australia, Hong Kong, Singapore and the United States. In 1995, HMV released it first CD. In 2002, HMV Media went public on the London Stock Exchange. In 1991, HMV opened a store at 333 Yonge Street in downtown Toronto and it became a very popular place to visit, especially in the evenings, similar to A&A and Sam's in former decades.
However, sales began to decline after 2007, when Amazon launched the Kindle e-reader, threatening HMV's share of the book market. In June 2011, HMV sold its 121-store Canadian chain to Hilco UK. Sales continued to dwindle and the company went into receivership, with 102 stores across Canada, employing 1240 people. When the HMV on Yonge Street closed on April 14, 2017, a vital part of the Yonge/Dundas area for twenty-six years was lost.
Sources: www.hmv.com/about www..classicfm.com/music www.retail-week.com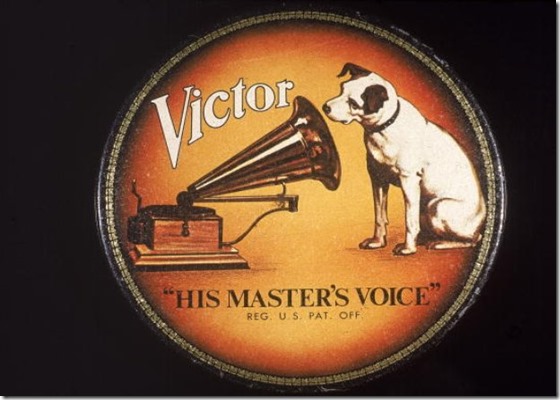 "His Master's Voice," (HMV). Photo from HMV History Pictures.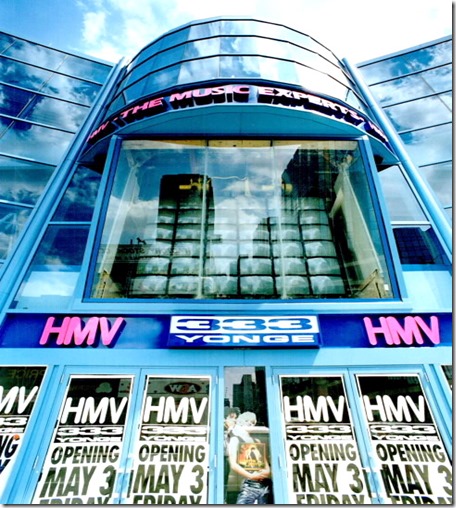 The HMV store on Yonge Street in 1991, the year it opened. Photo from the Toronto Star Collection in the Toronto Public Library.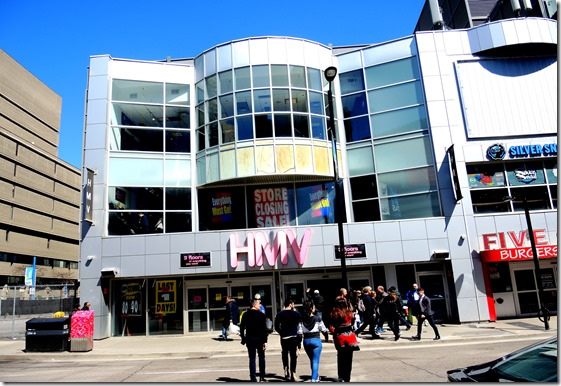 The HMV store in April, 2017.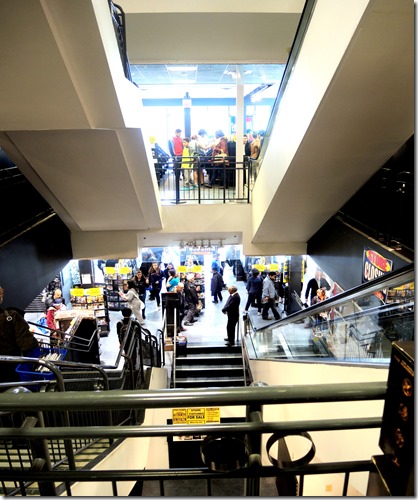 Interior of the HMV store on Yonge, view looking toward the front of the store from the second-floor level.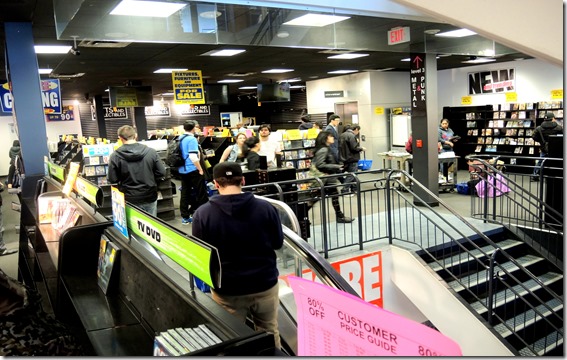 Customers browsing on the second-floor level.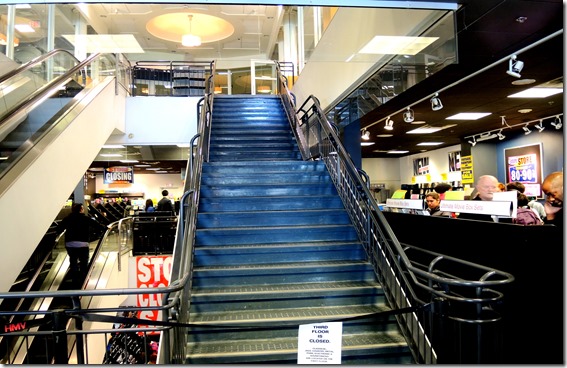 View from the second-floor level, looking up to the third floor.
Signs announcing the closing of the store in April 2017.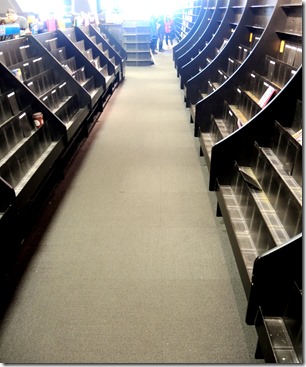 HMV's empty rows of shelves.
To view the Home Page for this blog: https://tayloronhistory.com/
For more information about the topics explored on this blog:
https://tayloronhistory.com/2016/03/02/tayloronhistory-comcheck-it-out/
Books by the Blog's Author
"Toronto's Theatres and the Golden Age of the Silver Screen," explores 50 of Toronto's old theatres and contains over 80 archival photographs of the facades, marquees and interiors of the theatres. It relates anecdotes and stories by the author and others who experienced these grand old movie houses.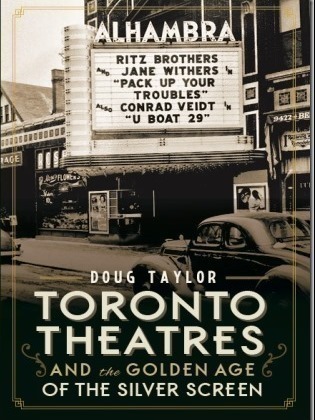 To place an order for this book, published by History Press:
https://www.historypress.net/catalogue/bookstore/books/Toronto-Theatres-and-the-Golden-Age-of-the-Silver-Screen/9781626194502 .
Book also available in most book stores such as Chapter/Indigo, the Bell Lightbox and AGO Book Shop. It can also be ordered by phoning University of Toronto Press, Distribution: 416-667-7791 (ISBN 978.1.62619.450.2)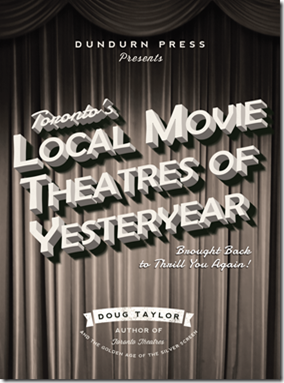 Another book on theatres, published by Dundurn Press, is entitled, "Toronto's Movie Theatres of Yesteryear—Brought Back to Thrill You Again." It explores 81 theatres and contains over 125 archival photographs, with interesting anecdotes about these grand old theatres and their fascinating histories. Note: an article on this book was published in Toronto Life Magazine, October 2016 issue.
For a link to the article published by Toronto Life Magazine: torontolife.com/…/photos-old-cinemas-doug–taylor–toronto-local-movie-theatres-of-y…
The book is available at local book stores throughout Toronto or for a link to order this book: https://www.dundurn.com/books/Torontos-Local-Movie-Theatres-Yesteryear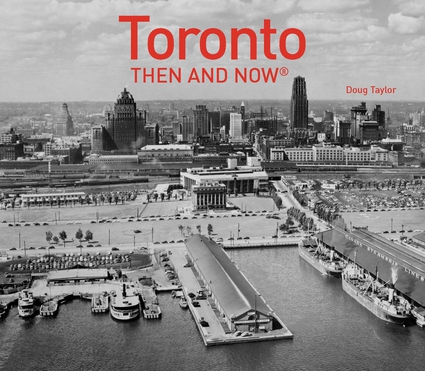 Another publication, "Toronto Then and Now," published by Pavilion Press (London, England) explores 75 of the city's heritage sites. It contains archival and modern photos that allow readers to compare scenes and discover how they have changed over the decades.
Note: a review of this book was published in Spacing Magazine, October 2016. For a link to this review:
spacing.ca/toronto/2016/09/02/reading-list-toronto-then-and-now/
For further information on ordering this book, follow the link to Amazon.com here or contact the publisher directly by the link below:
http://www.ipgbook.com/toronto–then-and-now—products-9781910904077.php?page_id=21