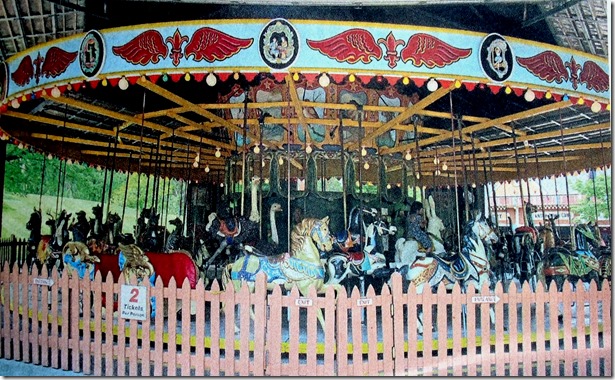 Carousel at Centreville at Centre Island—photo by Fatima Syed, Toronto Star, August 5, 2017.
Centre Island's antique carousel is being sold for $3 million ($2.25 U.S.) to a suburb of Carmel, Indiana, where it will become the focal point of a rapidly expanding business district. The sale has generated much publicity in Toronto's press and on social media, accompanied by an outpouring of memories from those who consider the amusement ride a cherished part of their childhood. Many have expressed the sentiment that when they were young, a Toronto summer was not complete unless there was at least one trip to the Toronto Islands, a ride on the carousel the highlight of the day.
However, I have not read of any attempts to raise funds to rescue the carousel from its fate. I do not know if it is even possible at this late date, as it is scheduled to be dismantled and shipped to the U.S. after Centreville closes for the 2017 season. This will be a loss for all of Canada, as following its departure only eight antique carousels will exist in the country. Part of our heritage is slipping away. Future generations might never forgive us for our lack of foresight.
The carousel at Centreville on Centre Island was purchased by Beasley Amusements in 1964, from Bushkill Park in Pennsylvania. The price was about $20,000. It arrived in Toronto in 1965 and was installed in the children's village of Centreville. The grand opening was in 1967, the Centennial of Canadian Confederation. The carousel was the jewel in the crown of the entertainment rides at Centreville. For many years, its carved animals were maintained by Al Cochrane, a gifted carver.
Built in 1907 by G. A. Dentzel Company of Philadelphia, Pennsylvania, the children's ride possesses 52 hand-carved animals, each one a unique creation. There are majestic horses that gallop faster and faster as they strain to escape the revolving wooden platform that contains them. There are wild beasts as well as animals found on a farm.
My first experience with a carousel occurred when I was four years old. The sight of it was intimidating as the animals looked real. There was a ferocious lion with jaws containing razor-sharp teeth and a bottomless blood-red throat. It stared at me as if it were deciding if it should pounce and devour me in a single gulp.
After my father paid the fare, I worked up the courage and nervously climbed aboard a horse that I was certain was 20 feet tall. I earnestly prayed that the carousel's carnival-like music would obscure the thumping of my heart. Once I was settled in on the horse's back, I felt safer, but held onto the pole atop the horse so tightly that if it had been a penny, the Queen's nose would have bled. I continued to avoid looking at the lion as it reminded me of the one from my nightmares. It lived at the bottom of the cellar stairs in our house. Somehow, it had found me on the carousel.
As well as the horses and the lion, there were imaginary creatures such as a unicorn. I admired the long-necked ostriches and the barnyard animals such as roosters and pigs, but having conquered my fears to climb on the horse's back, I considered them tame. As for the benches that seated two adults, they were for "old pussies," as Agatha Christie referred to elderly women. Older men usually watched from the sidelines, exhibiting strange smiles and faraway looks. I was too young to realize that they were likely recalling their boyhood days when they too had struggled to conquer a carousel's lions and horses.
* * *
I now must confess that I have never been on the carousel on Centre Island. There were no amusement rides on Centre Island when I was a boy in the 1940s. There was a village, but it was demolished in the 1960s. There had been an amusement park on Hanlan's Point, but it closed in the 1930s.
My first experience on a carousel was at Sunnyside Amusement Park, which was demolished to build the Gardiner Expressway. Actually, when I was a boy, I had never heard of a "carousel." The word is from the French (carrousel) or the Italian (Carosell) and was employed by Americans to refer to carved animals that rotate on a wooden platform. In Canada, we referred to it as a "merry-go-round." Similarly, on Halloween we never went "trick or treating." We ventured into the darkened streets on the last night in October to go "shelling out." We would chorus gleefully at each door, "Shell out! Shell out" We'll break your windows inside out." Our Canadian vocabulary remained untainted until the mid-1950s with the advent of television and the flood of American programming.
The merry-go-round at Sunnyside was the highlight of my family's summer trips to "The Poor Man's Riviera," as Sunnyside was known. As soon as we arrived, my brother and I and commenced building sandcastles on the beach along the shoreline of Lake Ontario. We imagined mediaeval knights riding their horses over the twig drawbridges that crossed the moats we filled with water from our pails. My mother had acquired the pails when she purchased quart-size containers of peanut butter, which were packaged in children's sand pails. We had consumed enough peanut butter during the winter months to dry out our mouths so that they felt like part of the Sahara Dessert. As a reward, we now had two free pails, complete with handles and accompanied by toy sand shovels. When it was lunchtime, we hungrily wolfed down salmon sandwiches, not stopping our great construction projects to properly pay attention to our meal. Thus, though our sandwiches were garnished with yellow mustard, they were liberally sprinkled with sand.
However, our excitement increased as the afternoon shadows lengthened, as we knew that a ride on the merry-go-round was imminent. My brother was two years older than me, so when we arrived at the site of the merry-go-round, he chose the most dangerous looking carved horse he could find. I settled for a steed that might have crossed our twig drawbridges over the moats of our sandcastles at a more sedate pace. The merry-go-round ride was glorious, though far too short. When it ended, as we walked away, we both gazed back a few times, lamenting that the climax of our summer day-trip was spent. However, we were consoled by the tall bags of salty popcorn that my dad bought, pleased that the horses from the merry-go-round did not expect a share of our treat.
Everyone has treasured memories from their childhood, and for many, a merry-go-round or carousel ride is among them. It is a pity that future generations of toddlers will never ride an antique carousel in Toronto, the same one that their parents might have ridden. Beasley Amusements at Centreville intends to replace the 1907 carousel with a modern version, but the youngsters will never have the chance to share a tangible part of the childhood of their parents. It is only when we are older that we realize that allowing the destruction of landmarks and traditions of the past cheats us of the contentment derived from watching our children and grandchildren enjoying an activity or site that we too enjoyed. Sharing generational memories creates links that draw families together. This is what family and community are all about.
Our heritage should not be sold to recoup the losses of a financial disaster caused by the spring floods of 2017. The carousel at Centre Island should remain in Canada.
Let's start a new Toronto Tradition
Rescue the carousel from being sold and install it in the Eaton Centre. At the yuletide season, parents could take their toddlers to the Centre to see Santa Claus, ride on an antique carousel, and view the Christmas windows of the Bay.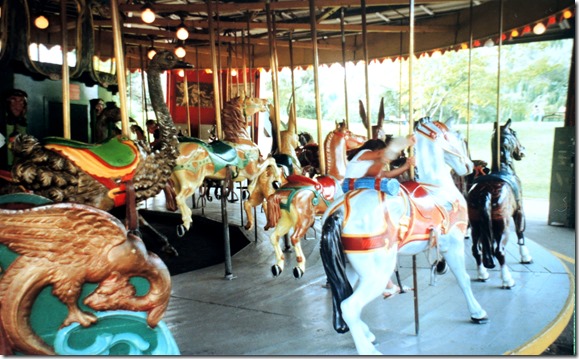 The carousel at Centre Island in July 1987.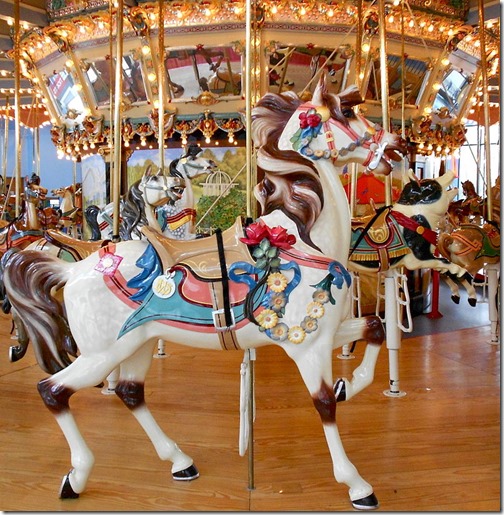 The lead horse on the Dentzel carousel in Woodside Amusement Park in Philadelphia. Photo from Wikipedia.
Note: This post was inspired by an article and photo by Fatima Syed published in the Toronto Star on July 19, 2017.
To view the Home Page for this blog: https://tayloronhistory.com/
To explore more memories of Toronto's past:
https://tayloronhistory.com/2016/03/02/tayloronhistory-comcheck-it-out/
Books by the author:
"Toronto's Theatres and the Golden Age of the Silver Screen," explores 50 of Toronto's old theatres and contains over 80 archival photographs of the facades, marquees and interiors of the theatres. It relates anecdotes and stories by the author and others who experienced these grand old movie houses.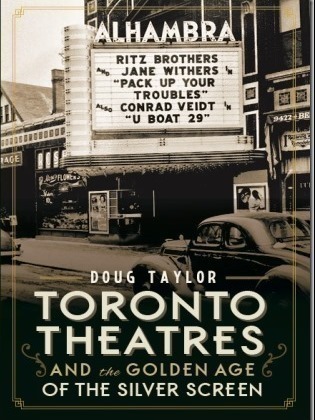 To place an order for this book, published by History Press:
https://www.arcadiapublishing.com/Products/9781626194502
Book also available in most book stores such as Chapter/Indigo, the Bell Lightbox and AGO Book Shop. It can also be ordered by phoning University of Toronto Press, Distribution: 416-667-7791 (ISBN 978.1.62619.450.2)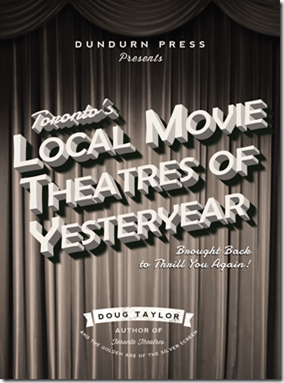 Another book on theatres, published by Dundurn Press, is entitled, "Toronto's Movie Theatres of Yesteryear—Brought Back to Thrill You Again." It explores 81 theatres and contains over 125 archival photographs, with interesting anecdotes about these grand old theatres and their fascinating histories. Note: an article on this book was published in Toronto Life Magazine, October 2016 issue.
For a link to the article published by Toronto Life Magazine: torontolife.com/…/photos-old-cinemas-doug–taylor–toronto-local-movie-theatres-of-y…
The book is available at local book stores throughout Toronto or for a link to order this book: https://www.dundurn.com/books/Torontos-Local-Movie-Theatres-Yesteryear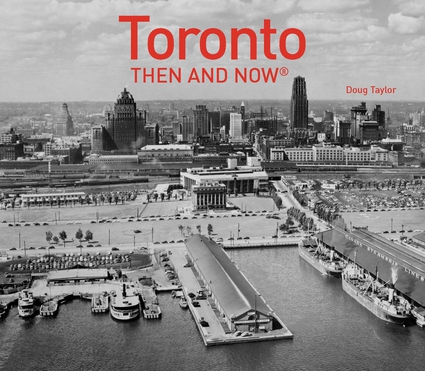 Another publication, "Toronto Then and Now," published by Pavilion Press (London, England) explores 75 of the city's heritage sites. It contains archival and modern photos that allow readers to compare scenes and discover how they have changed over the decades.
Note: a review of this book was published in Spacing Magazine, October 2016. For a link to this review:
spacing.ca/toronto/2016/09/02/reading-list-toronto-then-and-now/
For further information on ordering this book, follow the link to Amazon.com here or contact the publisher directly by the link below:
http://www.ipgbook.com/toronto–then-and-now—products-9781910904077.php?page_id=21