I recently attended a service in Mount Pleasant Cemetery to honour the memory of those members of the Salvation Army who perished when the Canadian Pacific Liner "The Empress of Ireland" sank in the icy waters of the St. Lawrence River on 29 May 1914. The occasion was the 97th anniversary of Canada's greatest maritime tragedy. Of the 1477 passengers aboard, 1012 drowned when the majestic liner collided with the Norwegian collier "The Storstad," which sliced a 20-foot-deep hole into the starboard side of "The Empress." The ship sank in fourteen minutes, many of the passengers never awakening from their slumbers.  By comparison, on the "Titanic," 807 passengers died, while on "The Empress," 840 drowned. The total loss of life was greater on the "Titanic" as more of the crew failed to escape.
For the recent (97th) commemorative service, a Norwegian radio station sent a crew to Canada to record the proceedings for their listeners.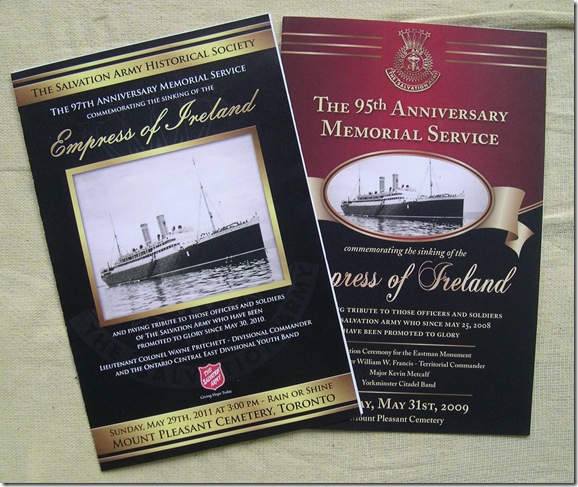 Order of Service for the 95th and 97th memorial services for victims of the "Empress of Ireland."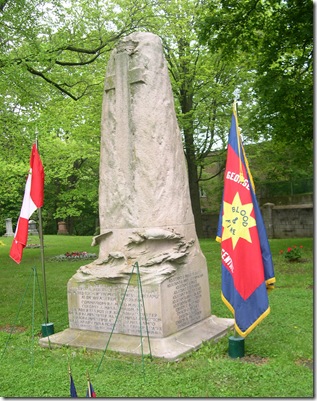 Monument in Mount Pleasant Cemetery to those who perished on "The Empress"
Youth band of the Ontario Central East Division playing "God Be With You Till We Meet Again." In 1914, the Canadian Staff Band played this hymn on the deck of the ill-fated ship as it pulled away from the pier in Quebec City.
Placing the wreath on the memorial monument
For the ceremony, each year small flags are placed on the graves of Salvationists who died in the disaster. Over 150 members of the Salvation Army perished; many of them are buried in Mount Pleasant Cemetery.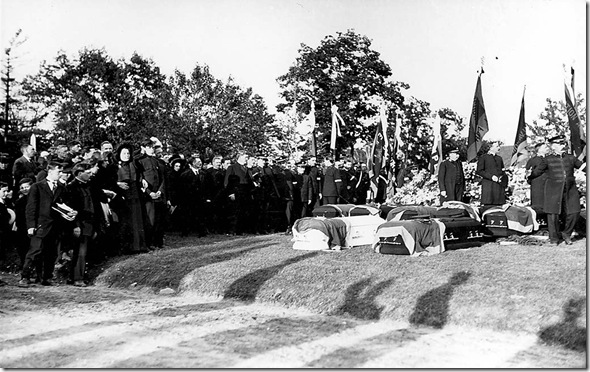 The 1914 funeral service for those who drowned on "The Empress of Ireland."