On Saturday 28 May, the Metropolitan United Church at Queen and Church streets was one of the nearly 150 sites that participated in Toronto's "Doors Open." Judging from the comments, the historic church was greatly appreciated.
The Metropolitan United Church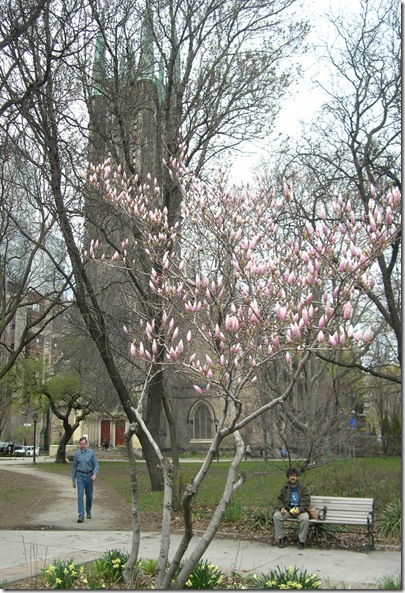 The first church was constructed in 1818 near King and Bay streets. In 1833, the congregation relocated to Adelaide Street. In 1868 the church purchased McGill Square, located at Queen and Church streets, at a cost of $25,000. The first church service at the new location was held in 1872. It was originally the Metropolitan Methodist Church, but became part of the United Church of Canada in 1925.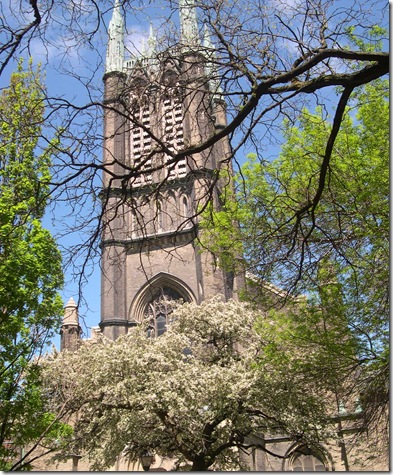 A view of the Gothic tower of the Metropolitan United Church. It survived the great fire of 1928 that destroyed the remainder of the building. The cost of rebuilding the church and the church house was $400,000, a staggering amount in that day. The first service in the new structure was held on 15 December 1929. In the tower at "The Met," as many affectionately refer to the church, is the first tuned Carillon in North America. The original set of 22 bells were donated by Chester Massey. Today, the sound of the bells ring out over the downtown area every Sunday morning. "The Met" is a church that ministers to the downtown community, especially through its "Out of the Cold" program.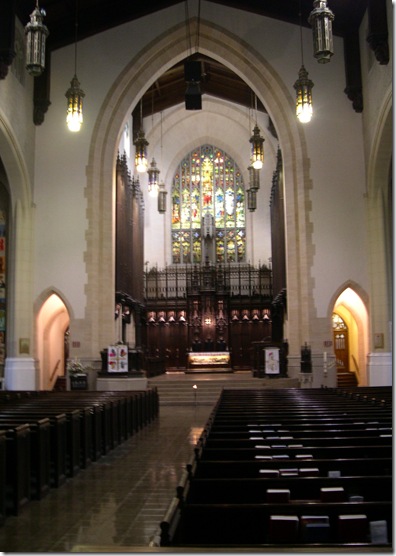 The Interior of the Metropolitan United Church. The communion table in the chancel, carved of California soft oak, depicts the Last Supper as portrayed by Leonardo de Vinci.
The stained-glass windows of the church. The left-hand picture is the memorial window, dedicated to those who died in Great War (1914-18) The right-hand picture is the great Chancel Window, framed by a magnificent Gothic arch.
Doors Open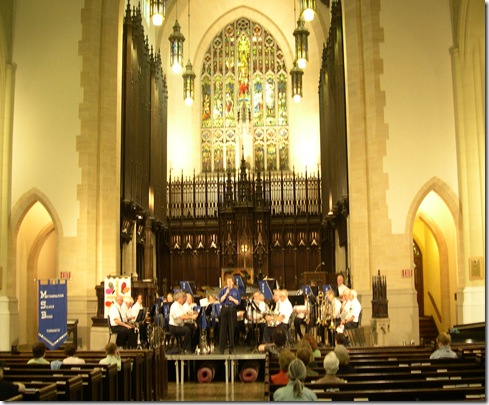 Metropolitan Silver Band, founded in 1934, performing at Doors Open.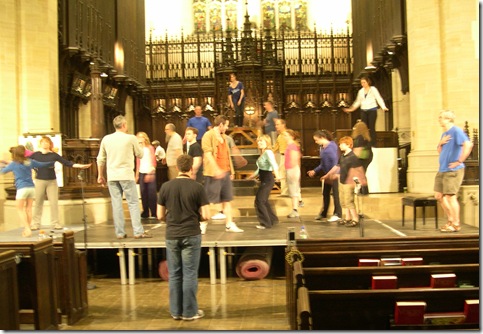 A practice session of the musical "Joseph and "The Amazing Technicolour Dream Coat" during Doors Open Toronto. The Andrew Lloyd Webber musical will be performed on Friday 3 June and Saturday 4 June at 8 pm 2011.