Enduring the dank dark winters of Toronto should qualify a person for sainthood. The Catholic Church has nominated candidates for this exalted position who have suffered far less. During the miserable month of January, dawn breaks late in the pewter-gray mornings, and twilight slips away prematurely at day's end. Heavy snow-clouds obscure the skies, and when the sun does deign to grace us with its presence, it bestows tepid warmth upon a populace all too weary of the low light and numbing cold. People huddle in streetcar and bus shelters, their coat-collars turned-up against the chilling north winds, which bite the backside and penetrate the bone-marrow.
February, the soul-mate of January, continues to bestow relentless blasts of frigid air and thumb-sucking temperatures. March and April cruelly tease, as they masquerade as harbingers of spring while dumping slushy snow across Toronto's grand avenues and narrow streets. The modest backyard gardens and majestic river valleys suffer in silence, held firmly in winter's freezing grasp.
I could have saved a lot of time and effort and not written the above literary masterpiece by simply saying, "Winter in Toronto sucks." This says it all.
When John Collins negotiated the Toronto Purchase from the Mississauga Indians in 1787, he paid 17,000 pounds for 250,880 acres of land. The site of today's Toronto was included in this real estate swindle. However, in modern times, by the time the end of March arrives, a person wonders who swindled whom. Was the land nestled around the wind-swept shoreline of Lake Ontario worth the purchase price?
Such pessimism disappears when spring finally arrives and spreads its gentle warmth across the verdant avenues and forested valleys of Toronto. Scented lilacs and wisteria hang over garden fences and brick walls. Crocuses of various hues, yellow white and purple, grace the lawns and laneway gardens. When the daffodils splash their yellow glory across the flower beds of the city, and splash abundantly across neighbourhood parks, we are reassured that the Toronto Purchase was indeed a bargain. The annual displays of blazing tulips rescue Toronto from natures' drab winter colours. Tulips are natures way of ensuring those of us that live in northern latitudes that winter is past, and all is right with the world.
Again, I could have saved much time and effort by simply stating, "When spring arrives, it's time to wear-out one's elbow tipping a beer glass. Beer, the thinking man's champagne, is back in all its splendiferous glory. No tulip is as beautiful as a frosted bottle of beer on a hot day in spring."
Toronto's Historic Landmarks In Spring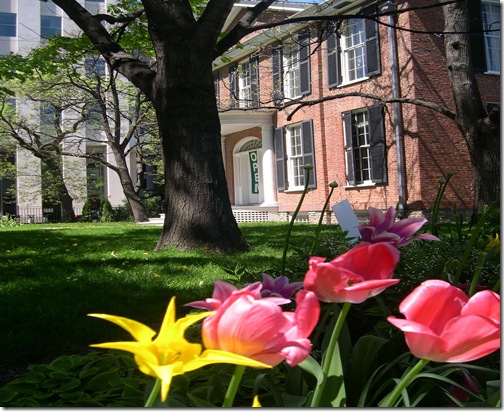 Tulips at Campbell House at Queen Street and University Avenue. Built in 1822, it was the home of the first chief justice of Upper Canada, Sir William Campbell. For more information on Campbell House, see The Villages Within, available at Chapter-Indigo Book Stores.
Metropolitan United Church St. James Cathedral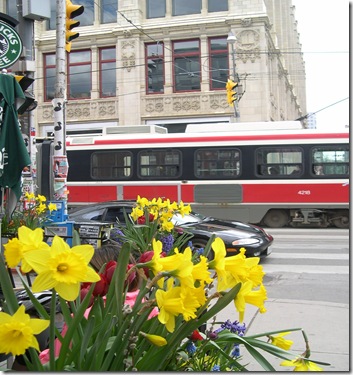 Daffodils in the foreground, and behind them the Wesley Building, constructed in 1914. It became the United Church Publishing house, and today houses studios and offices of a well-known TV station. The daffodils are in planter-boxes that surround the sidewalk-patio of the Starbucks Coffee cafe, at Queen and John streets. The Starbucks is located in the 1890 building that was originally the bakery of John Tasker. For further details see The Villages Within, available on Amazon.com and at Chapter/Indigo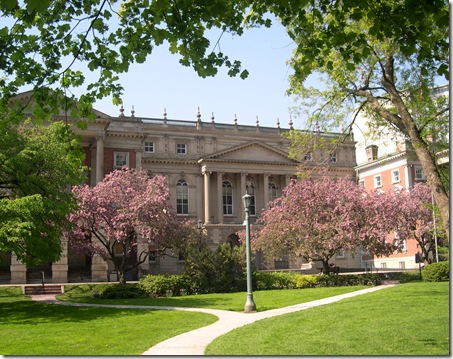 Osgoode Hall at Queen and University – the east wing of the building was constructed between the years 1829 and 1832.
Osgoode Hall with forsythia bushes in foreground.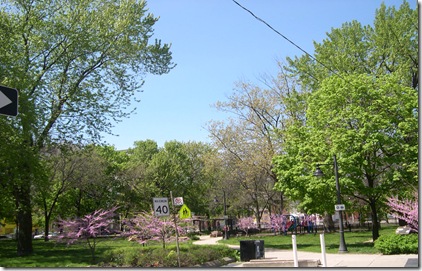 Purple redbud blossoms in historic St. Andrew's Playground, once the site of an 1837 farmers' market. This park is located at Brant and Adelaide streets.
(Left-hand picture) Redbud blossoms, and in the background the condominium at 50 Camden Street, at the corner of Brant and Camden streets. The condo was built on property once owned by James Fitzgibbon, hero of the Battle of Beaver Dams, fought on 24 June 1813, during the War of 1812. Fitzgibbon also led the British troops up Yonge Street during the 1837 Rebellion. (Right-hand photo) Lilacs on a terrace at 50 Camden Street.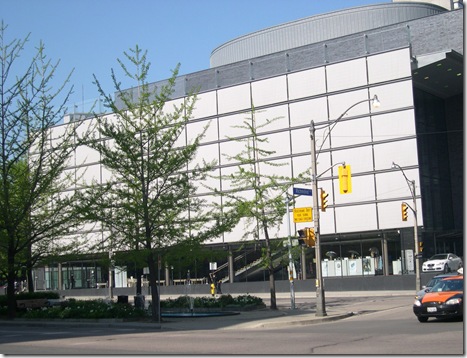 Toronto's opera house in early spring, viewed from University and Richmond.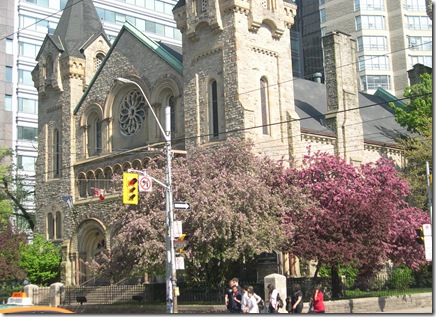 The Andrew's Presbyterian Church at King and Simcoe street, constructed 1876.
Pansies in a planter box at 275 Richmond Street West, in front of an 1890s bay and gable house.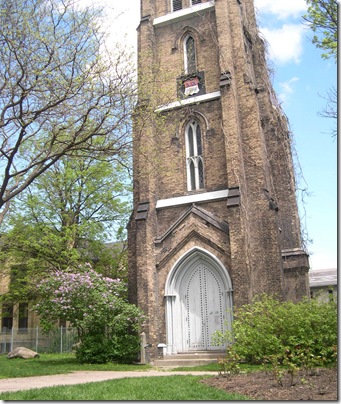 Tower of the church of St. George the Martyr on John Street, north of Queen. It was built in 1845. Only the tower survived after a disastrous fire in 1955.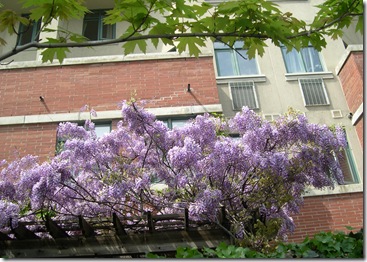 Wisteria at 500 Richmond Street West.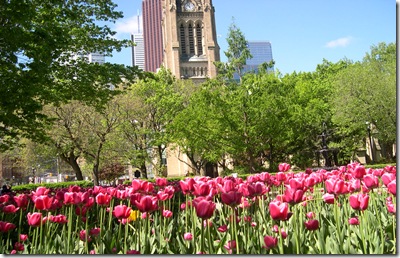 Tulips in St. James park on King Street East.
Farewell to a Toronto spring – long anticipated – too briefly enjoyed.