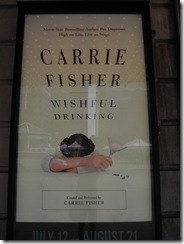 The Star gave Carrie Fisher a four-star review and I can understand the reasons for the high praise. It requires courage to stand on stage and share with an audience your personal problems, especially when they are related to drug abuse and alcohol. Her charm and wit were evident throughout the performance, and the patrons readily responded.
Although the show had a few good-liners, such as the philosophy passed on to her from her grandmother – "flies land on shit as well as pie" – the laughs were mainly derived from reciting the foibles and problems of the Hollywood stars. For anyone who enjoys knowing the behind-the scenes celebrity gossip, this is a great show.
Personally, I am not that interested in such details. As a result, although I admired her pluck, the show fell flat.