Discovering the Kensington Market, A Village Within the city!
This post examines a Victorian house at the southwest corner of Wales and Augusta Avenues.
Views of 3 Wales Avenue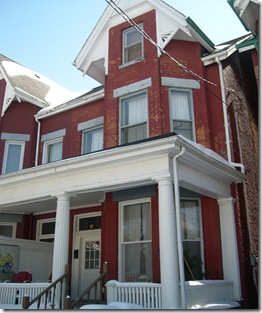 Large veranda on 3 Wales Avenue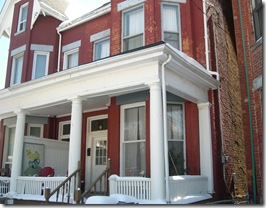 This exceptionally fine "Bay and Gable" home at 3 Wales Avenue, possesses a large veranda that is not common to see attached to such homes. Construction on the original house began in 1889, the same year as the two "Bay and Gable" homes to the west of it, as well as the row houses further along the street. It was completed in 1890, but remained unoccupied. The details in the pediment (the triangle at the top of the gable) and the veranda was in excellent repair. The veranda was likely an addition to the home, added sometime after is original construction.
It was finally purchased by Mrs. Emma Bird, the widow of Frederick L. Bird, an insurance agent. They had formerly lived at 168 Euclid Avenue. The location of the home on Wales was likely much more convenient for a widow, as shopping and other necessities were closer at hand. From Wales Avenue, it was easier to walk to the downtown sops.
When Emma lived at 3 Wales Avenue, next door at 1 Wales Avenue was William McC Miller, a traveller (salesmen) by profession. His middle name was listed in both the street and name sections of the Toronto Directories of 1890 as "McC."