The historic building at 106 John Street, which until recently housed the "Fox and Fiddle Pub," sometimes referred to as "The Pox and Piddle" is soon to be relocated to a site further south on John Street, beside another historic landmark. The relocation clears the land at the corner of Adelaide and John Streets for the construction of a high rise condominium. I have been watching the  progress of the work.

The building in late-May, with wire fencing around the site.

In July, steel girders were placed under the building to support it during transport. In the distance, the small white building, beside the TIFF building, is the where the historic house will reside after being relocated. 

The structure is no longer resting on its original foundations.
south facade                                        north facade
History of the Building at 106 John Street
In 1861, on the west side of John Street, between King and Adelaide Streets, there were no homes. However, on the north end at Adelaide Street was The Old Hospital Grounds.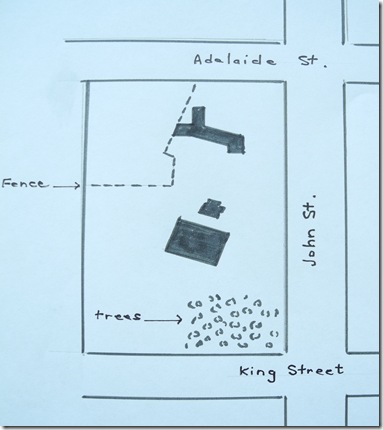 This sketch of the Baldwin map of 1856 shows the block of land on the west side of John Street, between King and Adelaide Streets, where the old hospital was located. The large building in the centre of the block was labelled on the map "Executive Council and Co. Departments."
In 1868, the land between King and Adelaide Streets remained vacant lots, except for the home of James Hawley, an engineer with the GTR Elevator Company. No house number was given for his dwelling.
In 1870, on the west side of John Street, two homes were built. The house at 114 John Street was occupied by Charles Bender, a piano manufacturer. The residence at 116 John Street was that of Richard West – a contractor. In 1872, when more homes were constructed, the numbers 114 and 116 were changed to 86 and 88 John Street.
In 1890, the houses were again renumbered and they became 104 and 106 John Street, the numbers being retained to this day. These houses were considered substantial residences, their owners possessing excellent incomes. Their neighbour immediately to the south, at 102 John Street, was the Reverent John Barclay of St. Andrew's Church on King Street.  
The two houses, 104 and 106 John St. was a single building building when it was occupied by the "Fox and Fiddle" pub. This is the building that is soon to be relocated.