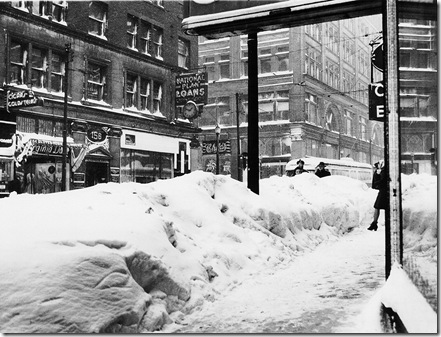 City of Toronto Archives, Series 372, SS 0100, Item 449
Yonge Street looking north at Richmond Street the day after the great storm of 1944. The east facade of the Simpson's Store (now The Bay) is visible behind the streetcar
            

                      City of Toronto Archives, Series 100, SS0372,Item 450

Bay Street, looking north toward the Old City Hall on Queen Street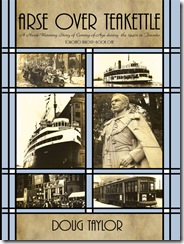 The following is from the novel "Arse Over Teakettle," a story of a family in Toronto struggling to cope during the Second World War. This quote tells about the great 1944 snowstorm.
Yonge Street, the city's busiest thoroughfare, was reduced to a desolate scene of swirling white. On the sidewalks, people scuffled along in a single row, the narrow path in which they trod created by the boots of those in front of them. Some walked like sailors on a ship's deck, rolling and swaying as they proceeded over patches of ice. One man's left foot suddenly became icy cold, and he realized that he had walked out of his boot, which he had left behind, trapped in a drift. No one lingered to gaze into department store windows, as the blinding gusts of white veiled them from view.
The billowing clouds of snow obliterated the clock tower of City Hall at the top of Bay Street, where it crowned the intersection at Queen. No pigeons fluttered around the cenotaph, and the few sparrows on the scene seemed unable to shake the snow from their wings to take to flight. Parked cars, abandoned along the streets, were hidden by enormous drifts that encased them within the frigid landscape. It was an arctic panorama of desolation. Despite the icy cold, many thought that it was akin to a scene from hell.
People donned whatever boots and clothing were best suited to cope with the severity of the situation. Parkas, ski pants, earmuffs, and hunting boots were common, with some men wrapping newspapers around their legs, inside their trousers, to keep out the cold. Many wore two or three sweaters under their winter coats.
It was later reported that two elderly gentlemen, refusing to submit to nature's cruel tricks, boarded a streetcar wearing bowler hats, kid gloves, grey spats, and polished shoes of black leather. They stepped off the streetcar at Bloor Street and sunk to their waists in a snowdrift. The onlookers cheered and laughed. Undaunted, the two men each gave a salute with their hats, laughing merrily as they struggled to free themselves from their predicament. All across the city, despite chattering teeth and dentures, the spirit of the day was: "Smile! It's better than crying."
Those who managed to arrive at work were a sorry sight. The biting winds and wet snow had plastered their soggy clothes to their shivering bodies. They were grateful for the cups of steaming coffee and tea provided by those who had arrived earlier. Some managed to locate dry socks and sweaters for those who arrived after them. At City Hall, by midmorning, radiators were draped with soggy nylons and men's socks. By the noon hour, more clothes had been stripped off than in the entire history of the Casino Theatre, a mere block or so to the west of City Hall.
It was a decade when most Torontonians relied on public transportation. As a result, officials decided that residential streets were to remain unplowed until the major public transportation arteries had been cleared. This was a daunting task, as the TTC possessed only five scrapers, six plows, and twenty snow-scraper cars. Sixteen of the TTC's old F-class streetcars (Birney cars), purchased between the years 1915 and 1917, had been converted in 1932 to storm cars. It was a small TTC fleet, sailing into an enormous sea of snow.
Workers had commenced clearing the tracks at 5:30 a.m. Through great effort, a few of the streetcar routes operated, though service was slow and irregular. The few streetcars that arrived were immediately crowded. People laughed and joked as they entered by both front and rear doors. One driver shouted to the passengers that over a hundred people had entered his car, but only ten fares had been placed in the box. He passed around his hat, and people dropped their tickets and cash into it. They received their transfers when the hat returned. It gave new meaning to the phrase "passing around the hat."
In the suburbs, buses were nonexistent. A team of horses and an old-fashioned sleigh glided easily over a roadway where cars and buses were unable to travel. If there had been sleigh-bells, it would have been a scene from Currier and Ives. The TTC requested that high school students assist in clearing the streetcar tracks, as schools were closed anyway. On the streets, the city had one thousand men clearing sidewalks and main roadways. They were assisted by 180 city trucks, 50 hired trucks, and 23 snowplows. However, no matter how fast they worked, the wind continually re-covered the avenues with enormous drifts.
On Queen Street West at Mutual Street, an open rail switch caused a streetcar to topple onto its side. Those sitting or standing on the north side of the car were suddenly dumped on top of those seated on the south side. Windows were smashed, and many people were injured by the flying glass. A young girl was thrown through the doorway and landed on the street, injuring her back. Trapped inside were 170 passengers, 10 of them seriously injured. A middle-aged man was killed. The screams of the trapped passengers were heard for blocks. Bystanders assisted by pulling people through the windows of the upturned cars. They placed them on the snow-covered ground, some offering their coats to cover them. Emergency crews and medical assistance were delayed, as the streets were blocked. By the time they arrived, the high winds had filled the cars with drifting snow.
At Eglinton and Dufferin Streets, drifting closed the intersection. Also, the Oakwood streetcar line, similar to many others, was out of operation. On Avenue Road south of Bloor Street, thirty-six streetcars came to a halt, forming a long line that trailed south toward Queen's Park. Drifts on Bathurst Street at the bottom of the Davenport hill were so mountainous that even the snowplows stalled.
Link to the previous post about the snowstorm of 1944:
https://tayloronhistory.com/2011/11/16/the-worst-snowstorm-to-ever-hit-toronto-post-1/