I recently found this transfer, which I had saved from the year TTC's new subway opened. My first trip had been on Sunday, March 31st. A friend and I boarded the subway train at College Street Station, rode to Union Station, and then crossed the platform to ride the train north to Eglinton Station, which was as far as the subway extended.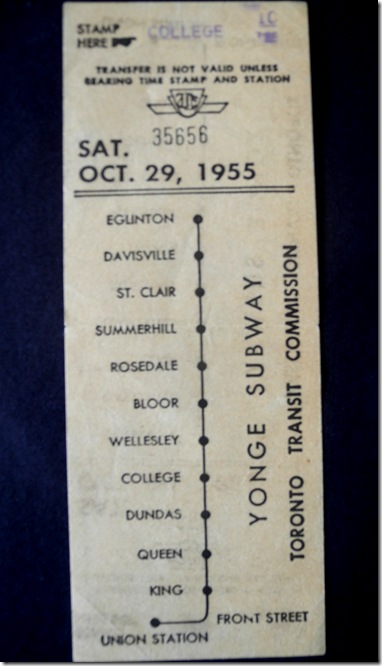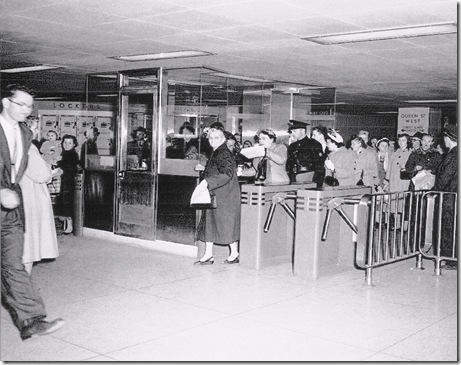 City of Toronto Archives, Series 381, file 305, id11955-6
Passengers entering the Queen Street Station on 23 April, 1954.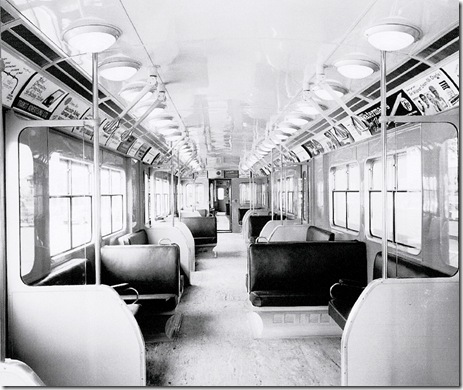 City of Toronto Archives, Series 381, file 0257, id11032-1
Interior of a new subway car, on display at the CNE in August of 1953, a year before the subway was to open.
On Tuesday 30 March, the TTC held the official ceremonies for the opening of Canada's first subway. At 1:30 pm, the first subway train, consisting of eight cars, rolled out of Union Station for the twelve-minute trip to the Eglinton Station, the northern terminus of the line. People stood above the bridges north of Bloor Street to cheer the train as it passed, exuberant crowds lining the fences along the open-cut sections of the track.
Between 2 pm and 3 pm, the famous Yonge Street streetcars ceased their designated routes on the city's main thoroughfare. Despite the excitement caused by the opening of the new subway, there were those who lamented the demise of the old Peter Witt streetcars—"the grand old ladies of the street." A few Torontonians grew nostalgic as they recalled the years they had huddled around the cars' coal stoves on a winter morning, as the streetcars rumbled up the steep hill north of Bloor Street.
To view the Home Page for this blog: https://tayloronhistory.com/
To view previous posts about movie houses of Toronto—old and new
https://tayloronhistory.com/2013/10/09/links-to-toronto-old-movie-housestayloronhistory-com/
To view links to other posts placed on this blog about the history of Toronto and its heritage buildings:
https://tayloronhistory.com/2013/10/08/links-to-historic-architecture-of-torontotayloronhistory-com/
Recent publication entitled "Toronto's Theatres and the Golden Age of the Silver Screen," by the author of this blog. The publication explores 50 of Toronto's old theatres and contains over 80 archival photographs of the facades, marquees and interiors of the theatres. It also relates anecdotes and stories from those who experienced these grand old movie houses.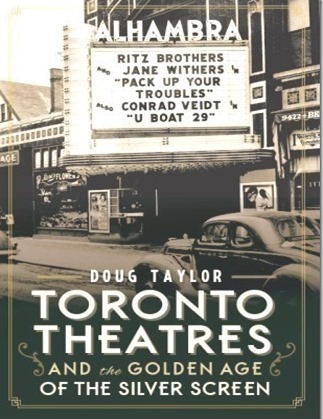 To place an order for this book:
https://www.historypress.net/catalogue/bookstore/books/Toronto-Theatres-and-the-Golden-Age-of-the-Silver-Screen/9781626194502 .
Theatres Included in the Book
Chapter One – The Early Years—Nickelodeons and the First Theatres in Toronto
Theatorium (Red Mill) Theatre—Toronto's First Movie Experience and First Permanent Movie Theatre, Auditorium (Avenue, PIckford), Colonial Theatre (the Bay), thePhotodome, Revue Theatre, Picture Palace (Royal George), Big Nickel (National, Rio), Madison Theatre (Midtown, Capri, Eden, Bloor Cinema, Bloor Street Hot Docs), Theatre Without a Name (Pastime, Prince Edward, Fox)
Chapter Two – The Great Movie Palaces – The End of the Nickelodeons
Loew's Yonge Street (Elgin/Winter Garden), Shea's Hippodrome, The Allen (Tivoli), Pantages (Imperial, Imperial Six, Ed Mirvish), Loew's Uptown
Chapter Three – Smaller Theatres in the pre-1920s and 1920s
Oakwood, Broadway, Carlton on Parliament Street, Victory on Yonge Street (Embassy, Astor, Showcase, Federal, New Yorker, Panasonic), Allan's Danforth (Century, Titania, Music Hall), Parkdale, Alhambra (Baronet, Eve), St. Clair, Standard (Strand, Victory, Golden Harvest), Palace, Bedford (Park), Hudson (Mount Pleasant), Belsize (Crest, Regent), Runnymede
Chapter Four – Theatres During the 1930s, the Great Depression
Grant ,Hollywood, Oriole (Cinema, International Cinema), Eglinton, Casino, Radio City, Paramount, Scarboro, Paradise (Eve's Paradise), State (Bloordale), Colony, Bellevue (Lux, Elektra, Lido), Kingsway, Pylon (Royal, Golden Princess), Metro
Chapter Five – Theatres in the 1940s – The Second World War and the Post-War Years
University, Odeon Fairlawn, Vaughan, Odeon Danforth, Glendale, Odeon Hyland, Nortown, Willow, Downtown, Odeon Carlton, Donlands, Biltmore, Odeon Humber, Town Cinema
Chapter Six – The 1950s Theatres
Savoy (Coronet), Westwood
Chapter Seven – Cineplex and Multi-screen Complexes
Cineplex Eaton Centre, Cineplex Odeon Varsity, Scotiabank Cineplex, Dundas Square Cineplex, The Bell Lightbox (TIFF)