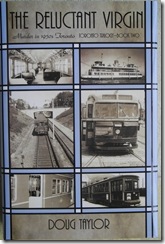 For those who wish to purchase an advance copy of the latest Toronto murder/mystery, "The Reluctant Virgin," without waiting for it to be delivered via the mail, the thriller is now available at the Chapters/Indigo Store in downtown Toronto at John and Richmond Streets.
The novel is a gripping story of a serial killer who selects victims from the streets, bars, and ravines of Toronto in the 1950s. The two detectives assigned to the case are unaware that they are confronted by a serial killer. Those readers who are familiar with the city will recognize the crime scenes and the locales where the murderer selects those that are killed. Adding to the mystery, in some sort of strange ritual that baffles the police, the killer drains the blood from the bodies of the victims.
The detailed descriptions of Toronto as well as the archival photographs in the book, all add a frightening degree of reality to the tale.
For more information on the book, follow the link: https://tayloronhistory.com/2011/11/29/a-novel-about-a-serial-killer-in-toronto-during-the-1950s/
The author's Home Page: https://tayloronhistory.com/