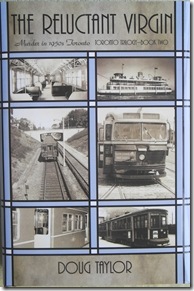 The recently published book "The Reluctant Virgin" exposes readers to highly controversial social issues that were hot topics in Toronto during the 1950s. Many of these issues remain relevant today. They involve religious dogma as well as attitudes toward sex.
The book abounds with colourful characters that enliven the telling of the tale. The two detectives assigned to catch the serial killer are also fascinating. Readers are swept along as the gruesome details of the murders are revealed. One of the strangest aspects is that the killer drains the blood from the victims. The police are unable to explain this weird ritual.
This book is not recommended for faint-hearted readers as the descriptions of the murders tend to be quite graphic. The actual murders are described in detail, and the manner in which they are carried out is chilling.
To purchase this book: http://bookstore.iuniverse.com/Products/SKU-000188306/The-Reluctant-Virgin.aspx
Author's Home Page: https://tayloronhistory.com/