There was a time when film producers employed Toronto only as a stand-in for other cities, mostly American. Those of us who were familiar with Toronto, when watching these films, were able to identify various places within Toronto that appeared in the scenes. Some of us were amused at seeing the CN Tower popping up in New York. Fortunately, this has changed in recent years. Toronto is now an important part of some films, enhancing their stories and plots.
Unfortunately, some authors still cling to habits from the days of old. Though they are clearly describing streets, places, and buildings in Toronto in their novels, their stories identify them as being in a fictional city or town within the United States. Usually, the reason for this switch is an attempt to appeal to the larger American market. I cannot argue with the success of the tactic. One particular Toronto-based mystery writer has become the author of numerous best sellers by engaging in this ploy. However, I think it is a pity that they indulge in this practice. It detracts from the realism of the stories, and discourages other authors from exploring the rich diversity that Toronto offers.
I doubt that they will never become best sellers, and it is not that important to me. I have no qualms about identifying, and even romanticizing the streets and inner communities of a city that I dearly love. I am reaching out to Toronto readers in particular, something that I am told that no authors should do if he/she wishes to be a success.
The second books of my "Toronto Trilogy" is presently available at the Chapters/Indigo store at Richmond and John Streets. It is also available electronically. A murder/mystery, it is the tale of a brutal serial killer, but is also a means to relate the history of Toronto during the 1950s. It is a study of daily life during those years. Those who remember the 1950s, or are curious about this dynamic decade in the history of the city, might enjoy this novel.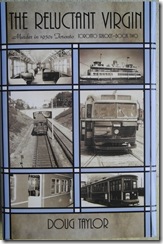 "The Reluctant Virgin" exposes readers to highly controversial social issues that were hot topics in Toronto during the 1950s. Many of these issues remain relevant today. They involve religious dogma as well as attitudes toward sex.
The book abounds with colourful characters that enliven the telling of the tale. I hope that readers will feel that the two detectives assigned to catch the serial killer are fascinating. One of the strangest aspects of the crimes is that the killer drains the blood from the victims. The police are unable to explain this weird ritual.
This book abounds in detailed descriptions of Toronto, and the archival photos add to the realism of the plot.
To purchase this book: http://bookstore.iuniverse.com/Products/SKU-000188306/The-Reluctant-Virgin.aspx
Author's Home Page: https://tayloronhistory.com/