The passage below is from the novel "Arse Over Teakettle," a story of a young boy coming of age in Toronto during the 1940s. It is a heart-warming tale of his struggle to mature, both sexually and intellectually. In the quote below, the main character of the story, Tom Hudson, tells about St. Valentine's Day.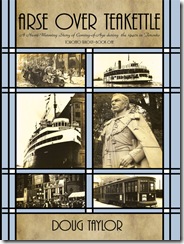 February was synonymous with the celebration of St. Valentine's Day. In the window of the School Store, I noticed that valentines had appeared, costing two cents each. The five and dime stores, such as Woolworth and Kresge's, sold books of cutout valentines. These were cheaper, and I considered them inferior. I also gazed longingly through the School Store windows at the boxes of goodies. They included small, red, cinnamon hearts and other candies, about the size of a twenty-five-cent coin, in various designs. My favourite were those that were heart-shaped. Printed on the candies were expressions such as, Kiss Me, I Love You, Be My Valentine, Do You Love Me? I'm Yours, or Hugs and Kisses. The candies were two for a penny.
In the classroom, during art period I helped decorate the cardboard valentine box. In its top, my teacher, Miss Campbell cut a narrow slit, resembling a mail slot. During the week of Valentine's, at the beginning of each day, and immediately after lunch break, we inserted valentines for our friends. On the fourteenth of the month, near the end of the day, the teacher opened the box and monitors delivered the valentines to their designated owners. I sat expectantly at my desk, waiting for my cards, while surreptitiously glancing around the room to observe how many cards the other children received.
I knew that the popular kids accumulated many. A few classmates received only two, sometimes sent by their own hand. I was grateful that I was not one of them. My modest collection of eight cards was respectable. One of them was signed, "Guess Who?" Most kids received at least one of these mystery cards, and sometimes two. Upon receiving it, I gazed around the room, attempting to catch a telltale expression that might betray the sender. I never discovered the identity of the person.
Eventually, schools discarded the custom of the Valentine Day box, as they realized that it was an insensitive tradition.
The first book of the Toronto Trilogy, "Arse Over teakettle," will be available at the Chapters/Indigo store at Richmond and John Streets in downtown Toronto on the day of the book signing for the second book of the trilogy, "The Reluctant Virgin."
Book Signing
Sunday, 11 March 3 pm to 5 pm
Chapters/Indigo Store
Richmond and John Streets
Toronto
For further information on the three volumes of the Toronto trilogy:
https://tayloronhistory.com/2012/01/21/the-toronto-trilogy-recreates-the-citys-past-while-providing-intriguing-stories/
The author's Home Page: