Quiet residential street in the 1950s Toronto's Yonge Street in 1951
City of Toronto Archives City of Toronto Archives

Fonds 1257, Series 1057, It. 7643 Fonds 574, It. 49757
In every decade, deeds are committed in dark places that are unknown to those that tread life's well-lit paths. This was true as the 1950s dawned in Toronto. The city's residents viewed their insular world as relatively staid and secure, even though they knew that crime existed, and that it was a part of daily life. However, no one suspected that a serial killer was soon to roam the quiet residential avenues and forested river valleys of Toronto. Crimes of this scope did not happen in "Toronto the Good."
Torontonians thought of their city as a place that embraced and maintained traditional values, even though they were mindful of the shifting morals and new attitudes that were creeping into their neighbourhoods since the war years. Despite this, they remained blissfully unaware that the changes would sweep away the last vestiges of the city's innocence, and that by the end of the decade, Toronto would be a vastly different city.
As the narrative of the murder/mystery begins, Tom Hudson realizes that his own life is drastically changing. In former years, he had attended elementary school, played baseball, and learned about the sexual secrets of the "big boys," on a street such as the one in the picture. In the laneways behind the houses, he had also discovered many of life's other lessons. In the local store, Tom had overheard adults discuss important events of the day, and it was where he learned to be wary of the vicious local gossip, the formidable Mrs. Martha Klacker.
Then, on the Labour Day weekend in 1951, as he is about to begin high school, a brutal murder occurs. In the days ahead, the murder intrudes into his formerly secure life. For Tom, nothing will ever again be the same. In every decade, there are deeds committed in dark places that are unknown to those that tread life's well-lit paths. The "dark places" are about to enter Tom's world.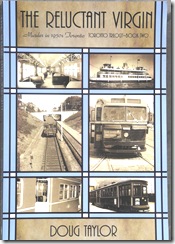 The information above is from the second book of the Toronto Trilogy, "The Reluctant Virgin." The novel is a murder/mystery that occurs in Toronto during the 1950s. A serial killer is on the loose in the laneways and ravines of the city. Tom Hudson and his friends are drawn into the mystery as the murder victim was one of the teachers who taught at their high school.
The book deals with many of the social issues of the decade, and relates the history of the period, while telling a chilling murder/mystery. The book contains many archival photographs of Toronto.
https://tayloronhistory.com/2012/01/21/the-toronto-trilogy-recreates-the-citys-past-while-providing-intriguing-stories/
The author's Home Page: