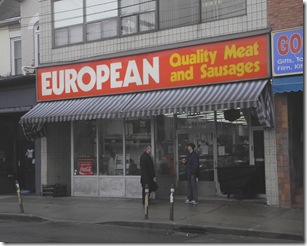 It was with great regret that I learned that the European Meat Market at 176 Baldwin Street will be closing on April 7th, 2012. I moved downtown ten years ago, and being within walking distance of the Kensington Market was one of the delights that I experienced as I explored my new neighbourhood. The unique food products available were amazing, and I realized that I was shopping in an area that was unique in all of North America. Its old world atmosphere and colourful history enriched my visits to its narrow streets with their quaint shops.
The European Meat Market was an important part of this interesting tapestry. Their prosciutto was the best I have ever experienced in all of Toronto, and at a lower price than anywhere else. Their back bacon, steaks, and pork ribs were the finest.
When I wrote the book "The Villages Within," one of the four areas that I included in the study was the Kensington Market. Below is the section in the book that mentions the European Meat Market
In 1964, European Meats arrived in the Kensington Market, but only occupied the premises at 178 Baldwin Street. In 1985 the business expanded into the other shops (176 and 174). The famous meat market is now contained within two of the old row houses, and the original site (178) is used as the cutting and preparation room. Its windows are covered over.
The store's methods of operations have changed little from the old days of the Kensington Market. Transactions are conducted in metric and imperial. It requires three staff members to complete a transaction. First, customers take a number from a dispenser located on the right hand side, near the door. They carry it to the counter and hand it to an employee, who lines them up and shouts the numbers in the order in which they are to be served. When a customer's number is called, it is then handed to another employee, who fills the order. When completed, the customer walks to the front of the store to the cashier, who accepts the money and places the meat in a plastic bag. The transaction is now complete.
This system is indeed a part of the Europe of earlier days, but is amazingly efficient. Sign language is often employed by the customers to denote the quantities desired, as on a busy day the store is so crowded that it is impossible to be heard above the clamour of voices.
The store has excellent strip loin steaks. The back bacon, hams, and cold cuts are truly excellent. People come from all over the city to purchase meat here. On a Saturday, it is jammed, and at Christmas time, the crowds are unbelievable. I believe that shopping here is an experience to be savoured, not a chore to be endured.
"The Villages Within" was short-listed for the Toronto Heritage Awards. The book chronicles an irreverent history of Toronto, and a detailed study of the Kensington Market, Queen Street West, the King/Spadina area, and the old St. Andrew's Market
For further information on this book, follow the link : https://tayloronhistory.com/the-villages-within/
The author's Home Page: https://tayloronhistory.com/