The European Meat market's blazing red sign crowned the head of Kensington Avenue for many years. The premises are now empty, and the row house attached to the store, where the meat was cut, is now a tattoo parlour. The market area is not the same without this venerable shop.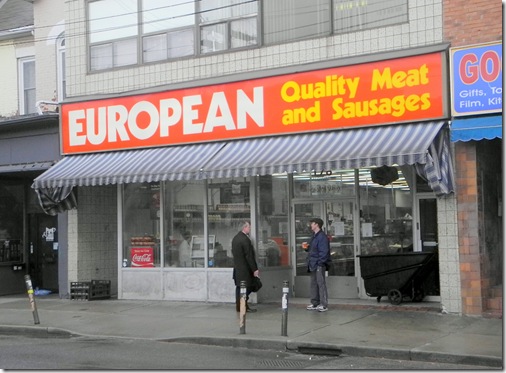 The European Meat Market as seen in the summer of 2012.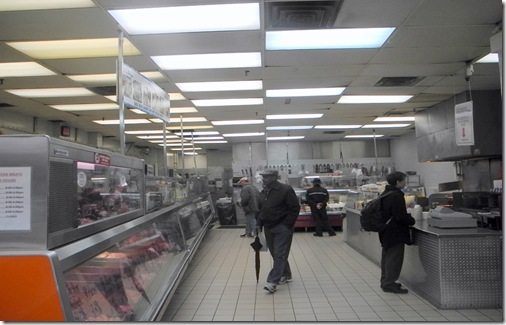 Interior of the The European Market, early on a weekday morning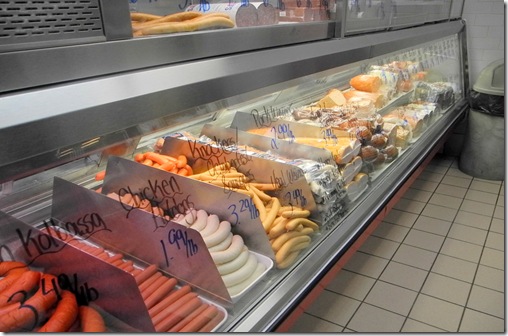 The meant counter of the European Meat market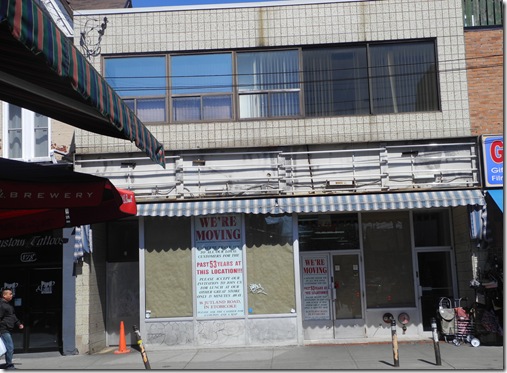 The site of the European Meat Market today.
In 1959, "European Meats" arrived in the Kensington Market, but only occupied the premises at 178 Baldwin Street. In 1985 the business expanded into the other shops (#176, #174). The famous meat market was now contained within two of the old row houses, and the original site (#178) was used as the cutting and preparation room. Its windows were covered over.
Until the store closed in April of 2012, it's methods of operations remained unchanged since the old days of the Kensington Market. Transactions were conducted in metric and in Imperial Measure. It required three members of staff to complete a transaction. Customers took a number from a dispenser located on the right hand side, near the door. They carried it to the counter, and handed it to an employee who lined them up, and shouted the numbers in the order in which they were to be served. When a customer's number was called, it was then handed to another employee, who filled the order. When completed, the customer walked to the front of the store to the cashier, who accepted the money and placed the meat in a plastic bag. The transaction was now complete.
This system was indeed a part of the Europe of earlier days, but was amazingly efficient. Sign language was often employed by the customers to denote the numbers of pound, or a half pound, as on a busy day the store was so crowded that it was impossible to be heard above the clamorous voices.
The store sold excellent strip-loin steaks. The back-bacon, hams, and cold cuts were truly excellent. People came from all over the city to purchase meat there. On a Saturday it was jammed, and at Christmas time the crowds were unbelievable. Shopping here was an experience to be savoured, not a chore to be endured.
I have spent much of my adult life researching the history of Toronto. I love the city. It has provided the background for my books, one of which, "The Villages Within", was short-listed for the Toronto Heritage Awards. If interested in novels with a Toronto setting, descriptions of the books are available by following the link: https://tayloronhistory.com/2012/03/22/toronto-author-publishes-seventh-novel/
They can be purchased in soft cover or electronic editions. All books are available at Chapters/Indigo and on Amazon.com. The electronic editions are less that $4. Follow the links:
There Never Was a Better Time: http://bookstore.iuniverse.com/Products/SKU-000056586/THERE-NEVER-WAS-A-BETTER-TIME.aspx
Arse Over Teakettle: http://bookstore.iuniverse.com/Products/SKU-000132634/Arse-Over-Teakettle.aspx
The Reluctant Virgin; http://bookstore.iuniverse.com/Products/SKU-000188306/The-Reluctant-Virgin.aspx
The Villages Within: http://bookstore.iuniverse.com/Products/SKU-000175211/The-Villages-Within.aspx
Author's Home Page: https://tayloronhistory.com/
Authors can be contacted at: [email protected]