Many film companies have included the stone facade of the old building within BCE Place in their movies. It is indeed an impressive structure. It was rescued when they demolished the building on its original site at 13-15 Wellington Street West.
The building's construction began in 1843, and was completed in 1845. The cost of the land and building was $22,303. The architect was William Thomas, who designed the St. Lawrence Hall and St. Michael's Cathedral. It was to be the Toronto branch office of the Commercial Bank of the Midland District. They considered it a prestigious building in which to launch their bank into the Toronto financial scene.
The bank's headquarters was in Kingston, Ontario, which at the time was under consideration for the location of the capitol of Canada. Unfortunately for Kingston, they selected Ottawa in 1867. However, the Commercial Bank did not stay in business a sufficient length of time to profit from its opening of a branch in Toronto.
In 1868, the Merchants' Bank took over the premises, and eventually it was purchased by the Bank of Montreal. During the First World War, the accounting firm of Clarkson, Gordon, and Dilworth located its offices in the structure, remaining until 1969. It was due to the efforts of Mr. Walter Gordon that the old bank building was preserved.
When the building was eventually demolished, the facade was dismantled stone by stone and reassembled in BCE Place as part of the Allen Lambert Galleria, located on the ground-floor level on Yonge Street, a short distance north of Front Street.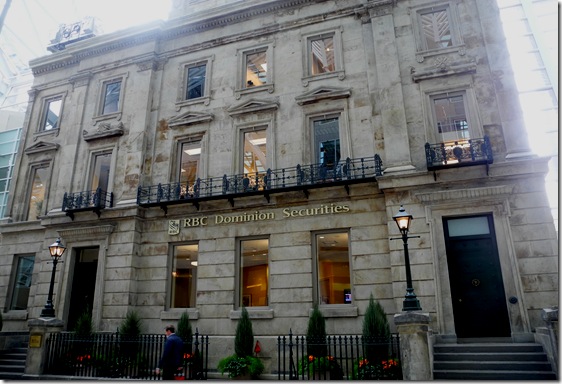 The facade of the old Commercial Bank building within BCE Place. It has been said that it resembles a piece of Edinburgh, even containing cast iron balconies.
Cast iron balcony on the facade and the cast iron fence in front of the facade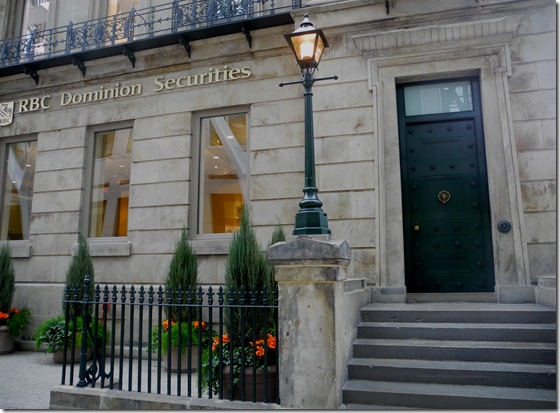 West doorway of the Commercial Bank facade in BCE Place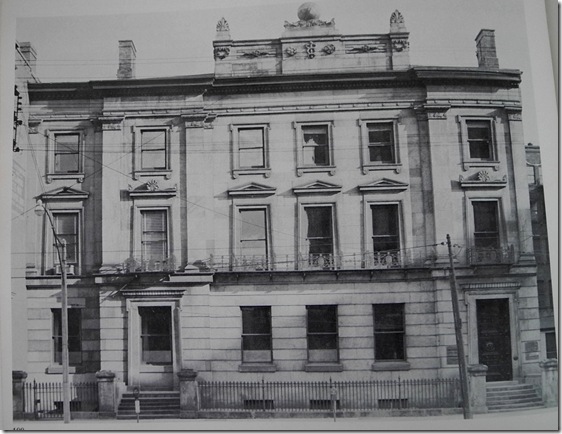 The building when it was located at 13-15 Wellington Street. (Photo from Eric Arthur's book, "Toronto – No Mean City" )
To view the Home Page for this blog: https://tayloronhistory.com/
To view previous posts about movie houses of Toronto—old and new
https://tayloronhistory.com/2013/10/09/links-to-toronto-old-movie-housestayloronhistory-com/
To view links to other posts placed on this blog about the history of Toronto and its heritage buildings:
https://tayloronhistory.com/2013/10/08/links-to-historic-architecture-of-torontotayloronhistory-com/
Recent publication entitled "Toronto's Theatres and the Golden Age of the Silver Screen," by the author of this blog. The publication explores 50 of Toronto's old theatres and contains over 80 archival photographs of the facades, marquees and interiors of the theatres. It also relates anecdotes and stories from those who experienced these grand old movie houses.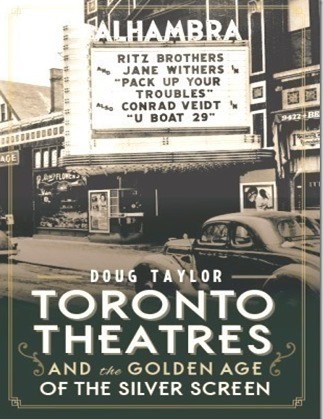 To place an order for this book:
https://www.historypress.net/catalogue/bookstore/books/Toronto-Theatres-and-the-Golden-Age-of-the-Silver-Screen/9781626194502 .
Theatres Included in the Book
Chapter One – The Early Years—Nickelodeons and the First Theatres in Toronto
Theatorium (Red Mill) Theatre—Toronto's First Movie Experience and First Permanent Movie Theatre, Auditorium (Avenue, PIckford), Colonial Theatre (the Bay), thePhotodome, Revue Theatre, Picture Palace (Royal George), Big Nickel (National, Rio), Madison Theatre (Midtown, Capri, Eden, Bloor Cinema, Bloor Street Hot Docs), Theatre Without a Name (Pastime, Prince Edward, Fox)
Chapter Two – The Great Movie Palaces – The End of the Nickelodeons
Loew's Yonge Street (Elgin/Winter Garden), Shea's Hippodrome, The Allen (Tivoli), Pantages (Imperial, Imperial Six, Ed Mirvish), Loew's Uptown
Chapter Three – Smaller Theatres in the pre-1920s and 1920s
Oakwood, Broadway, Carlton on Parliament Street, Victory on Yonge Street (Embassy, Astor, Showcase, Federal, New Yorker, Panasonic), Allan's Danforth (Century, Titania, Music Hall), Parkdale, Alhambra (Baronet, Eve), St. Clair, Standard (Strand, Victory, Golden Harvest), Palace, Bedford (Park), Hudson (Mount Pleasant), Belsize (Crest, Regent), Runnymede
Chapter Four – Theatres During the 1930s, the Great Depression
Grant ,Hollywood, Oriole (Cinema, International Cinema), Eglinton, Casino, Radio City, Paramount, Scarboro, Paradise (Eve's Paradise), State (Bloordale), Colony, Bellevue (Lux, Elektra, Lido), Kingsway, Pylon (Royal, Golden Princess), Metro
Chapter Five – Theatres in the 1940s – The Second World War and the Post-War Years
University, Odeon Fairlawn, Vaughan, Odeon Danforth, Glendale, Odeon Hyland, Nortown, Willow, Downtown, Odeon Carlton, Donlands, Biltmore, Odeon Humber, Town Cinema
Chapter Six – The 1950s Theatres
Savoy (Coronet), Westwood
Chapter Seven – Cineplex and Multi-screen Complexes
Cineplex Eaton Centre, Cineplex Odeon Varsity, Scotiabank Cineplex, Dundas Square Cineplex, The Bell Lightbox (TIFF)