On a steamy hot July afternoon, I visited to an ice cream shop on King Street. I requested a scoop of "Tiger" ice cream – $3.68. The ice cream was orange with a black swirl of liquorice in it. It reminded me of the Halloween kiss-candies that Loblaws sold many decades ago. Unlike the molasses candies, they were orange flavour, and similar to the ice cream, had a swirl of black liquorice in them. Hot summer days always bring back memories of my youth, but I never expected an ice cream flavour to remind me of "shelling out" for treats at the doors of the houses, when I was a young boy.
Ice cream cup in hand, I strolled along King Street and stopped for a few moments to observe a movie-shoot in progress. The re-designed taxis parked by the curb indicated that setting of the film was New York. A piano was situated near one of the taxis. I did not wait around to see how the two inter-related in the storyline.
I proceeded toward Augusta Avenue, walked north, and then turned east on Adelaide toward St. Andrew's Park, where a young man was performing jazz with expertise and passion. The heat of the afternoon did not seem to both him at all. With humidity, the temperature was now 45 degrees. My ice cream consumed, I sat down and listened to the free concert. Glorious.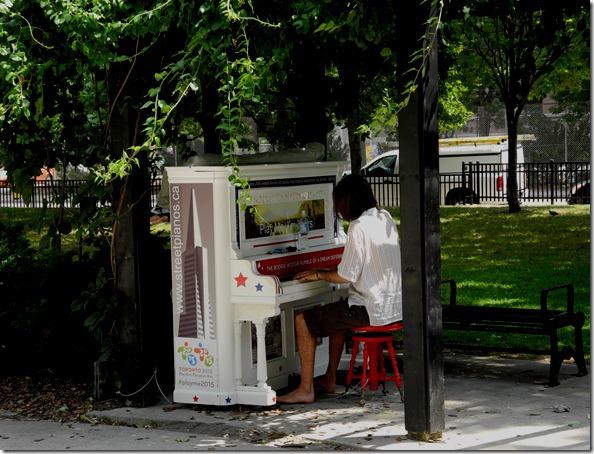 The piano in the park is one of the 41 instruments distributed throughout the city. They have been located in parks, on street corners and near subway stations. The words "Play Me, I'm Yours" appear on the pianos. They draw attention to the three-year countdown to the Toronto 2015 Pan Am Games. Each piano represents one of the countries that will participate. Throughout the past week, I have watched children banging mindlessly on them, while others play a tune with a single finger, and some display amazing talent. All of the players share a common joy of the pianos.
The piano in St. Andrew's Park represent the United States.
The piano at the corner of Queen and Spadina represents Barbados.
Beside the Roy Thomson Hall is the Ecuador" piano.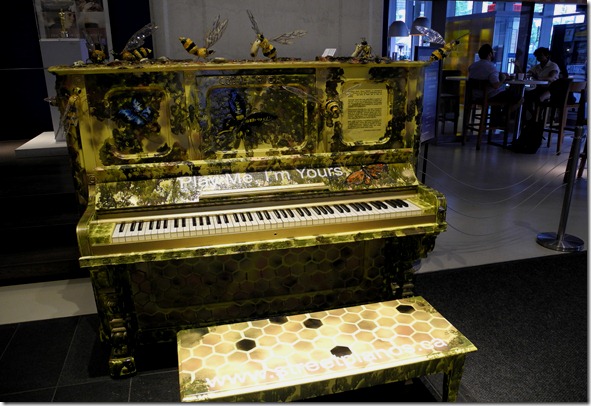 Inside the TIFF building on King Street is perhaps the most highly decorated piano. It symbolizes Costa Rica.
Details on the Costa Rica piano that has a theme of conservation of habitat for insects and wild life.
The front of the piano in the TIFF building.
Toronto is always alive in the summer, when patios and sidewalk cafes are animated with people enjoying the hot weather. This year the pianos have made the month of July even more special.
I have spent much of my adult life researching Toronto. Despite the traffic jams and daily congestion, I find Toronto an exciting and vibrant city in which to live. I enjoy exploring its past through my writing. One of the books, "The Villages Within", was nominated for the Toronto Heritage Awards. If interested in novels with a Toronto setting, descriptions of the books are available by following the link: https://tayloronhistory.com/2012/03/22/toronto-author-publishes-seventh-novel/
They can be purchased in soft cover or electronic editions. All books are available at Chapters/Indigo and on Amazon.com. The electronic editions are less that $4 on Kobo and Kindle. Follow the links:
There Never Was a Better Time: http://bookstore.iuniverse.com/Products/SKU-000056586/THERE-NEVER-WAS-A-BETTER-TIME.aspx
Arse Over Teakettle: http://bookstore.iuniverse.com/Products/SKU-000132634/Arse-Over-Teakettle.aspx
The Reluctant Virgin; http://bookstore.iuniverse.com/Products/SKU-000188306/The-Reluctant-Virgin.aspx
The Villages Within: http://bookstore.iuniverse.com/Products/SKU-000175211/The-Villages-Within.aspx
Author's Home Page: https://tayloronhistory.com/
Authors can be contacted at: [email protected]