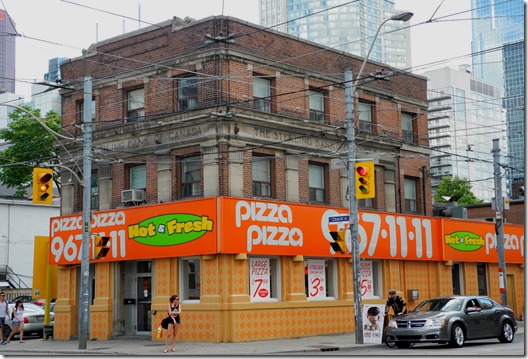 In 1900, the "Pizza Pizza" outlet at 260 Church Street, on the southwest corner of Jarvis and Church Streets, was the site of the home of J. Stewart, a painter by trade. In 1915 the "Sterling Bank" purchased the property. The home was demolished and the bank built a classical-style structure in which it operated one of its branches until the year 1926.
In 1927, the "Standard Bank" moved into the building, but they were unable to sustain the business after the stock market crash of 1929, which ushered in the Great Depression. They relinquished the property in 1930, and the Canadian Bank of Commerce took over the premises.
Today, despite the yellow tiles and large orange signage that hide the first-floor facade of the old bank building, the words "The Sterling Bank of Canada" remain visible above the windows of the second floor. It is a pity that the classical architecture of the structure is now hidden from view. Its Corinthian pilasters and ornate trim cannot be seen unless the building is viewed from a distance. However, at least the building survives, a testament to one of the most prosperous decade in the life of Toronto.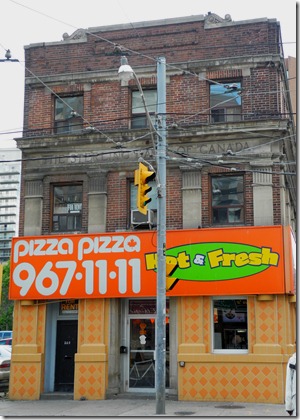 The east facade of the building.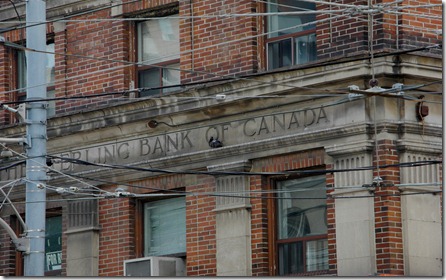 The ornate trim on the east facade of the building at 260 Church St.
I have spent much of my adult life researching Toronto. Despite the traffic jams and daily congestion, I find Toronto an exciting and vibrant city in which to live. I enjoy exploring the city's past through my writing. One of the books, "The Villages Within", was nominated for the Toronto Heritage Awards. If interested in novels with a Toronto setting, descriptions of the books are available by following the link: https://tayloronhistory.com/2012/03/22/toronto-author-publishes-seventh-novel/
They can be purchased in soft cover or electronic editions. All books are available at Chapters/Indigo and on Amazon.com. The electronic editions are less than $4 on Kobo and Kindle. Follow the links:
There Never Was a Better Time: http://bookstore.iuniverse.com/Products/SKU-000056586/THERE-NEVER-WAS-A-BETTER-TIME.aspx
Arse Over Teakettle: http://bookstore.iuniverse.com/Products/SKU-000132634/Arse-Over-Teakettle.aspx
The Reluctant Virgin; http://bookstore.iuniverse.com/Products/SKU-000188306/The-Reluctant-Virgin.aspx
The Villages Within: http://bookstore.iuniverse.com/Products/SKU-000175211/The-Villages-Within.aspx
Author's Home Page: https://tayloronhistory.com/
Authors can be contacted at: [email protected]