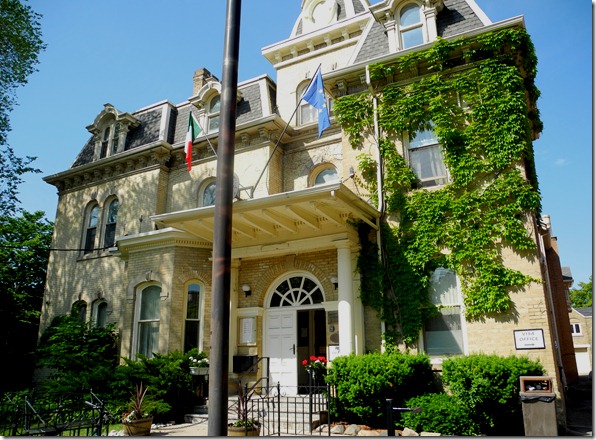 The house as seen today, after several additions and alterations
The home of George Lissant Beardmore at 136 Beverley Street, on the northwest corer of Dundas Street West and Beverley St., is one of the most impressive houses in the downtown area. He named his home after his birthplace – "Chudleigh" – a small town in Devon. Built between the years 1871 and 1872, its off-centre turret breaks its symmetrical design. Beardmore was a successful tanner and leather merchant, who had an enormous warehouse on Front Street.
Beardmore's son, George Wathen Beardmore hired the architect Eden Smith to design additions and make alterations to the house. These were done in 1890, 1900, and 1901. The Mansard roof, a feature of the style known as "Second Empire," was very fashionable during the latter decades of the nineteenth century. During one of the alterations, the stables on the west side of the house were joined to the main structure. Surrounding the home is an imposing fence of stone, brick, and iron. It is evident when a person walks past it on Dundas or Beverley Streets.
Beardmore's son, George lived at "Chudleigh" until his death in 1936. The following year, the home was purchased by the Italian Government. They named it "Casa d'Italia," and it became a gathering place for the Italian community in Toronto as well as the Italian Consulate. In 1939, after the outbreak of the Second World War, the Canadian Government confiscated the house. It was employed as barracks for the RCMP. It was returned to the Italian Government in 1958 and in 1977 it again became the Italian Consulate.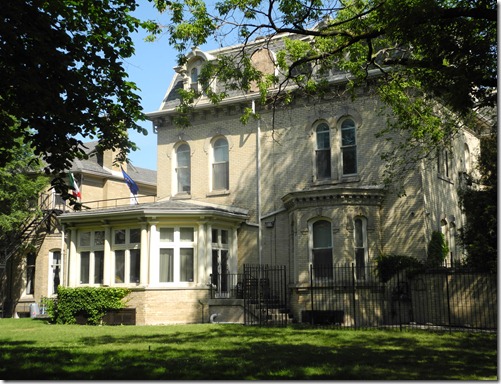 View of the Beardmore House from the south side
Doorway of Chudleigh George Wathan Beardmore, c. 1920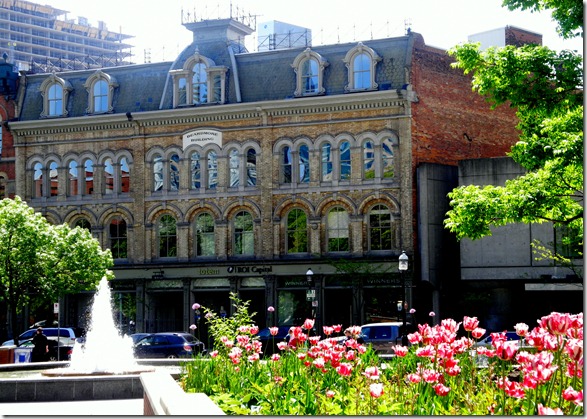 The Beardmore Warehouse, built 1872, on Front Street East
To view other posts about Toronto's architectural heritage, follow the link: https://tayloronhistory.com/
Authors can be contacted at: [email protected]