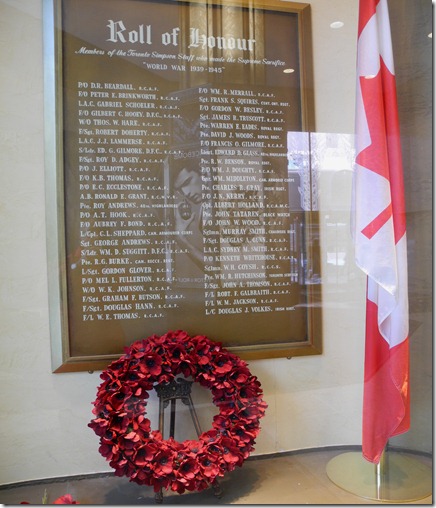 This commemorative plaque to those who paid the supreme sacrifice during the First and Second World Wars, is tucked away in the lobby of the The Bay Store , on the ground floor, at southeast corner of the building. It is near the entrance that gives access to the building from Yonge Street. Every time I pass this display, I stop for a moment. It was originally placed there during the days when the building was owned by the Robert Simpson Company to honour employees of the store who perished in the conflicts. When The Bay purchased the premises, they maintained the memorial.
Examining the names on the plaque, one realizes that they represent a Toronto that no longer exists. In 1945, the great majority of the city's population traced their roots back to the British Isles. Following the war, waves of immigrants crossed the Atlantic, changing Toronto forever. From its earliest days, Toronto was a city that was well planned and organized by the British, who also provided many interesting traditions. Then, the citizens from other nations arrived, adding their cultures to the urban scene. The combination has produced one of the most unique and culturally diverse cities in the world.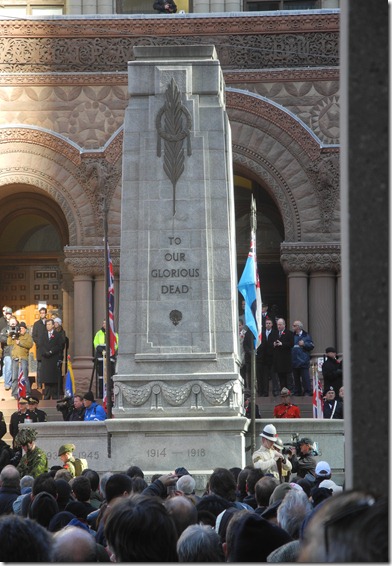 Annual Remembrance Day Service at the cenotaph at Toronto's Old City Hall
To view the Home Page for this blog: https://tayloronhistory.com/
For more information about the topics explored on this blog:
https://tayloronhistory.com/2016/03/02/tayloronhistory-comcheck-it-out/
Books by the Blog's Author
"Toronto's Theatres and the Golden Age of the Silver Screen," explores 50 of Toronto's old theatres and contains over 80 archival photographs of the facades, marquees and interiors of the theatres. It relates anecdotes and stories by the author and others who experienced these grand old movie houses.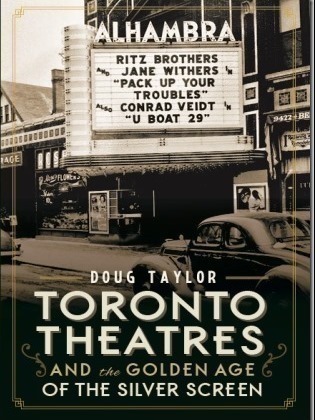 To place an order for this book, published by History Press:
https://www.historypress.net/catalogue/bookstore/books/Toronto-Theatres-and-the-Golden-Age-of-the-Silver-Screen/9781626194502 .
Book also available in most book stores such as Chapter/Indigo, the Bell Lightbox and AGO Book Shop. It can also be ordered by phoning University of Toronto Press, Distribution: 416-667-7791 (ISBN 978.1.62619.450.2)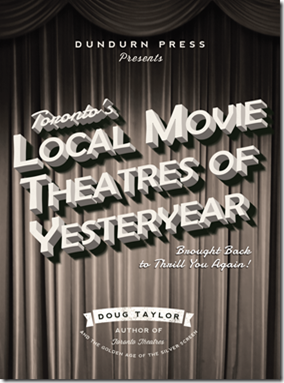 Another book on theatres, published by Dundurn Press, is entitled, "Toronto's Movie Theatres of Yesteryear—Brought Back to Thrill You Again." It explores 81 theatres and contains over 125 archival photographs, with interesting anecdotes about these grand old theatres and their fascinating histories. Note: an article on this book was published in Toronto Life Magazine, October 2016 issue.
For a link to the article published by |Toronto Life Magazine: torontolife.com/…/photos-old-cinemas-doug–taylor–toronto-local-movie-theatres-of-y…
The book is available at local book stores throughout Toronto or for a link to order this book: https://www.dundurn.com/books/Torontos-Local-Movie-Theatres-Yesteryear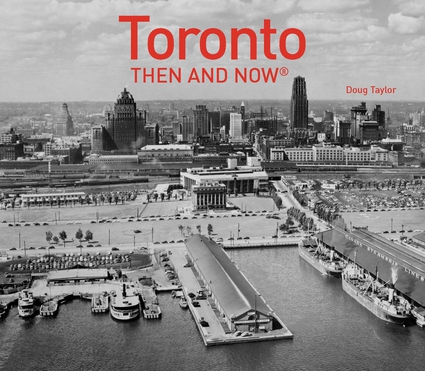 Another publication, "Toronto Then and Now," published by Pavilion Press (London, England) explores 75 of the city's heritage sites. It contains archival and modern photos that allow readers to compare scenes and discover how they have changed over the decades. Note: a review of this book was published in Spacing Magazine, October 2016. For a link to this review:
spacing.ca/toronto/2016/09/02/reading-list-toronto-then-and-now/
For further information on ordering this book, follow the link to Amazon.com here or contact the publisher directly by the link below:
http://www.ipgbook.com/toronto–then-and-now—products-9781910904077.php?page_id=21